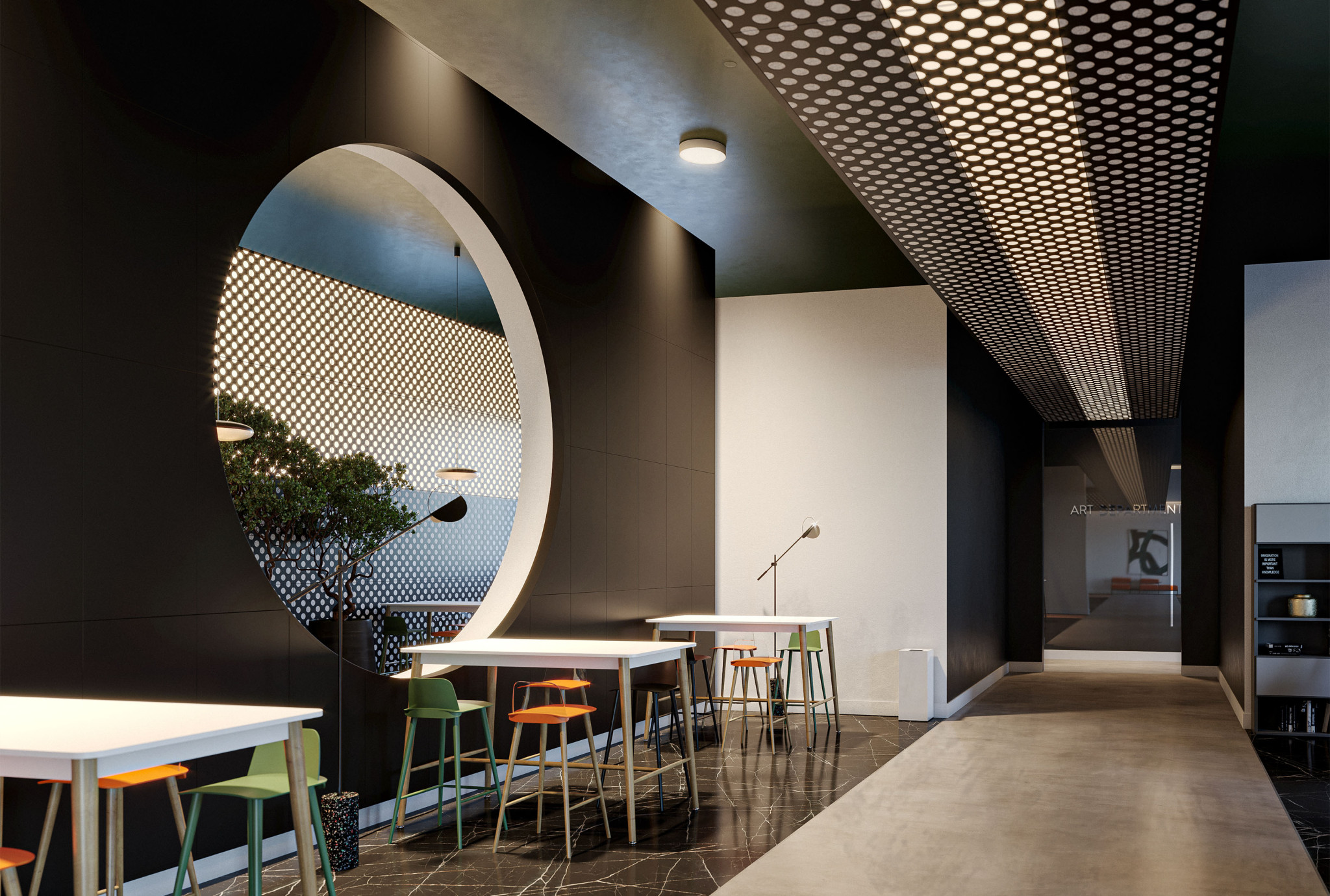 The best metal ceiling designs are innovative and versatile, adding textural depth and aesthetic inspiration to any commercial space. Metal ceilings also bring a new level of function to the "fifth wall" of a space by providing intriguing design aspects, integrated lighting and acoustic control.
At NOWN, we just released the newest expansion of our Vapor® line of torsion panel systems in five designs: Bond, Element, Solid, Transit and Verve. These designs follow previous additions to the line: Vapor® Bloom and Vapor® Breeze.
Let's look at five commercial metallic ceiling designs that can take any commercial ceiling and transform it into an intriguing work of art that is both functional and stunning.
1. Linear Patterning to Create Movement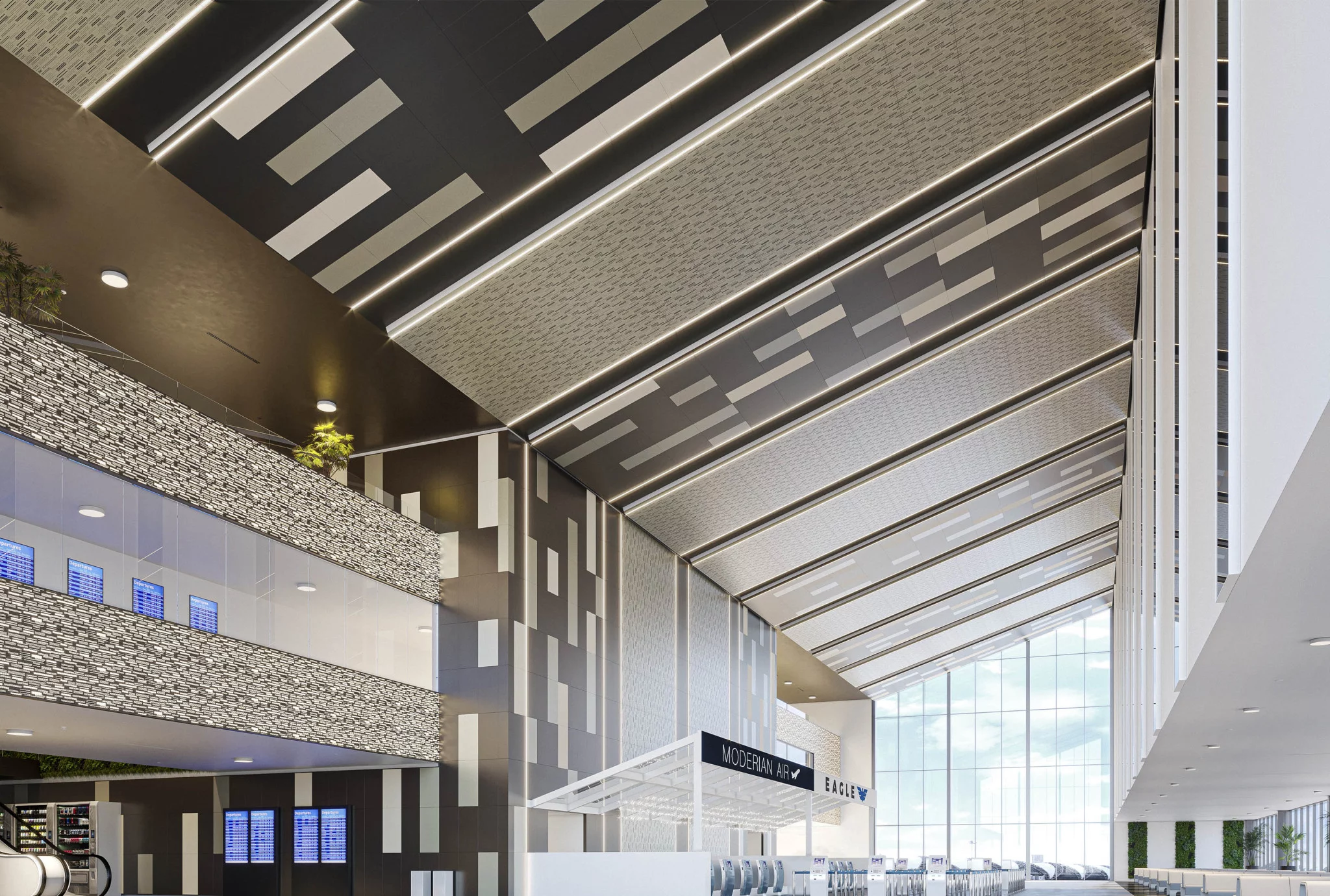 "Modern Office Area" Featuring:  Vapor® Verve by NOWN
Using staggered linear patterning is a great way to convey a sense of movement across ceilings. Seamless transitions from walls to the ceiling's precision perforated panels create an uninterrupted display that is fully scalable, uniform and intricately simple. Our Verve® panel system plays this theme out perfectly.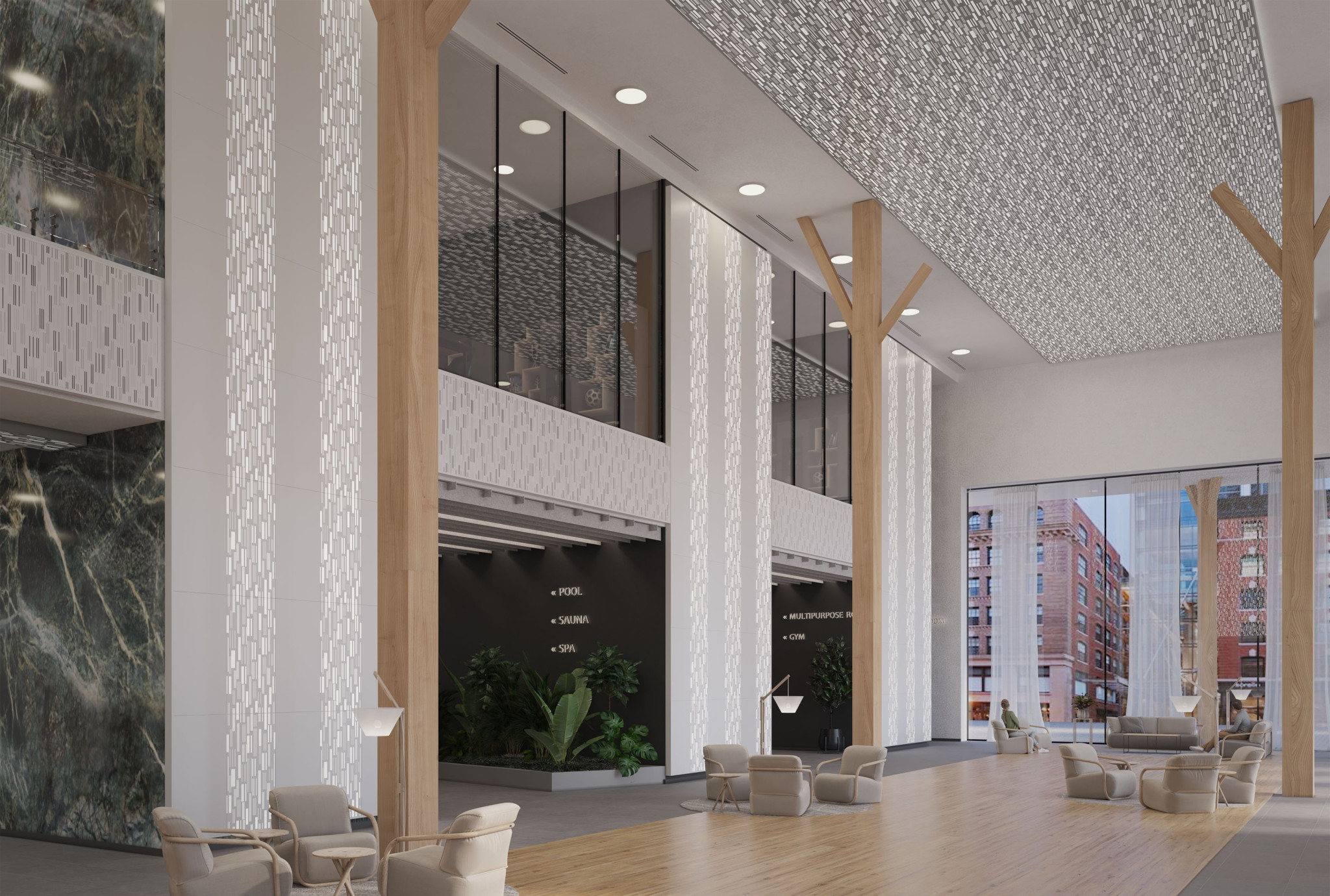 "Neutral Lobby Area" Featuring: Vapor® Verve by NOWN
When Vapor® Verve is paired with optional features like Soft Sound® or lighting accessories, any commercial space can offer a pleasant, productive environment that is ideal for various workspaces like conference centers, assembly halls or office buildings.
2. Bold Arrays of Uniform Circles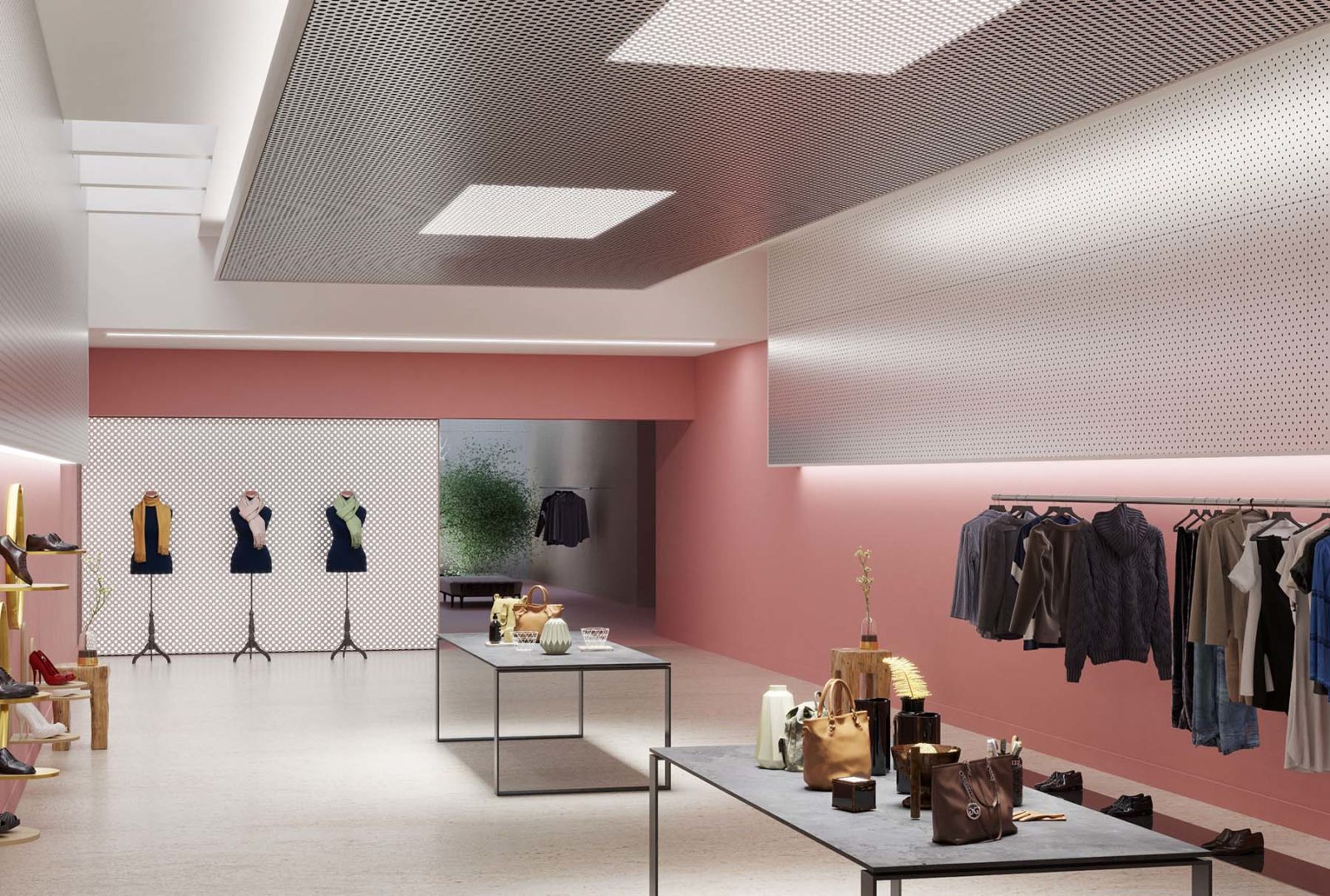 "Vibrant Clothing Showroom" Featuring: Vapor® Element by NOWN
Metal ceilings take on a whole new life with bold arrays of uniform circles that are evenly spaced and span panel seams, encouraging a feeling of cohesion, seamless transitions, and consistency.
By taking the standard grid and enhancing it across panels that can be paired with backlighting or an acoustic backer, this metallic ceiling option can span the entire area of a room or perform as a metal suspended ceiling.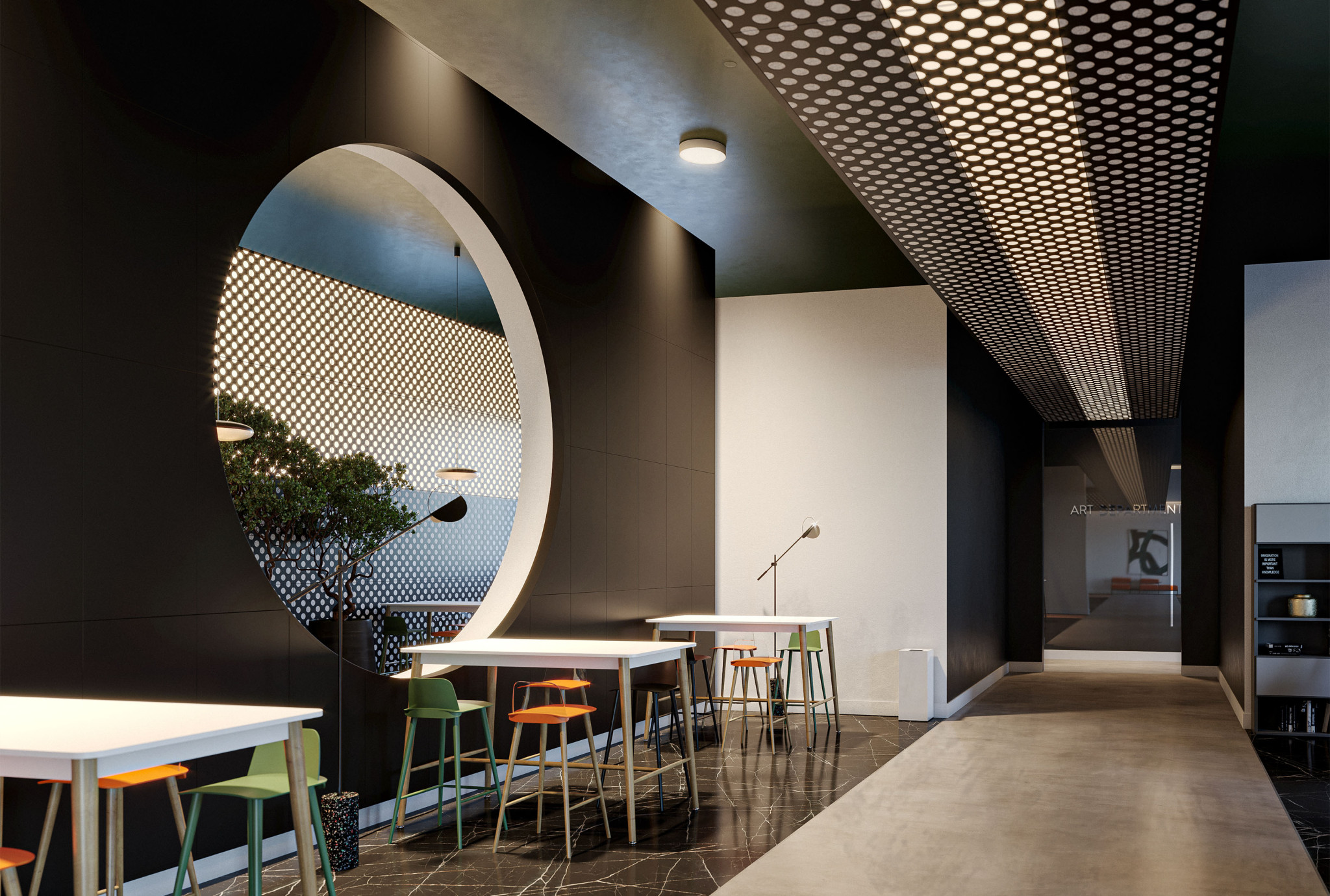 "Earth Tone Communal Area" Featuring: Vapor® Element by NOWN
Our Vapor® Element features powder-coated aluminum torsion spring panels that can be paired with the optional Soft Sound® backer. This approach reduces the impact of everyday commercial noises to create a more productive work environment.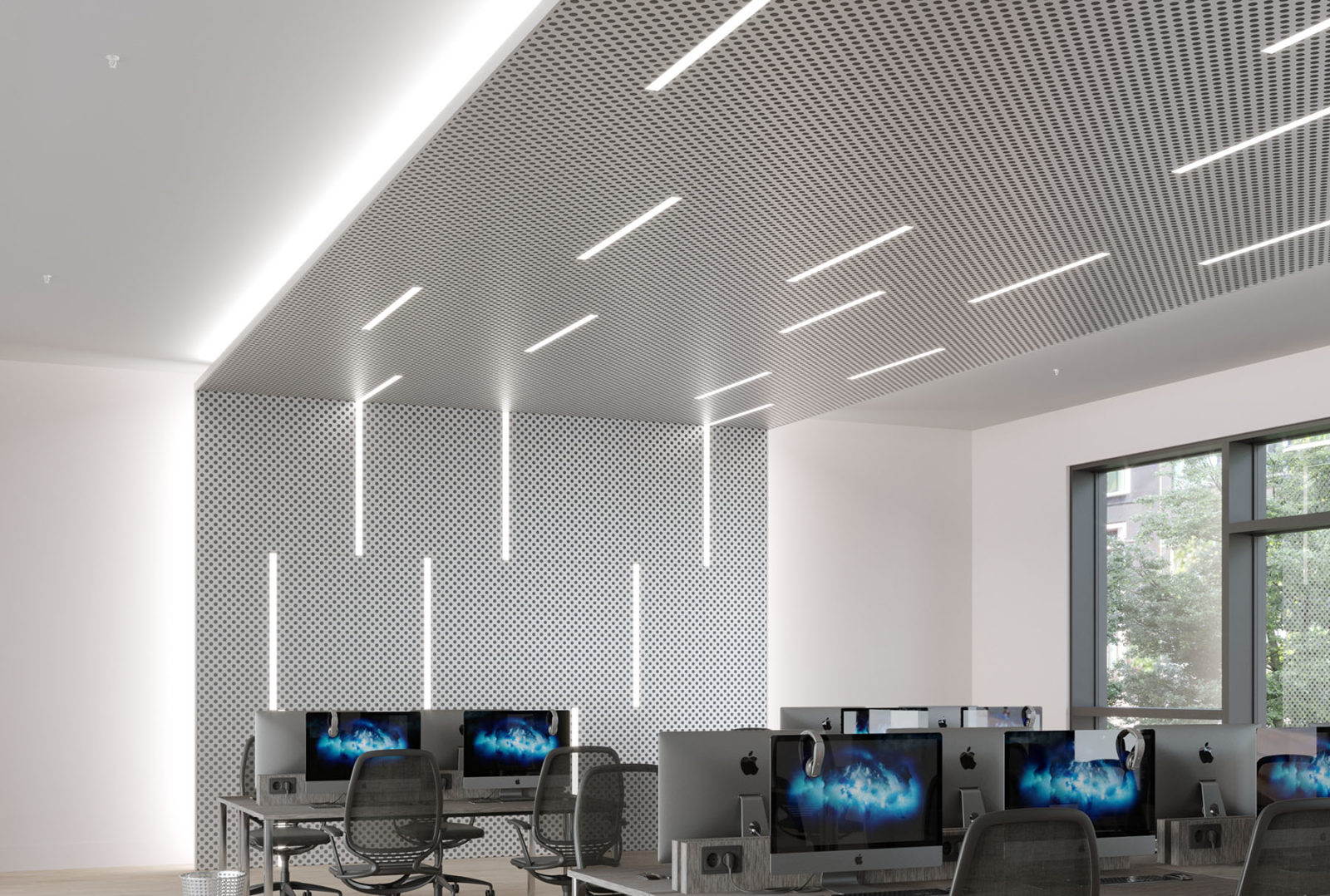 "Futuristic Workspace" Featuring: Vapor® Element by NOWN
Adding illumination options and lighting effects to bold arrays of uniform circles will create a striking, functional space enveloped by a pleasant, modern aesthetic that isn't too harsh or too soft.
3. Accents to Create Energetic Emotion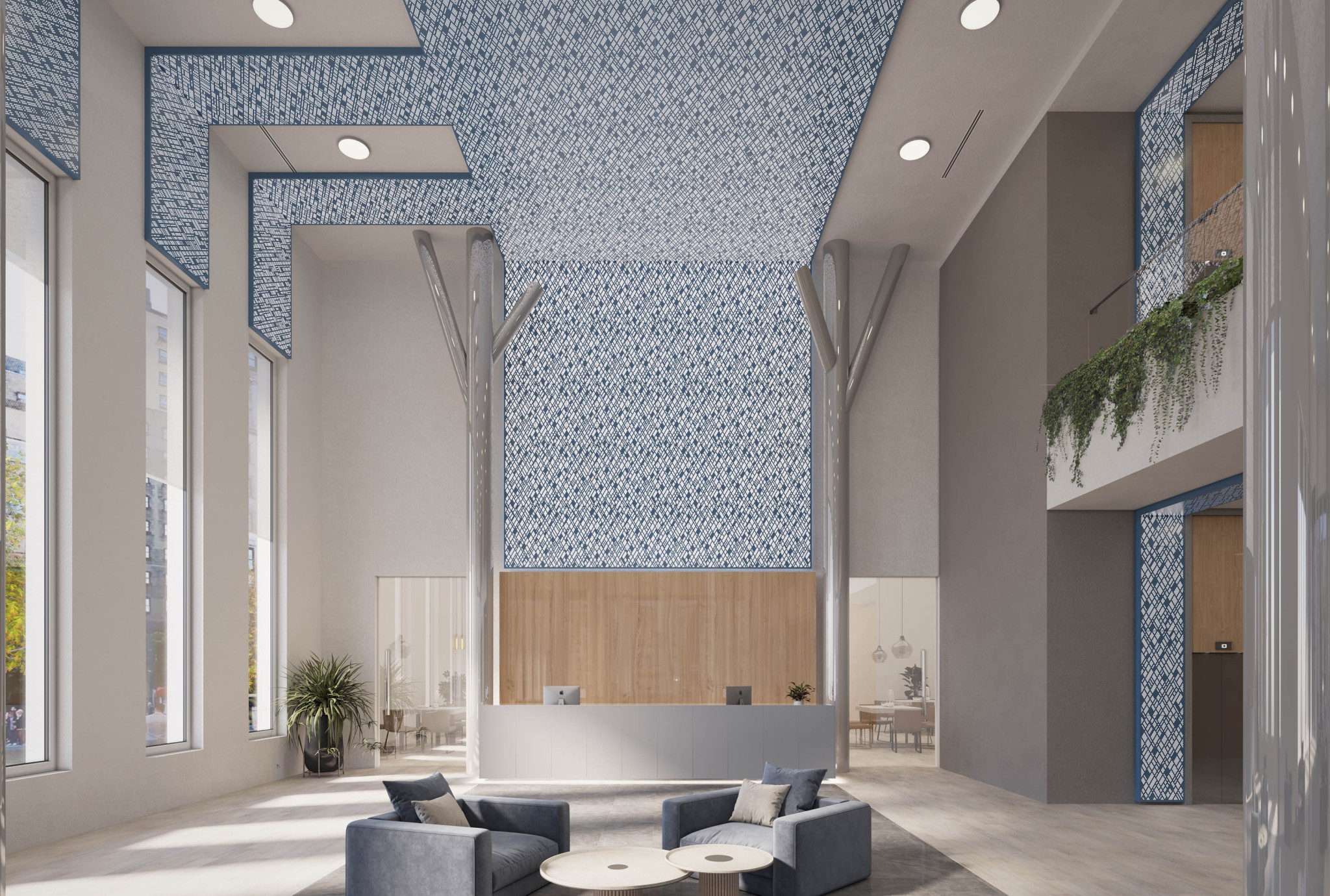 "Bright Lobby Area" Featuring: Vapor® Transit by NOWN
Metal ceilings with accents to create energetic emotion provide texture to commercial spaces with rich blends of lines and dots. Complex and simple at the same time, these metallic ceilings can span the entire room, act as accent pieces or serve as suspended ceilings.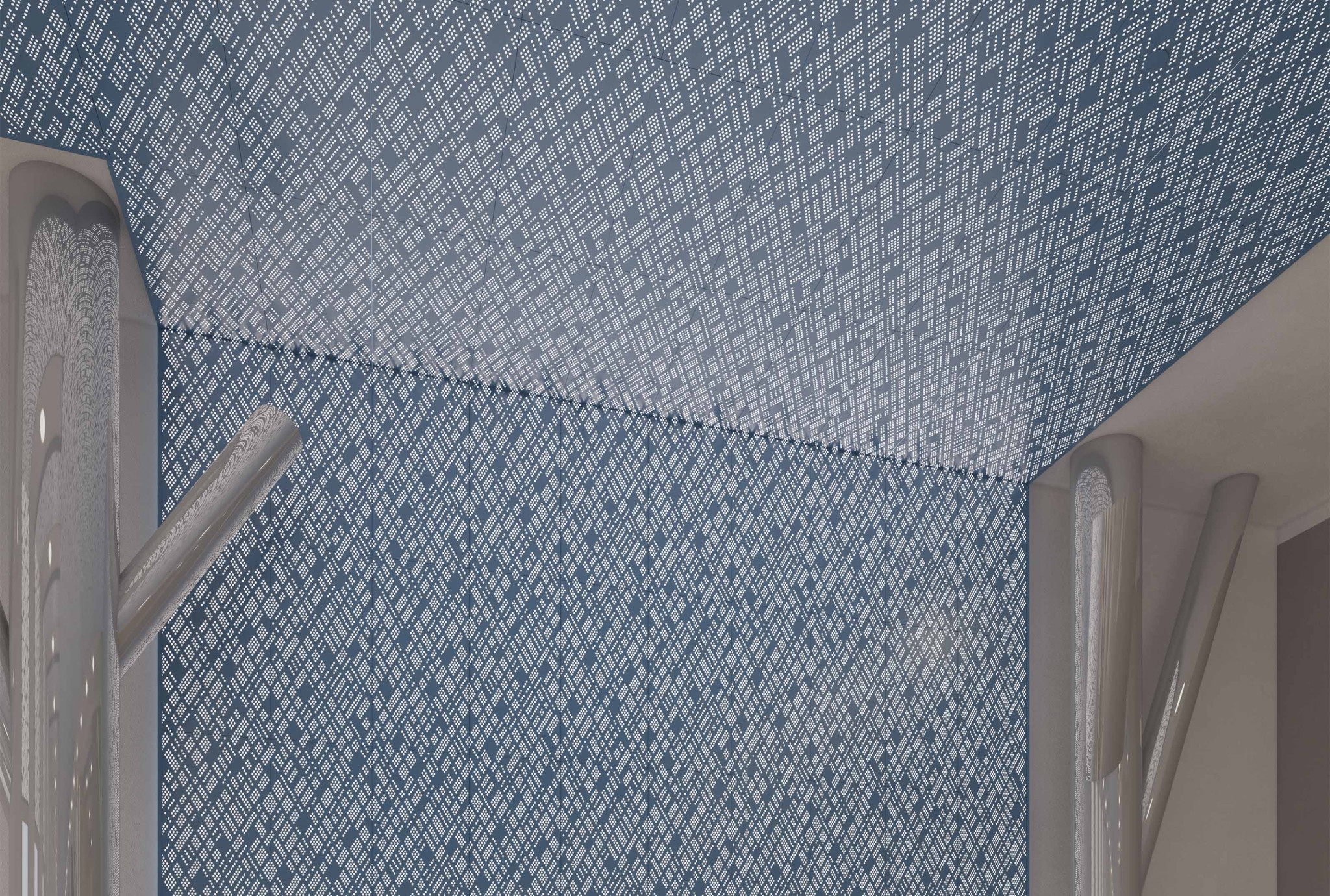 "Close-Up" Featuring: Vapor® Transit by NOWN
The Vapor® Transit system features perforated panels that resemble aerial views of city streets. This system can also be paired with options and accessories like Soft Sound® backers, inline lighting or our backlighting.
4. Hexagonal Design Reminiscent of Chemical Bonds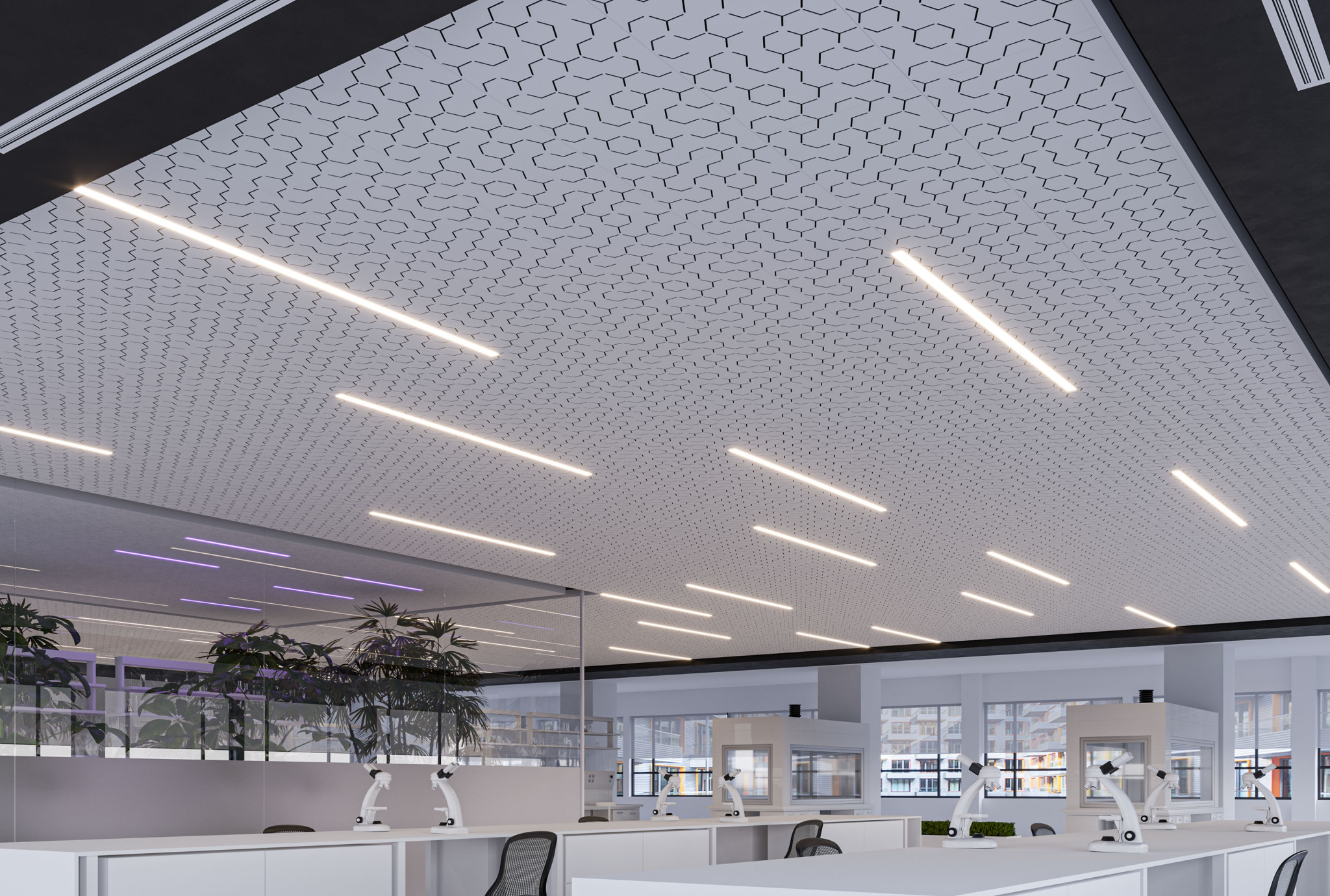 "Modern Office Space" Featuring: Vapor® by NOWN
Metallic ceilings that have hexagonal designs in creative, unique layouts that represent connectivity and structure. Evoke feelings of consistency interlaced with intrigue that encourages pleasant productivity in commercial spaces.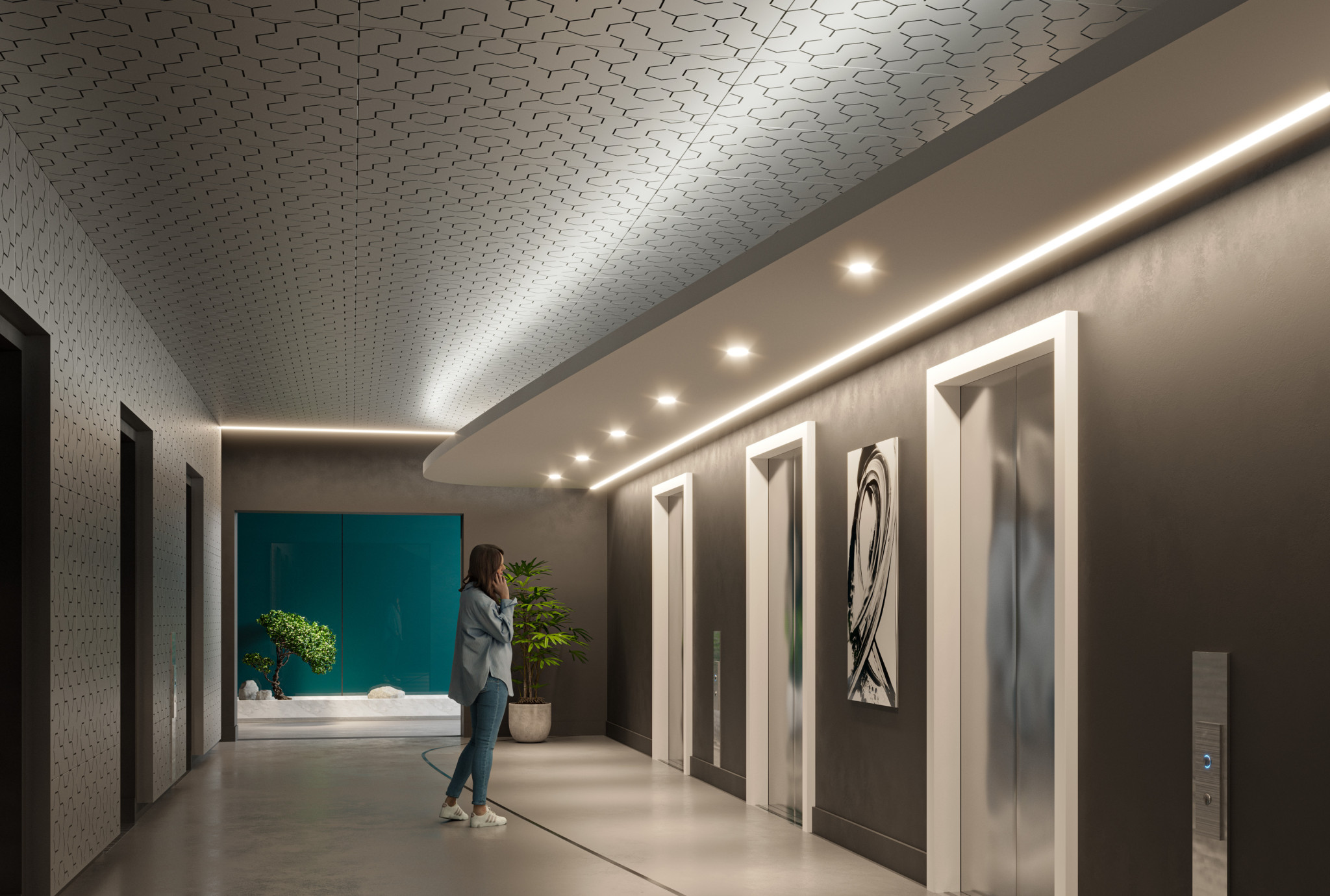 "Metallic Tone Waiting Space" Featuring: Vapor® Bond by NOWN
Static interaction is on full display with our new Vapor® Bond panels, which can be mixed and matched with acoustic backers or several different NOWN lighting options. The continuous hexagonal pattern flows across panels freely to highlight the area without interruption.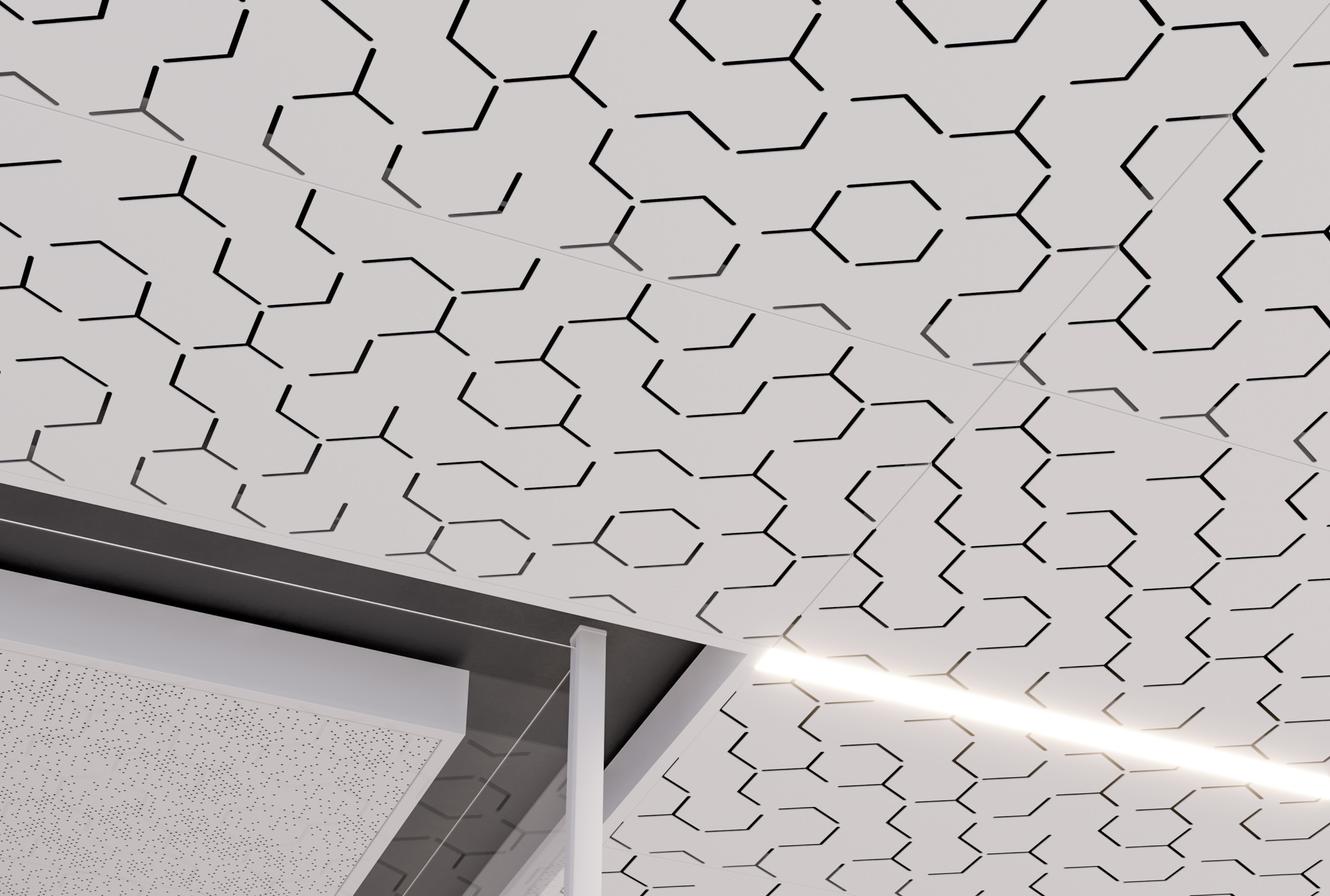 "Close-Up" Featuring: Vapor® Bond by NOWN
Hexagonal designs can be scaled for everything from industrial park lobby entrances to boutique hotels and office buildings. They provide a dynamic array of contrasting straight lines that flow across ceilings to create a smooth, calm ceiling landscape.
5. An Update to Classic Solid Metal Panels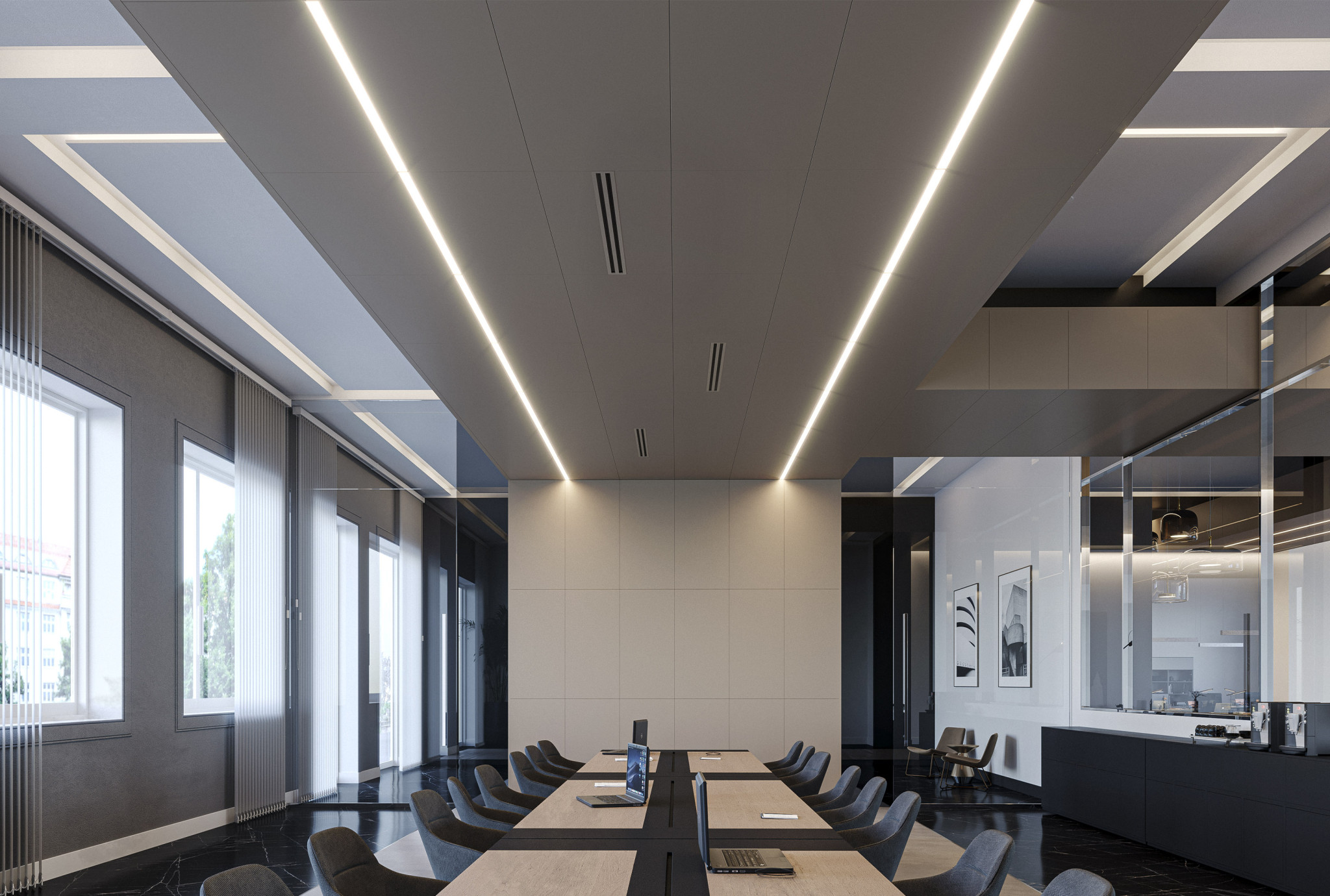 "Lit Ceiling Conference Room" Featuring: Vapor® Wall & Ceiling Panel System by NOWN
Bringing an updated look to classic solid metal panels, our endless finish and color options are sure to suit the aesthetic needs of any commercial area. Classic designs like these bring form and function to spaces that require understated elegance.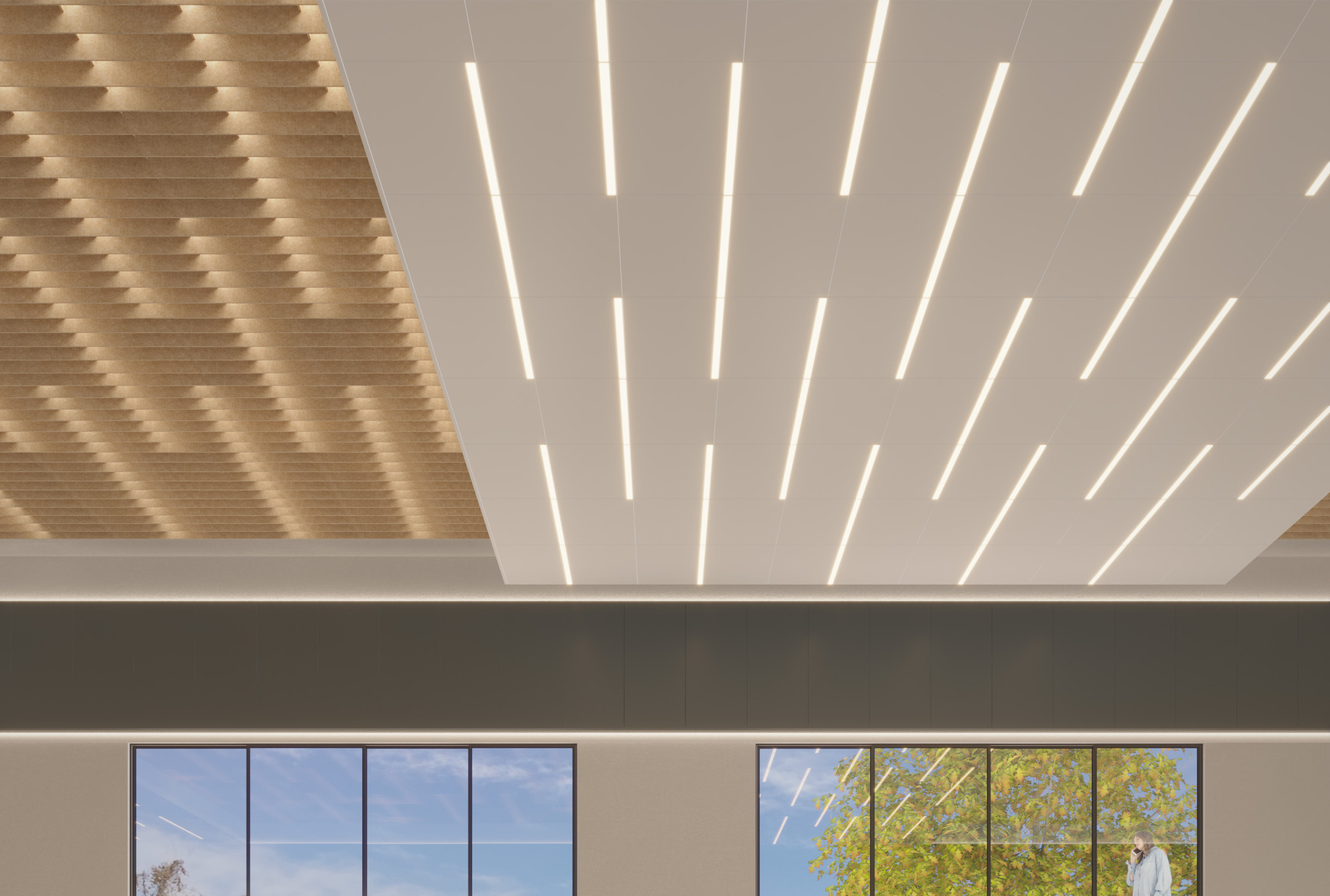 "Ceiling Panels" Featuring: Vapor® Solid by NOWN
Our Vapor® Solid collection is a ceiling panel system that promotes productivity as well as structural elegance. These panels are available in multiple metallic and color options and have the ability to pair beautifully with optional inline acoustic or lighting accessories.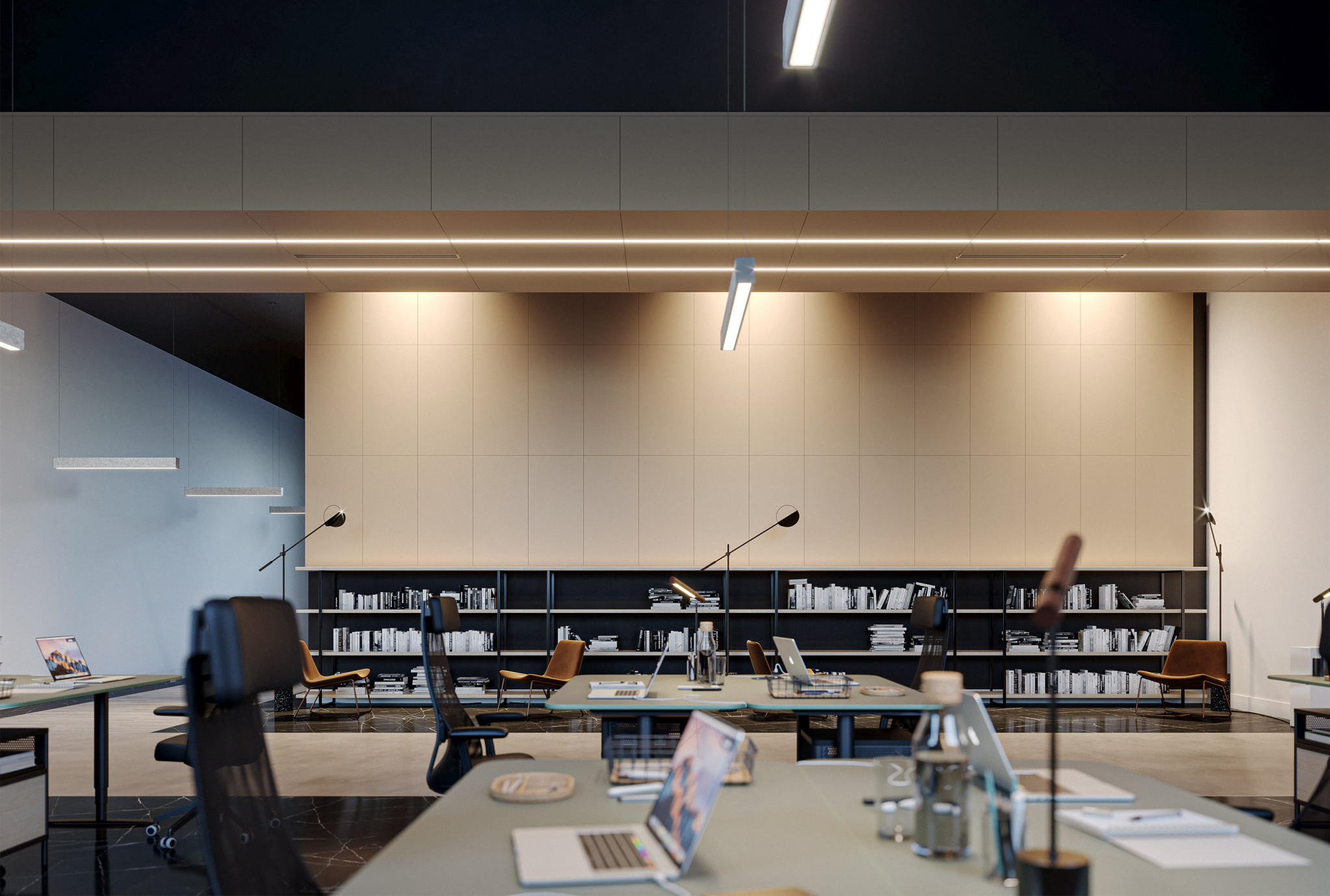 "Neutral Lit Office Workspace" Featuring: Vapor® Solid by NOWN
The options for wall-to-wall metal ceilings, metal suspended ceilings and accent ceilings are practically endless with our Vapor® ceiling design systems.
Innovate Your Commercial Space with Metal Ceiling Panels from NOWN
Whether you already have an idea for your project or you have just begun the process, our experts at NOWN can help. Contact our team today and let us know how Vapor® can complete and enliven your commercial space.