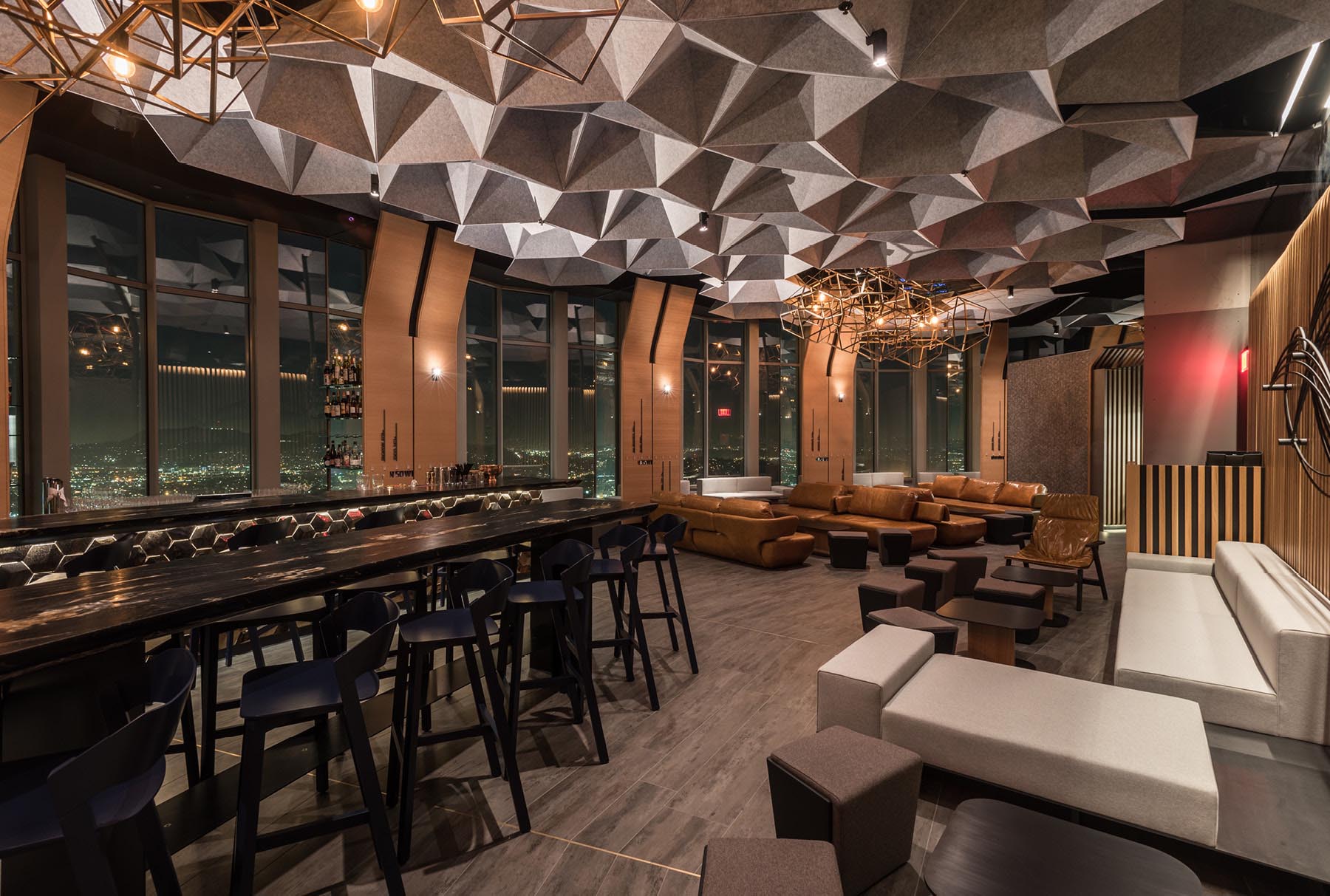 When it comes to commercial interior design, you wouldn't treat the aesthetic needs of a hospital the same as an office building. Or a school the same as a hotel. So why would you treat their acoustic needs the same way?
After all, regardless of the project type, one factor is constant — acoustic comfort is key to a functional and pleasing space.
That's why commercial projects turn to PET felt for architectural drop ceilings. Made from 100%-PET plastic, with up to 60%-recycled content, our Soft Sound® material is a versatile acoustic product that can be installed as wall tiles, ceiling baffles & fins, and as an acoustic backer for metal ceiling panels.
What is Soft Sound®, and why is it beneficial to commercial projects? Let's dive in and learn all about Soft Sound®.
What Is PET Plastic?
Short for polyethylene terephthalate, PET plastic is the component used for lots of everyday materials like water bottles and takeout containers. When PET is used as a fiber or for fabric applications, commonly referred to as polyester.
Now let's pause for a quick history lesson.
In the 1940s, polyester was first patented as a textile fiber by chemists at DuPont and used as a fiber for fabric. In the 1970s, researchers developed technology that allowed strands of PET to be molded into bottles. The first PET bottle was patented in 1973, and it took the bottling world by storm as it was able to contain carbonated drinks.
This material has fallen out of favor for bottles in recent years due to how long it takes to completely degrade — 450 years! — and how many are used globally each minute — 1 million! Though plastic bottles are recyclable, only 30% are recycled in America. But don't worry, it isn't all bad news.
When PET plastic is recycled, it is often turned into polyester felt. In its polyester form, the textile industry makes up about 60% of overall PET consumption, by manufacturing fabrics, felt, clothing and acoustic products. Since it is made from up to 100% recycled content, it is a sustainable choice for noise control, and its versatility means that it is available in a wide range of colors. We use it to create Soft Sound® material.
Benefits of Soft Sound® for Commercial Projects
Acoustic comfort is a necessary component of good design. However, acoustic products like standard drop tiles or outdated fabric partitions don't always enhance the aesthetics of a design. Soft Sound® acoustic products are highly adaptable to a wide range of acoustic needs and can elevate any design — while still performing their main function as acoustic support.
Build the Best Solution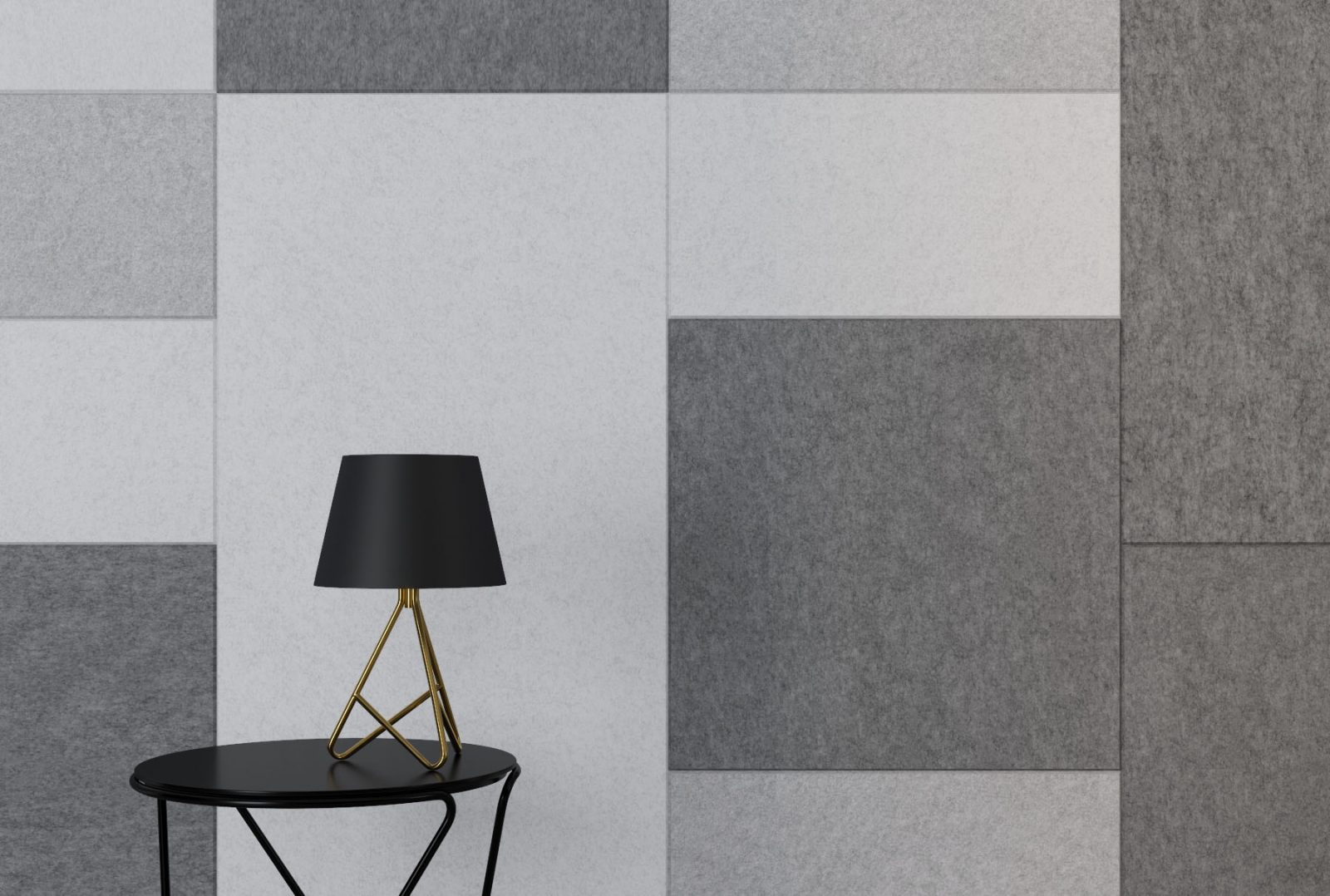 "Grayscale Tiles" Featuring: Soft Sound® Tiles by NOWN
Soft Sound® Tiles are available in five standard sizes and can be field-trimmed to create the ideal building blocks to enhance acoustics and aesthetics in any space. Made from Soft Sound® acoustic material, they come in dozens of color options that include wood textures. Since they can adhere directly to the wall, installation is almost effortless.
Apply Targeted Sound Control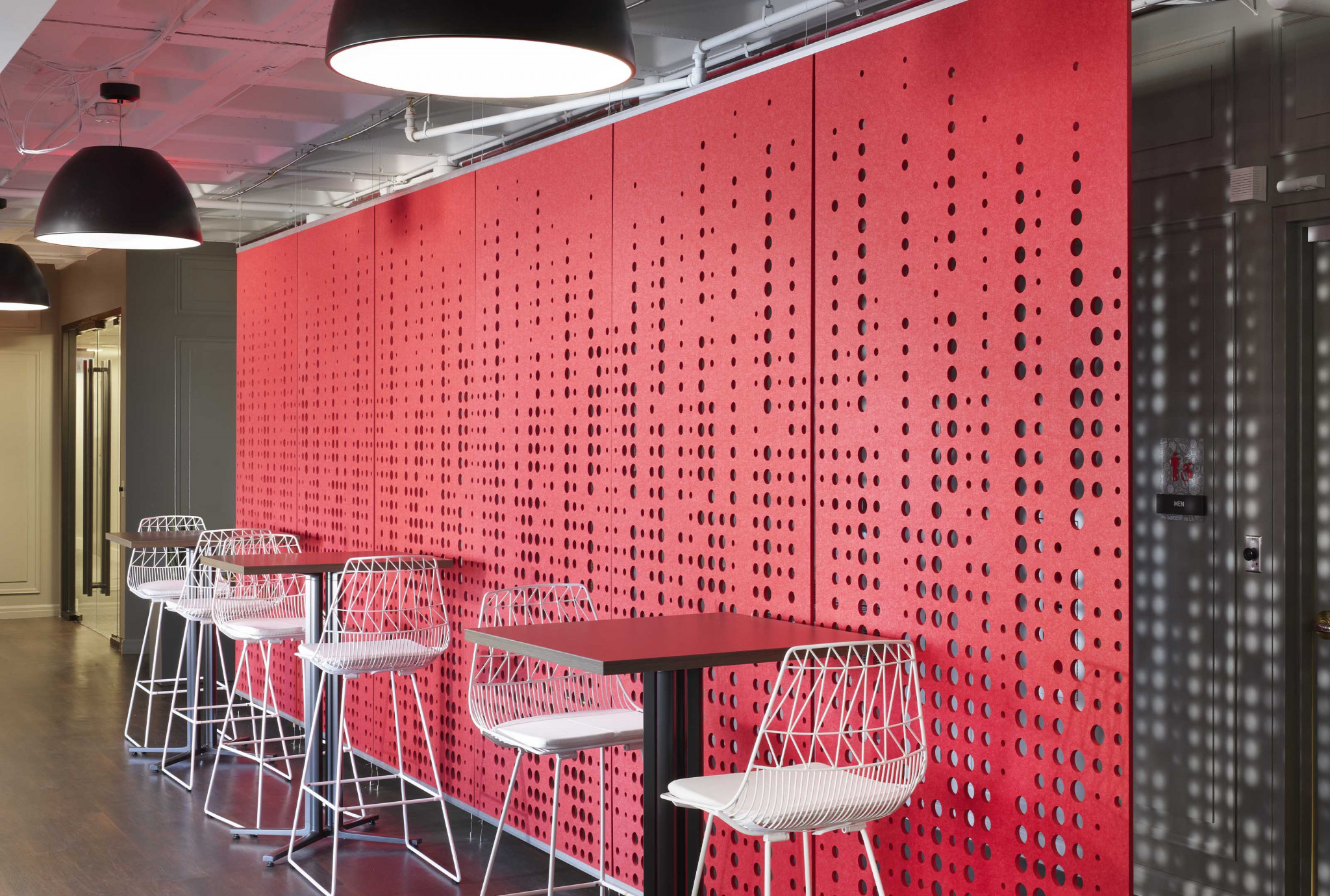 "GrubHub" Philadelphia, PA, Shive Hattery, James John Jetel, Inc (Photographer), Featuring: SoftScreen® by NOWN
In certain settings, acoustic material is most beneficial when placed vertically as a panel or as tiles on the wall. This type of targeted sound control is made even better with dramatic sound attenuating SoftScreen® panels made from Soft Sound® material. SoftScreen® panels can be mounted in a variety of ways, and there are numerous pattern and color options available.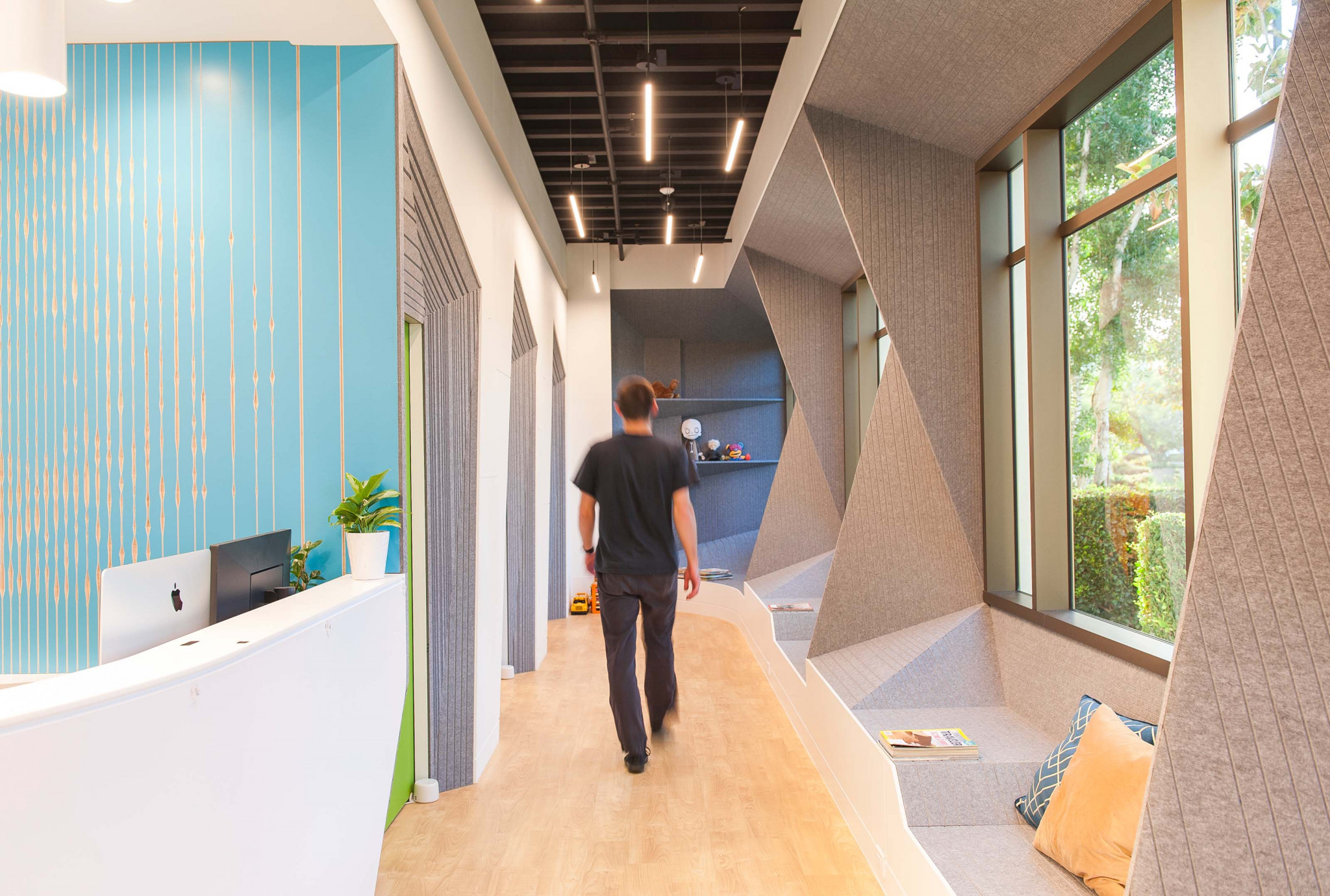 "Dr Ying Peng Ti – Corporate Drive" Ladera Ranch, CA, Synthesis, Featuring: Soft Sound® Acoustic Wall Coverings by NOWN
A small waiting area calls for innovative acoustic solutions. To meet these needs, custom Soft Sound® Acoustic Wall Coverings rise to the challenge, absorbing sound and enhancing the room's design.
Mix and Match Products to Enhance Acoustic Comfort and Aesthetics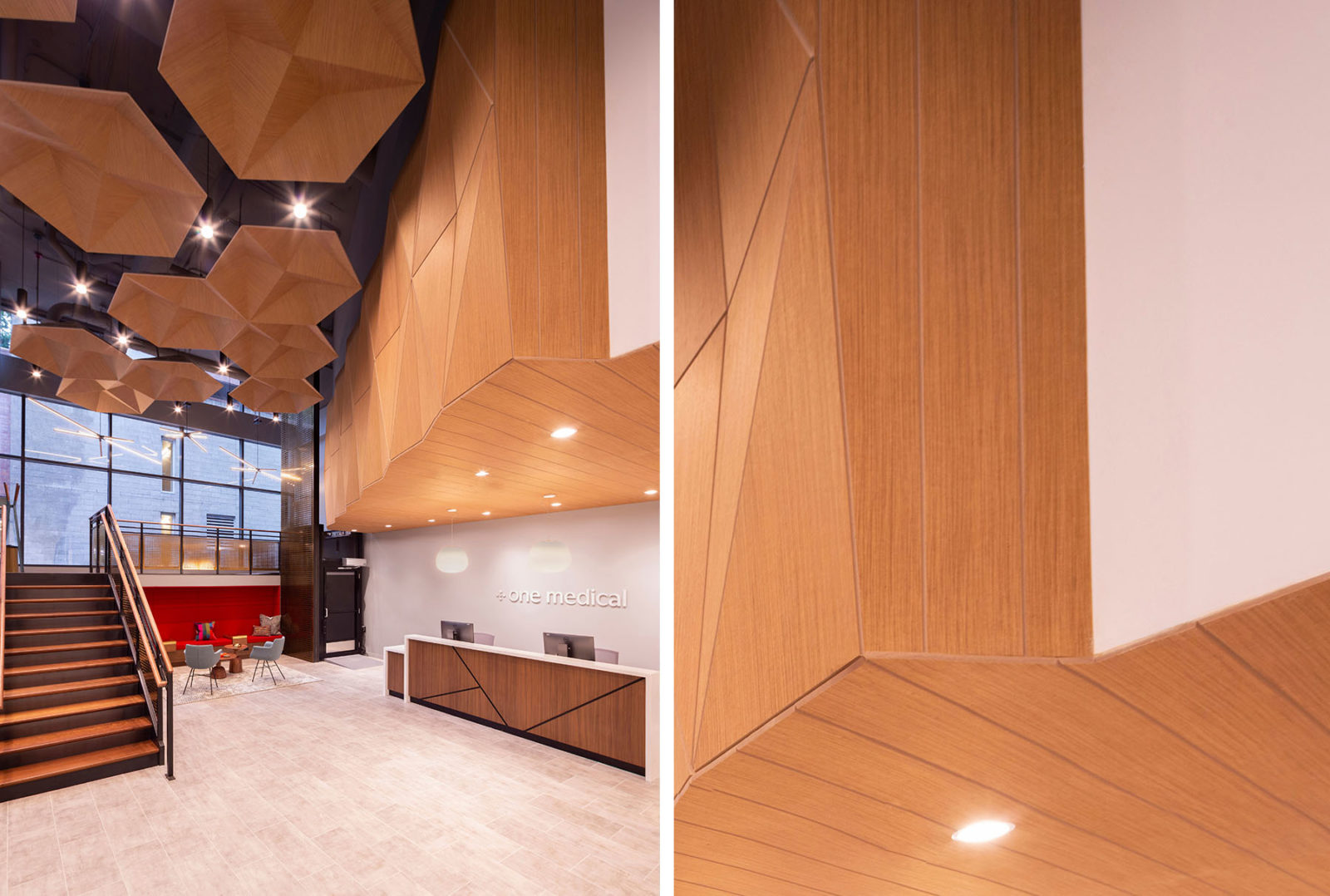 "One Medical Lobby" Chicago, IL, Callison RTKL, Featuring: Soft Sound® Acoustic Wall Coverings by NOWN
Many designs call for more than one acoustic product to fully control noise and create a comfortable environment. Combining acoustic ceiling clouds with Soft Sound® Acoustic Wall Coverings provides just the right mix of sound control in a sophisticated product. The wood textures offered by Soft Sound® acoustic products elevate the design in an interesting and elegant way.
Scale to Your Needs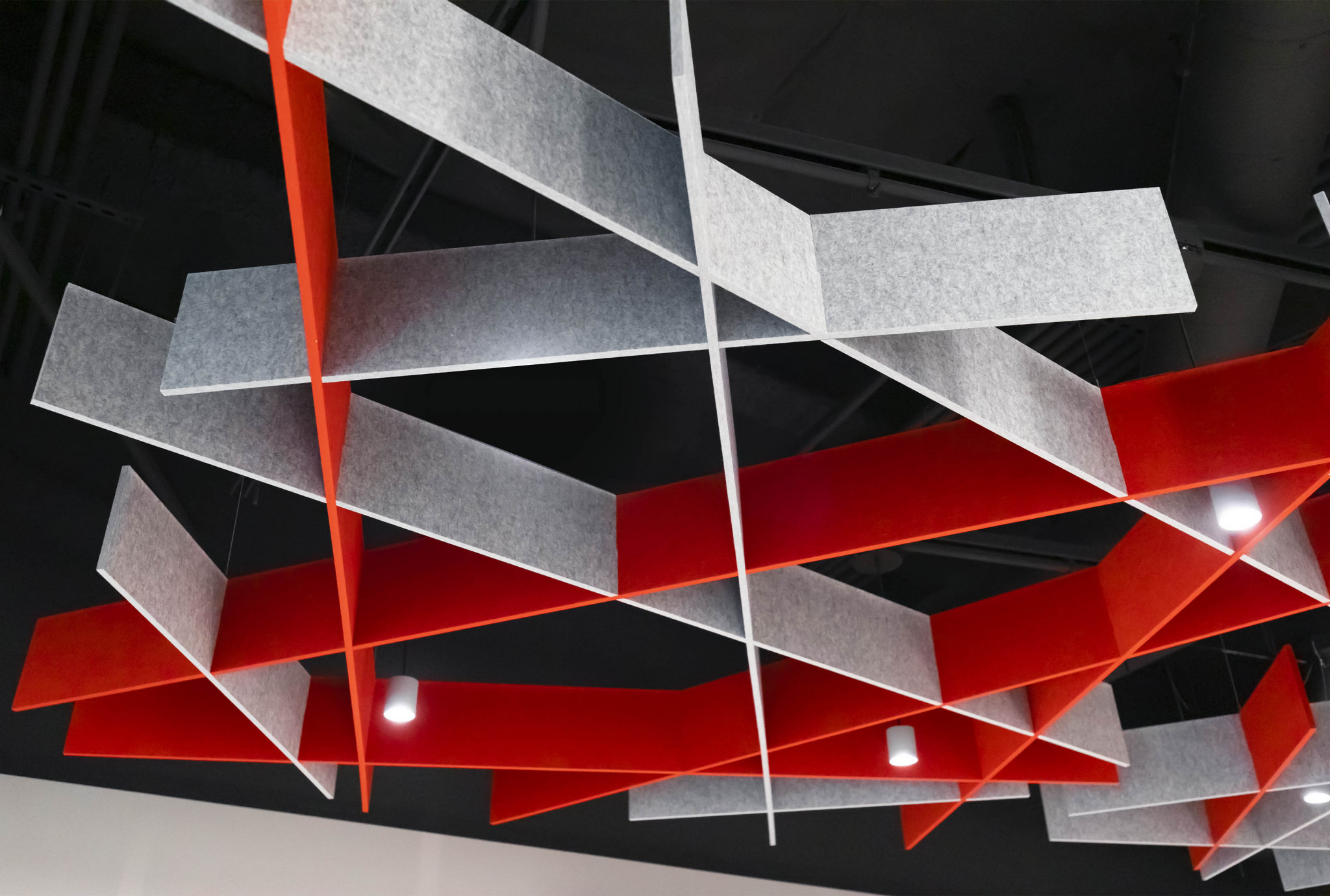 "CMM 5820" Woodland Hills, CA, ENV, Costea Photography, Featuring: SoftGrid® Switch by NOWN
Whether you need to create acoustic comfort in a small or large area, acoustical drop ceiling tiles and baffles made from Soft Sound® material are scalable to your space.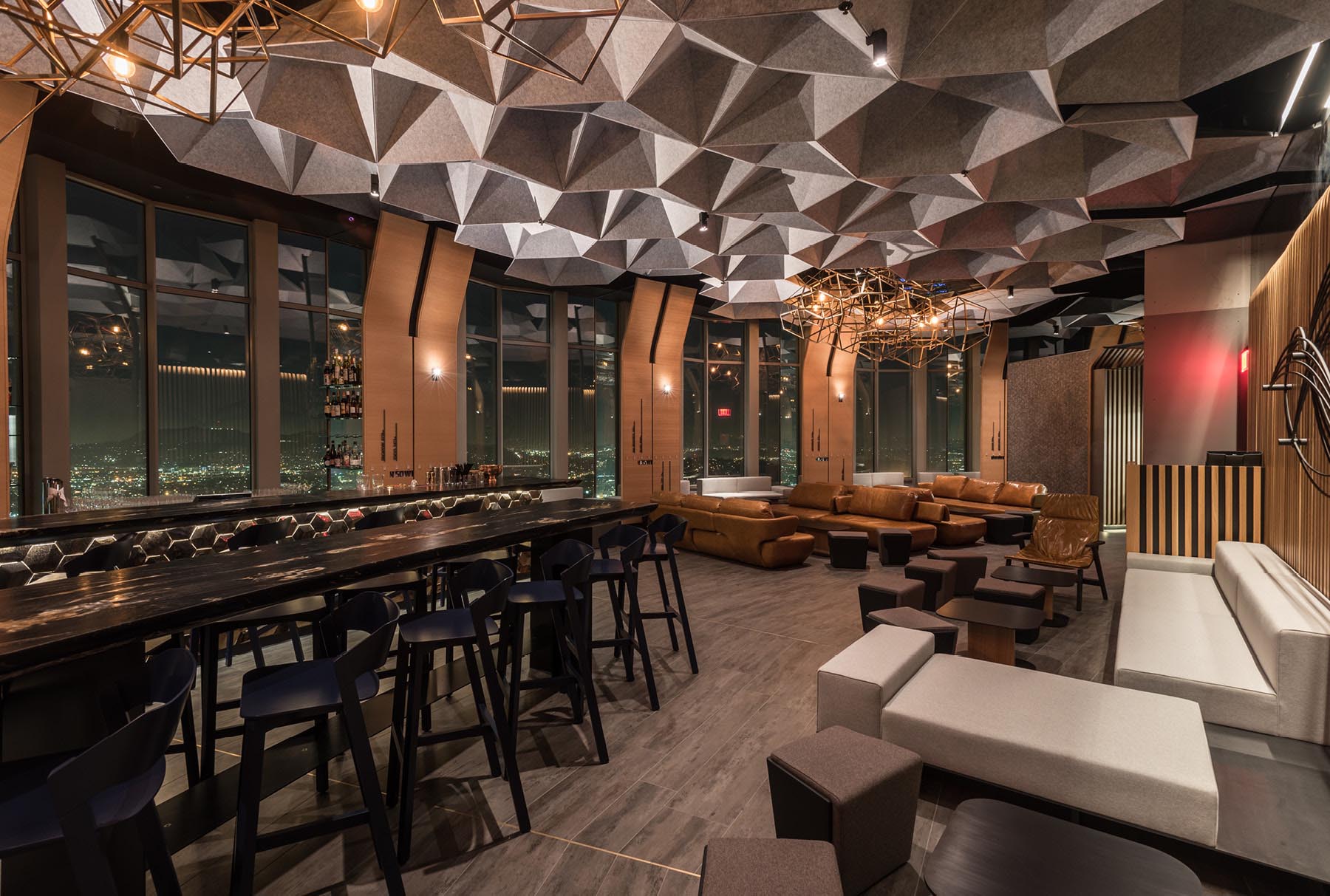 "71 Above Restaurant" Los Angeles, CA, Tag Front, Featuring: SoundStar® Acoustic Baffles by NOWN
SoundStar® acoustic baffles can be used for targeted sound control over a conference table or collaboration space. They can also span across an entire ceiling to not only create acoustic comfort but also create an aesthetically pleasing three-dimensional design.
Add Depth and Dimension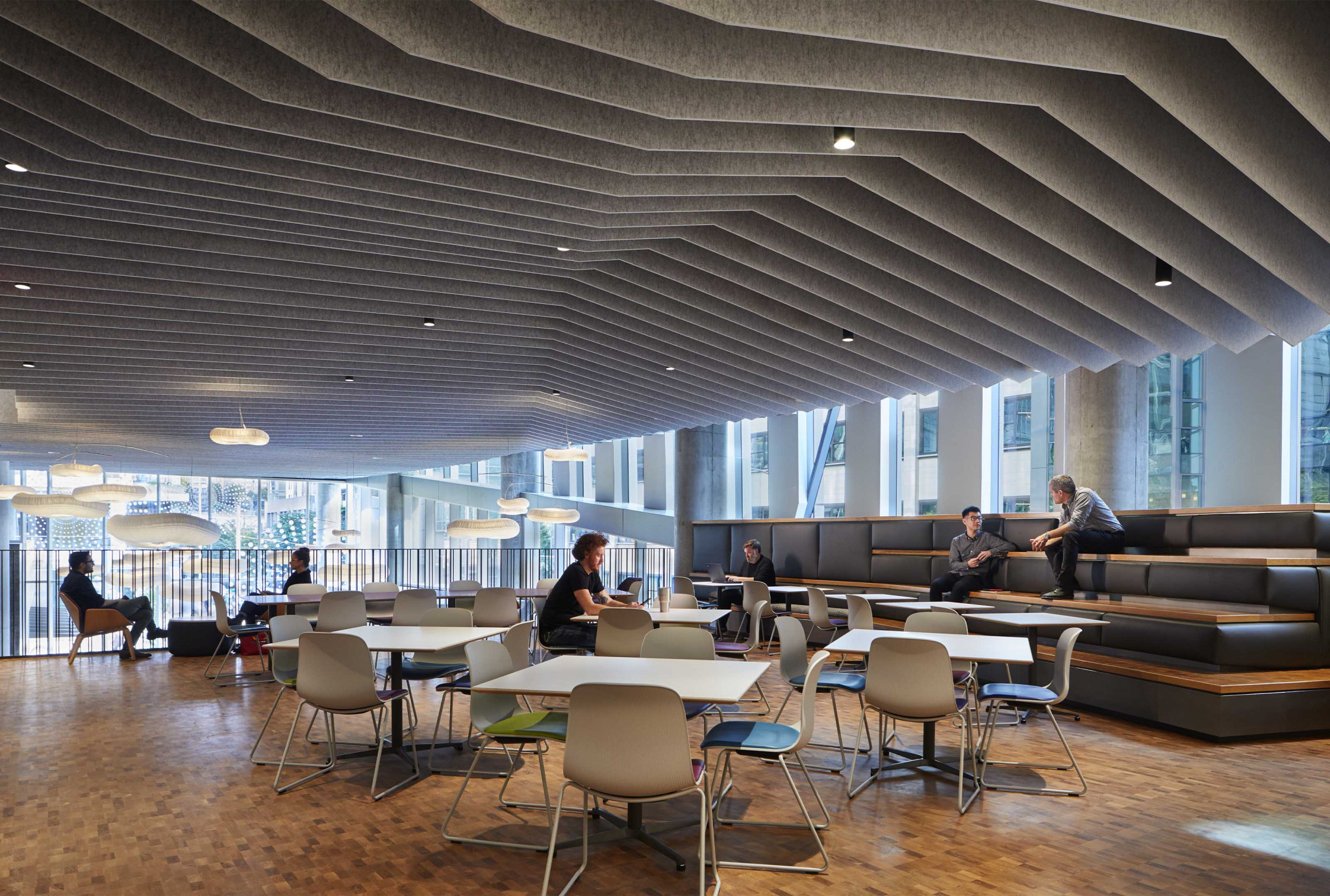 "Building Cure" Seattle, WA, Aedas, Benjamin Benschneider (Photographer), Featuring: Atmosphera® Adaptive Analog 3D by NOWN
Boring, flat ceilings are a thing of the past with NOWN. Using architectural drop ceiling tiles, acoustic baffles or fins made from Soft Sound® material, as seen here with Atmosphera® Adaptive Analog 3D, adds depth and dimension to a space while supporting acoustic comfort in a large area.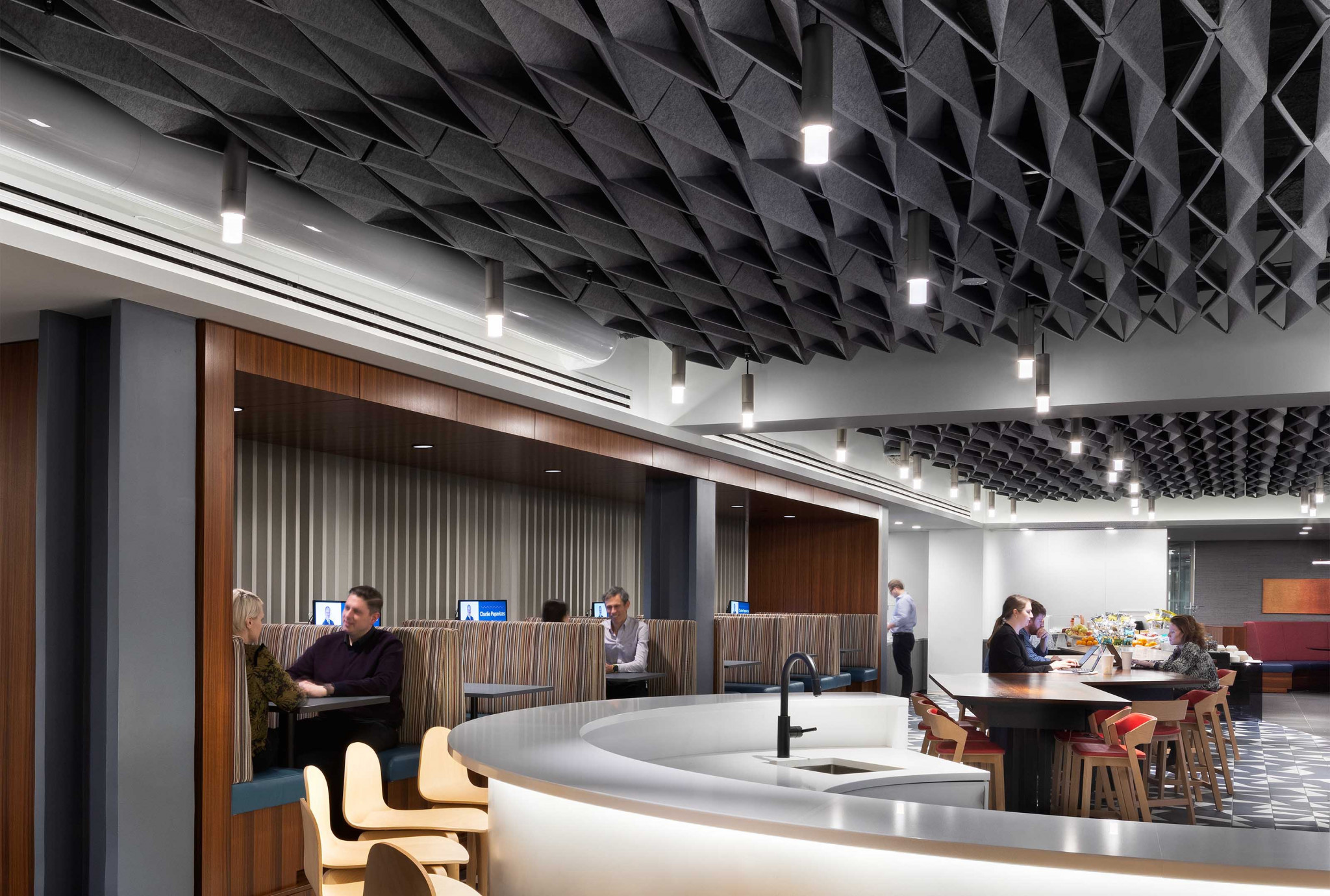 "Confidential Client" New York, NY, HLW, Chris Cooper (Photographer), Featuring: SoftFold® Ceiling System by NOWN
Utilizing a complex pattern creates a powerful design. The dimensional patterning of the modular SoftFold® ceiling system plays with the relationship between light and shadow while the Soft Sound® acoustic material absorbs sound to create a comfortable and unique space.
Meet Your Commercial Project's Needs With Soft Sound®
With a stunning array of products, NOWNensures that the acoustic needs of your commercial project will be met with elegance and style. Our Soft Sound® material, made of PET fabric with up to 60% recycled content, is a sustainable way to achieve acoustic performance and stunning designs. Our innovative products allow you to bring your architectural drop ceiling vision to life in a myriad of ways.
Contact the acoustic experts at NOWN today to get inspiration from our design team and see your vision come to life.