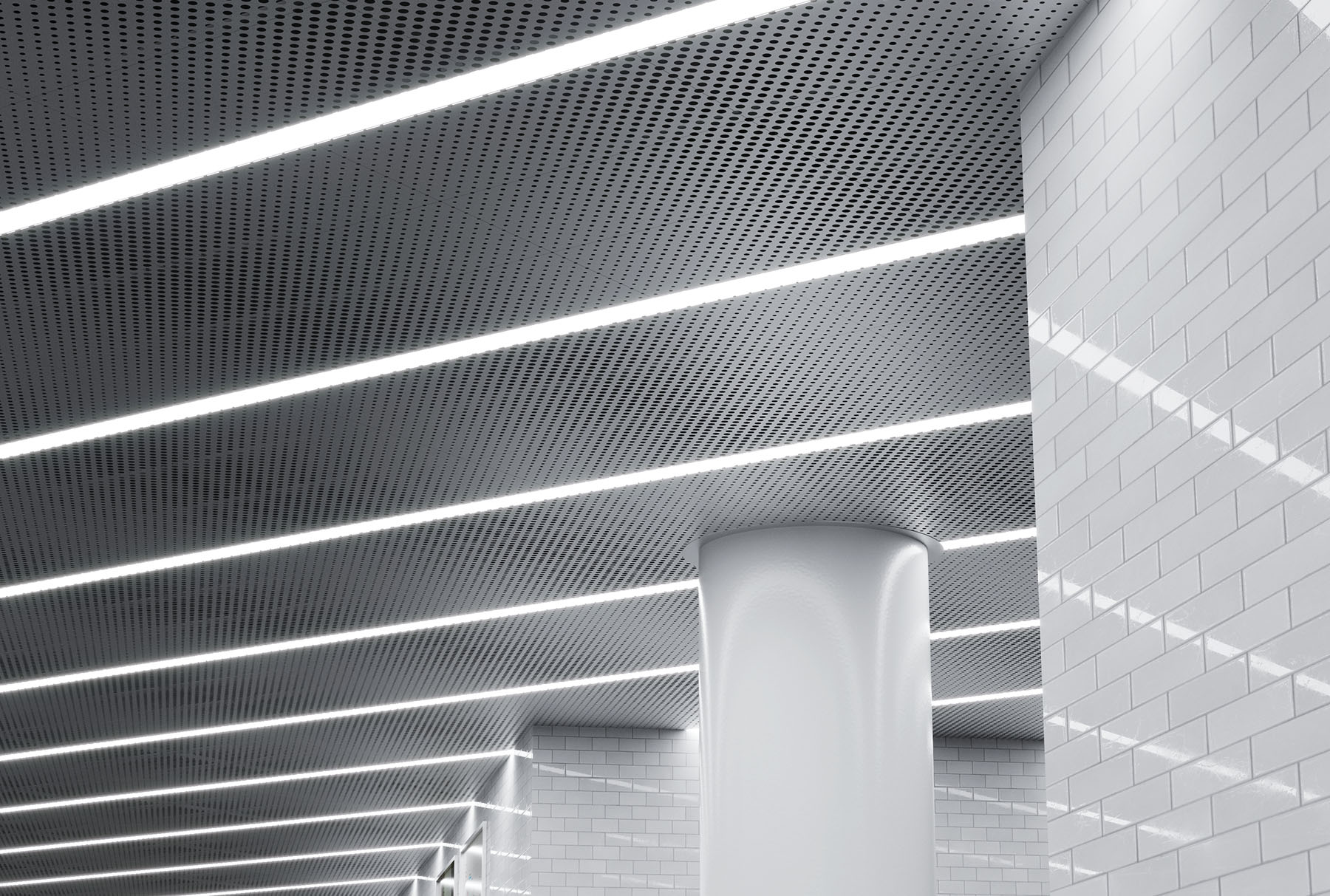 Designing the interior of a building takes a great deal of consideration. Architects and interior designers take their time to choose the best interior finishes for the floors and walls. However, more often than not, their designs stop at the walls. It means an entire area of the building is left lacking in personality, which can detract from the overall design.
Fortunately, innovative design companies have created better solutions: decorative ceiling tiles. These ceiling tiles come in various styles, making it possible to choose the perfect design to compliment your space.
Why Choose Decorative Ceiling Tiles?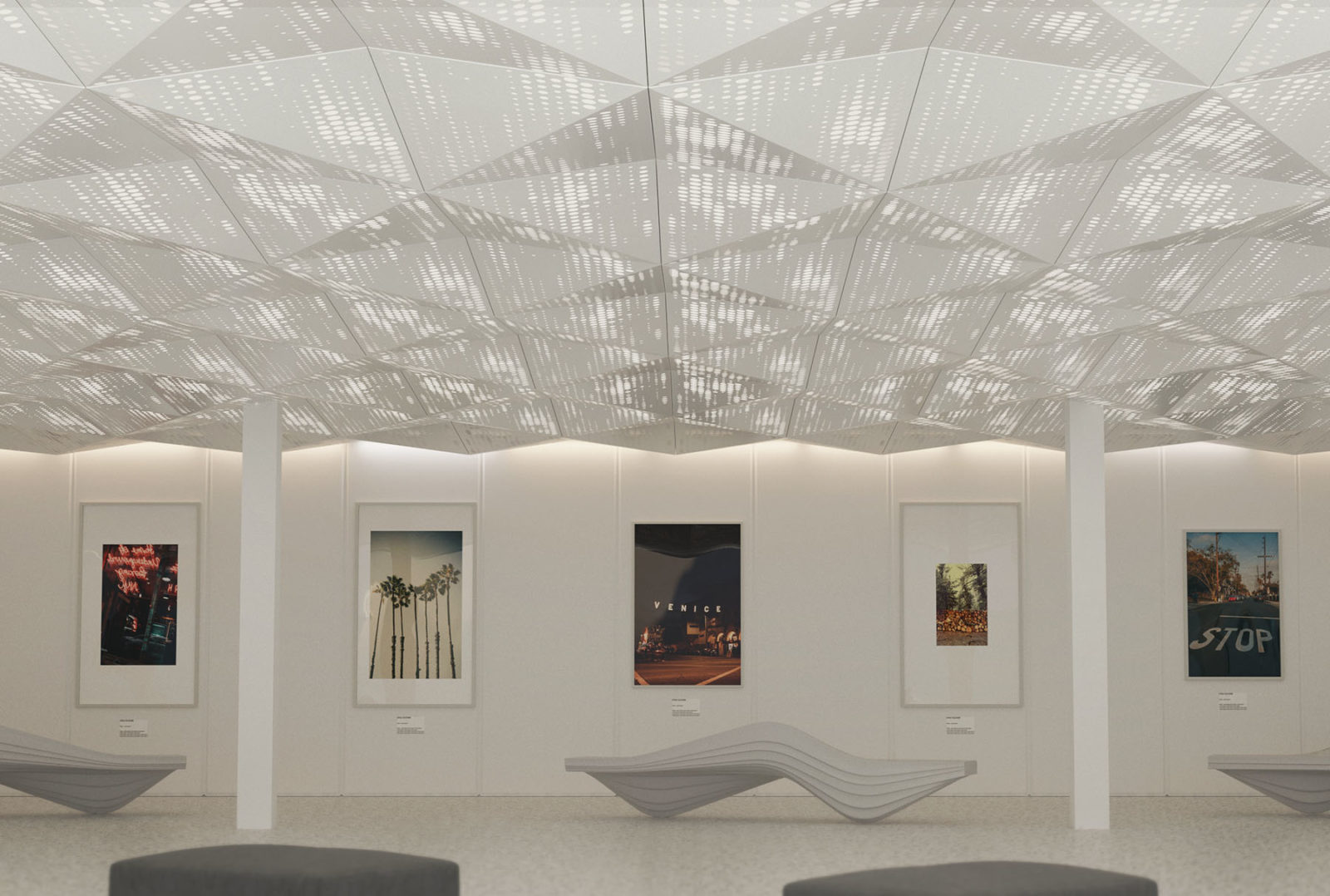 "Art Gallery" Featuring: Delta Drop® by NOWN
Suspended ceilings have been around for decades and are easily the most common type of ceiling found in commercial buildings. Typically, drop tile ceilings are chosen for their budget-friendly ability to hide unattractive parts of the building, like pipes and ductwork. They also help provide the ceiling with a cleaner, more finished appearance.
Decorative ceiling tiles were created as an alternative to the traditional drop ceiling tile. Ceiling tiles are mostly aesthetic, creating a visually beautiful ceiling that helps to enhance the design of a space, though some have extra benefits, such as acoustic sound control.
Lobbies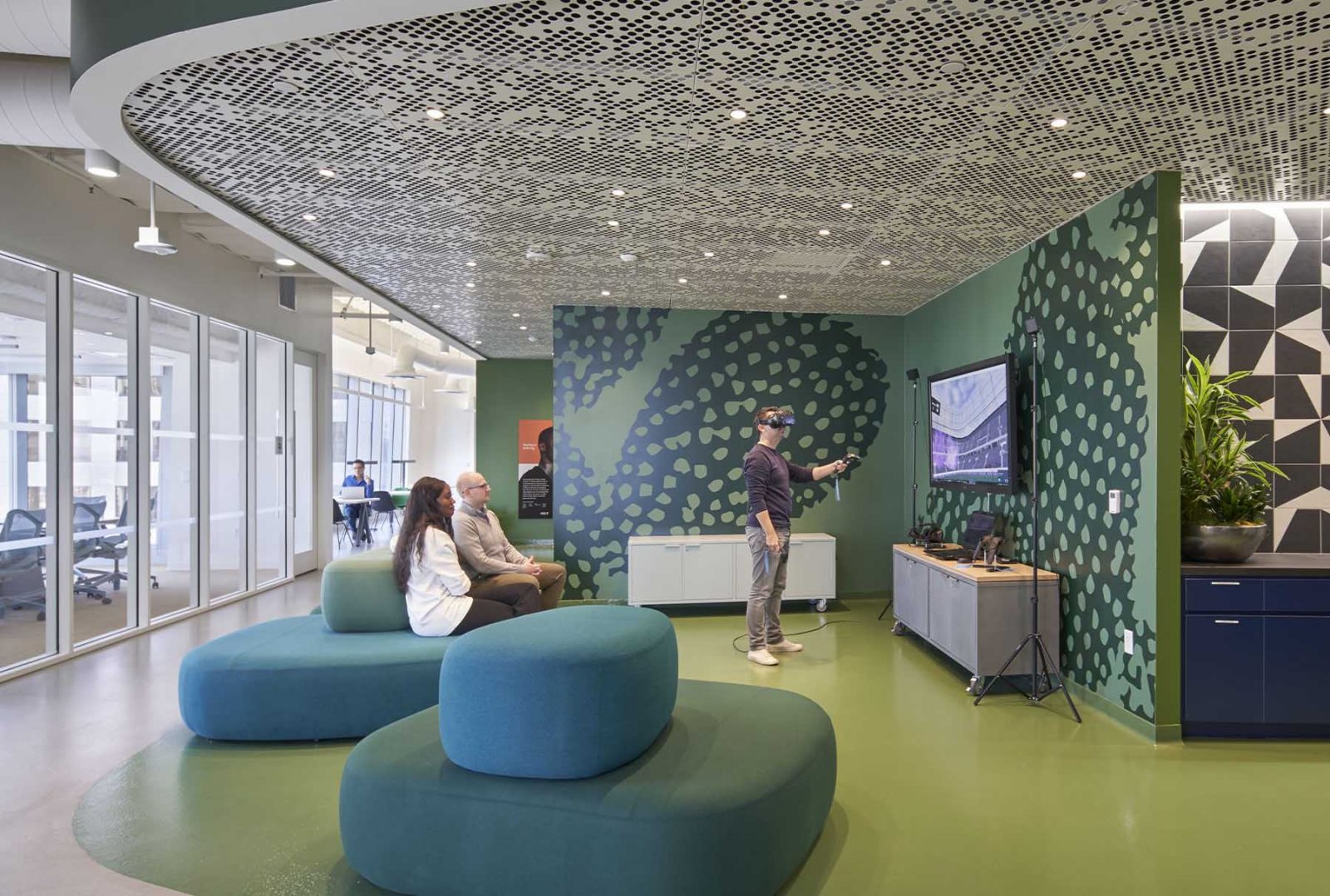 "ARUP" Los Angeles, California, Smith Group – LA, Bruce Damonte (Photographer), Featuring: Vapor® Cluster by NOWN
Like office spaces, lobbies were once plain and boring, full of dull colors with little personality. By adding colorful walls and floors, a lobby can become brighter and more inviting. With all that color in the design, decorative ceiling tiles with a simple pattern can enhance the overall look, without being too busy or overwhelming.
The Vapor® Cluster line of ceiling tiles uses perforated aluminum torsion spring panels with a random pattern of holes. This pattern extends across the ceiling and wraps around each panel's edges, concealing where the pattern starts and ends, which creates a striking appearance.
Company Buildings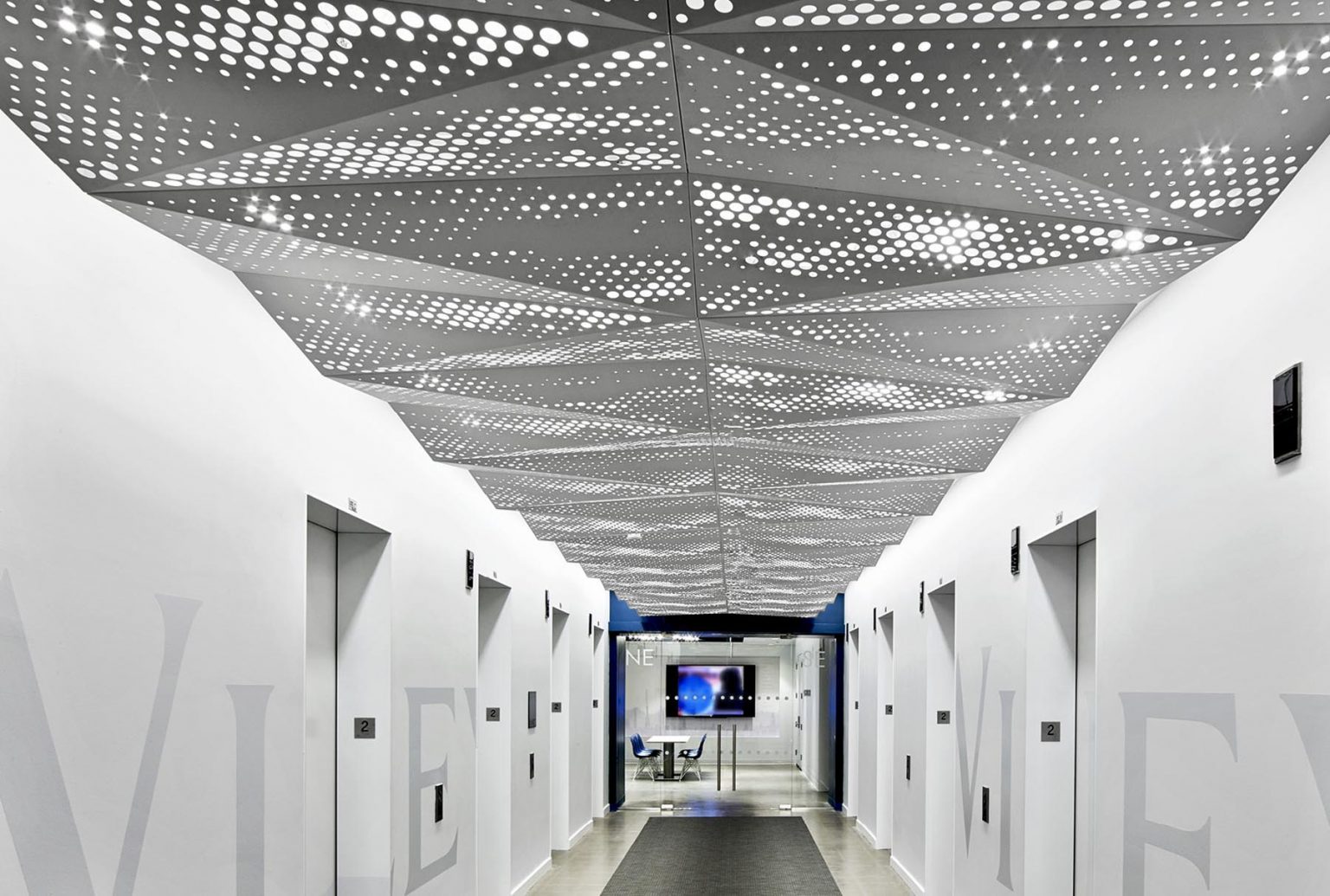 "Wiley Press" New Jersey, TPG Architecture, Eric Laignel (Photographer), Featuring: Delta Drop® 2×4 by NOWN
All companies want to have an impressive headquarters, but that doesn't mean there needs to be an intricate or complex design. Wiley Press's New Jersey-based headquarters features a simple design, with the statement piece coming from the ceiling. Their use Delta Drop® 2×4 tiles brings a multi-dimensional, geometric look, while the long and narrow tiles help a small space feel bigger than it is.
Auditoriums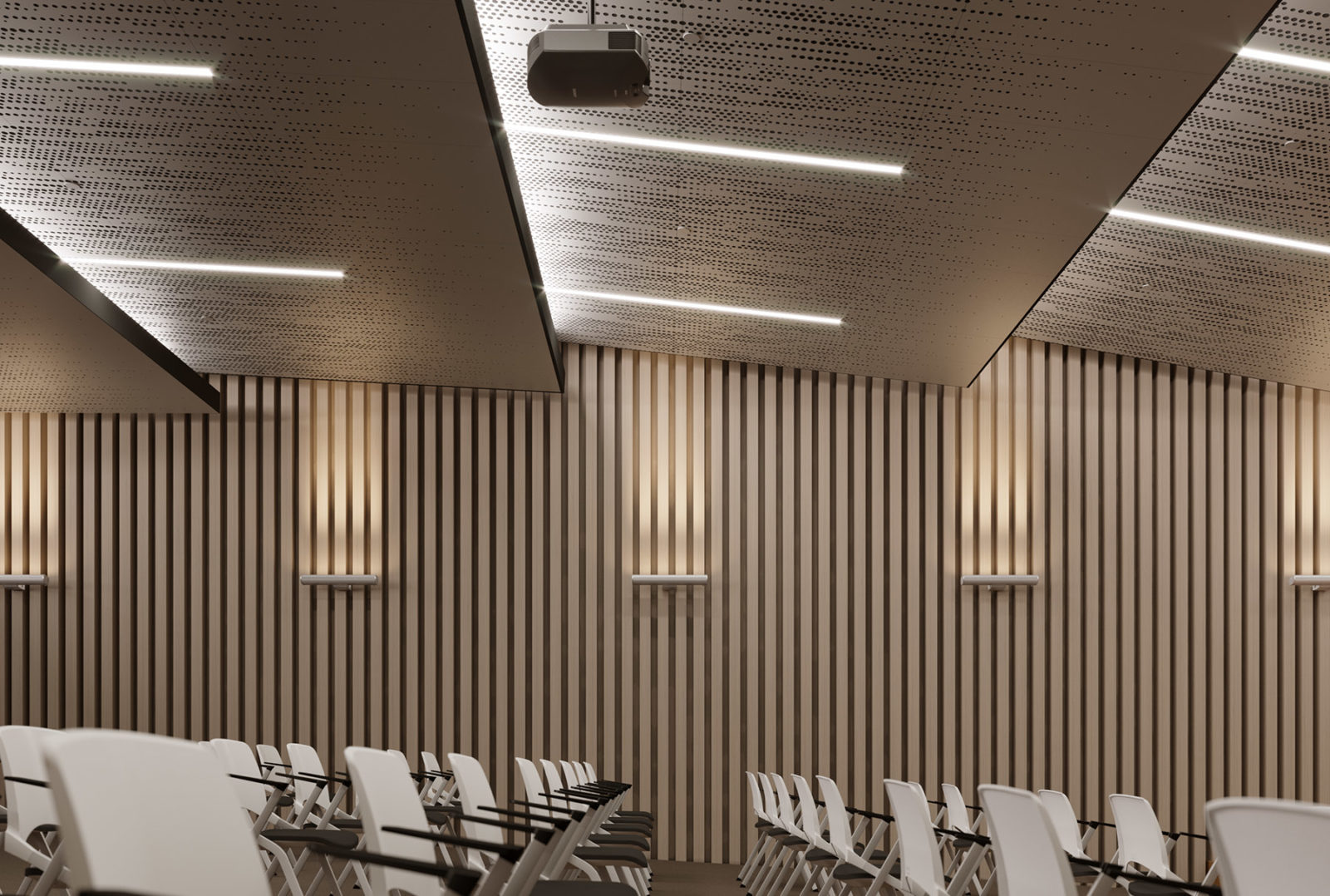 "Lecture Hall" Featuring: Vapor® Frequency by NOWN
NOWN's Vapor® Frequency line is an excellent option for auditoriums. The Vapor Frequency® line offers the unique ability to "feather out" within a design, creating a more dimensional appearance on the ceiling. This can help to create a grander appearance.
Vapor® Frequency features a pattern with circles in varying sizes that add to the flowing effect, leading visitors into the room and visually guiding their attention to the stage.
Public Transportation Stations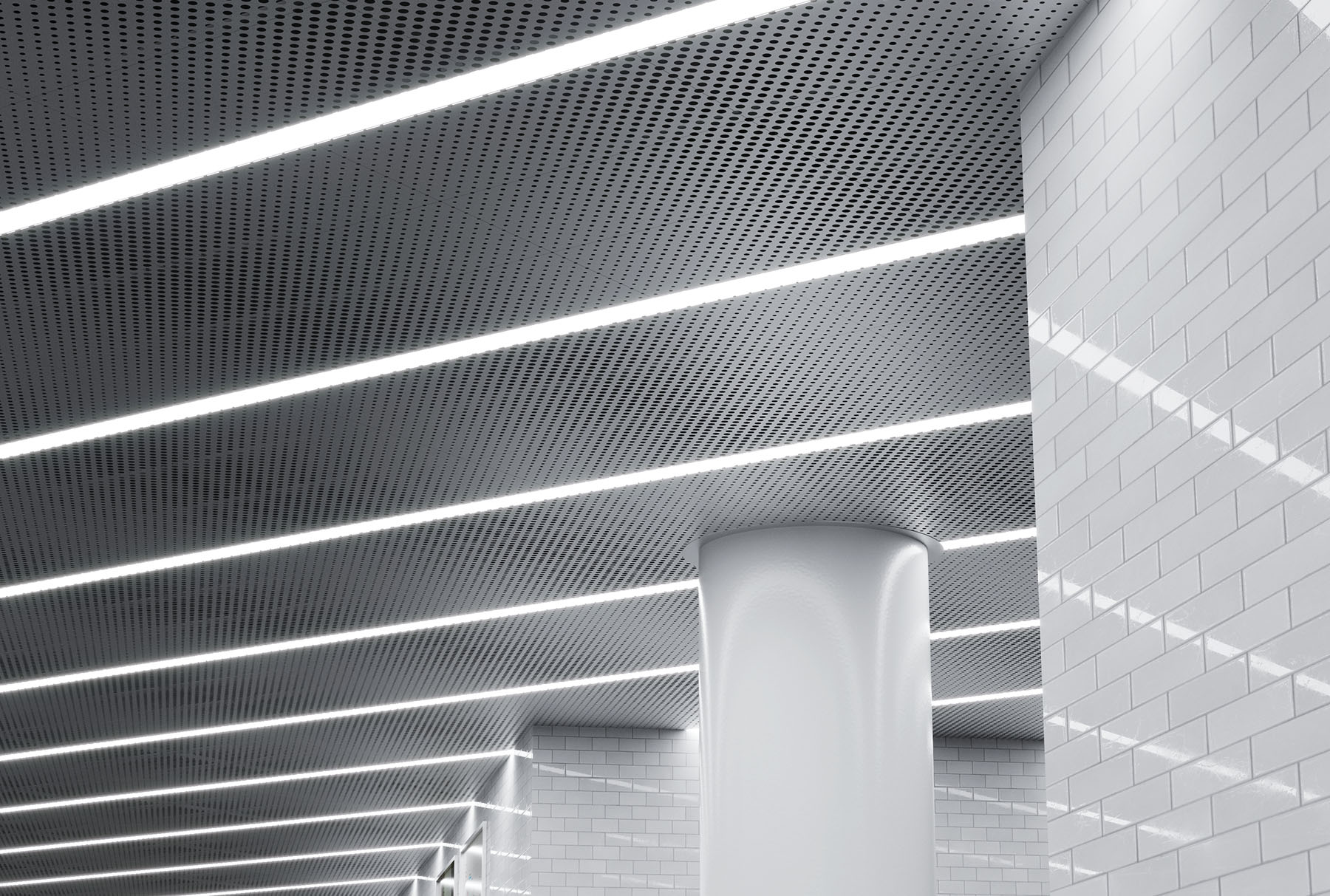 "Subway Station" Featuring: Vapor® Gradients by NOWN
As one of the most versatile options in the Vapor® line, Vapor® Gradient panels create a clean, modern pattern that works well to add movement to any space. These panels are an excellent option for places like subway stations or other public transit areas, as Vapor® Gradient panels create clean lines to help guide people in the right direction — while adding a modern touch.
Gyms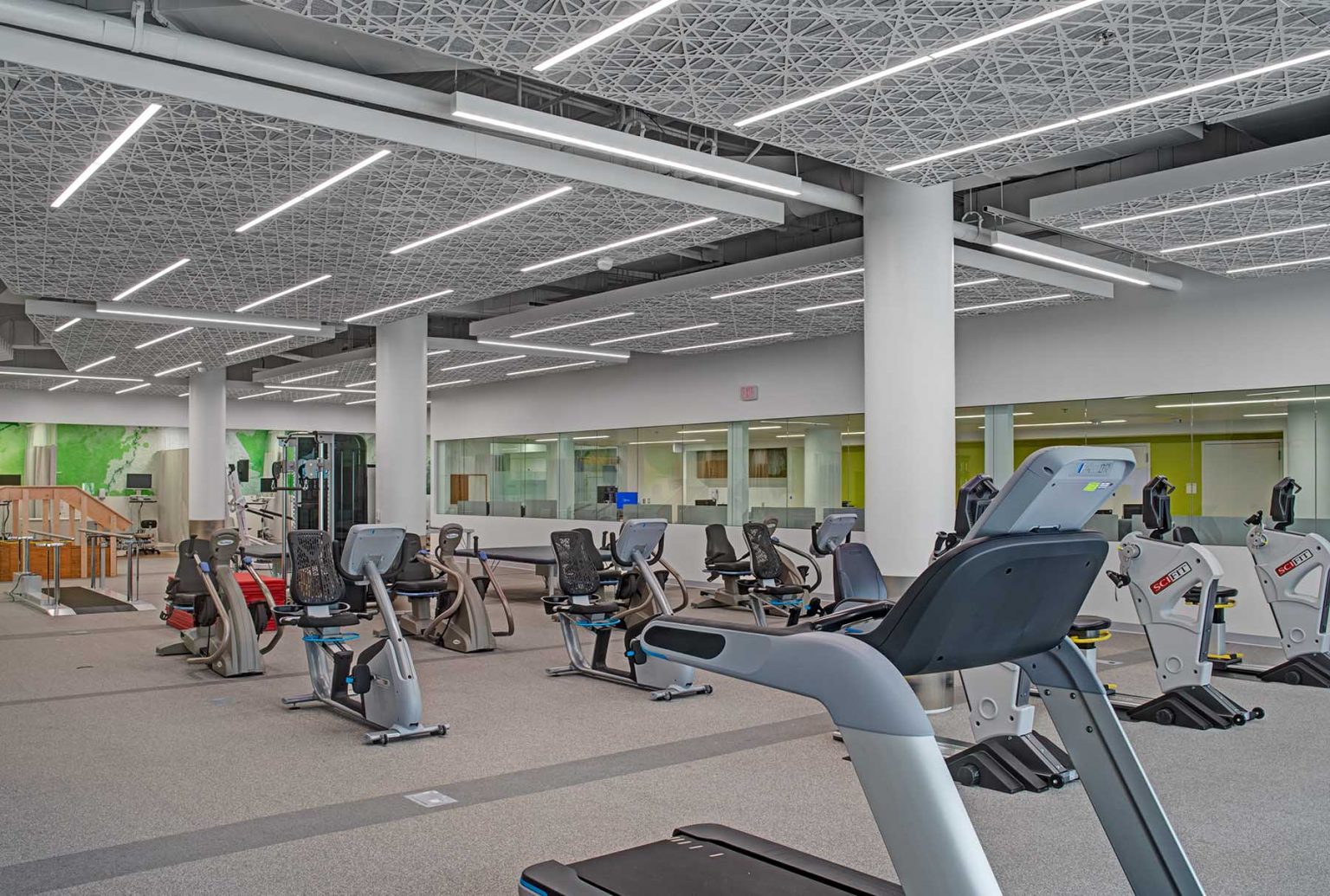 "Kaiser Permanente Largo" Lanham, Maryland, Callison RTKL, Alain Jaramillo (Photographer), Featuring: Trace® Straight by NOWN
Just because gyms are places to get fit doesn't mean you can't add areas of visual interest. The Trace® Straight panels from NOWN feature a unique web-like design that is truly eye-catching. These panels can be combined with integrated InLine lighting to create a warm, well-lit gym space that anybody would want to use or backed with our Soft Sound® backer for acoustic support, which is always helpful in a wide-open space with lots of excess noise.
Hospitals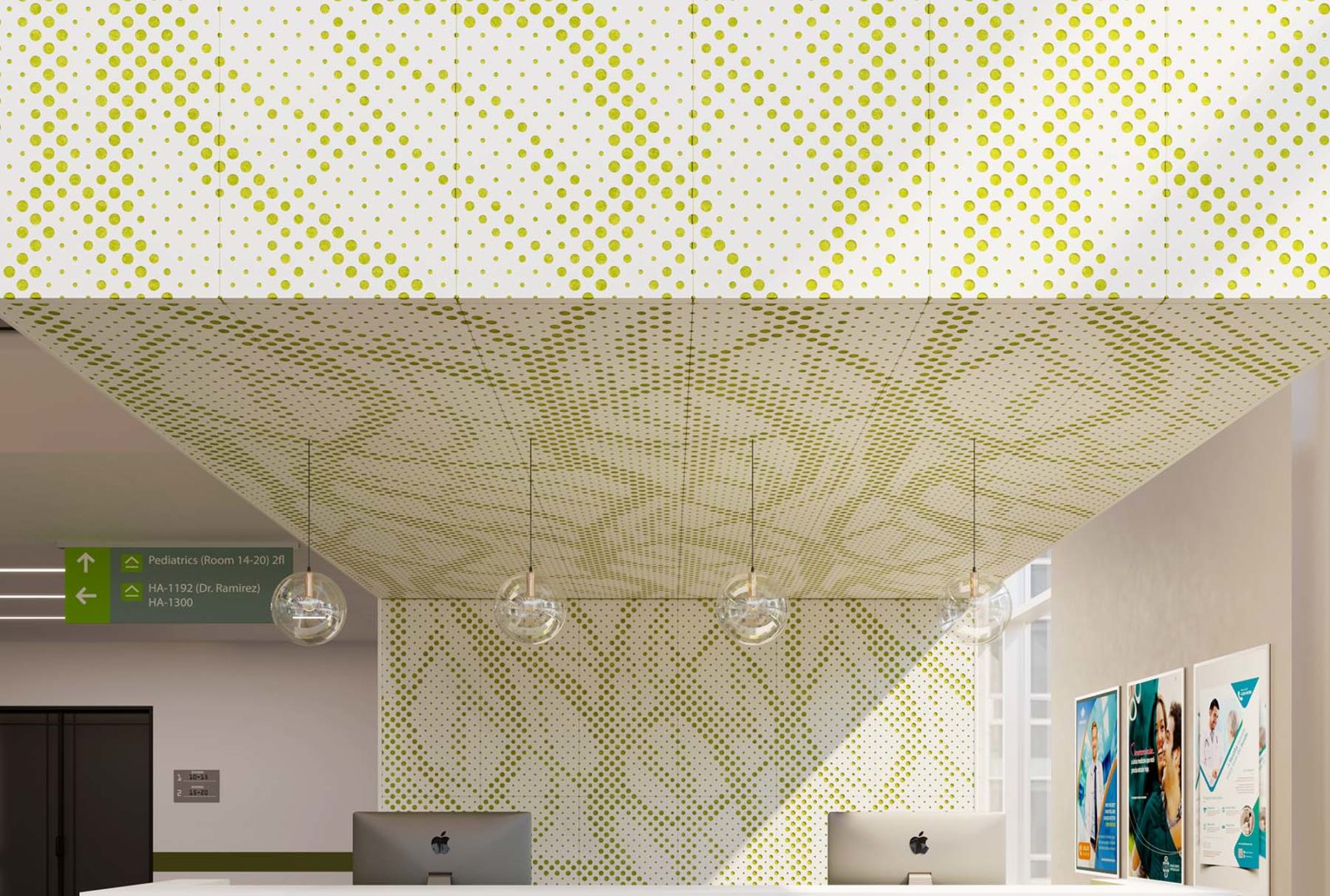 "Hospital Reception Area" Featuring: Vapor® Liana by NOWN
For a long time, hospitals were simple, sterile places that were simply not concerned about style. These days, architects and designers are discovering that hospitals don't need to be plain spaces.
Colorful floors and walls can create a more inviting space that will make patients less anxious. NOWN's Vapor® Liana tiles feature a vine-like pattern that brings the feeling of nature inside. The design can be carried from the ceiling down a wall to create an eye-catching accent piece.
Make a Ceiling Statement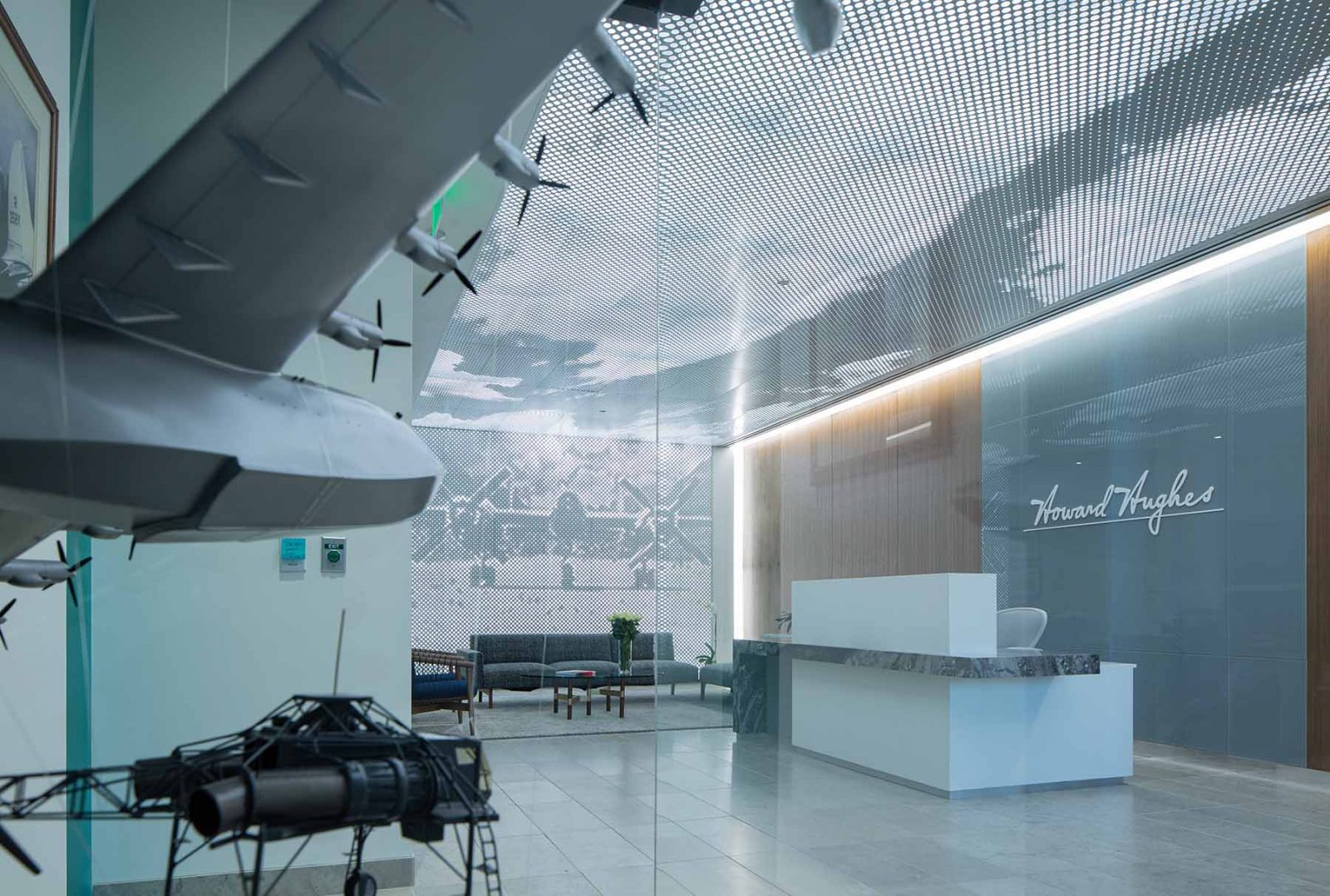 "Howard Hughes" Las Vegas, Nevada, EV&A Ed Vance and Assoc – Vegas, Featuring: Vapor® Graphic Perf® by NOWN
Ceiling tiles don't have to be plain and boring — NOWN creates beautiful, decorative ceiling tiles that will easily enhance any design. Even better, they aren't limited to the ceiling.
NOWN's Vapor® Graphic Perf® can turn ceilings and walls into a unique work of art by combining two systems into one cohesive design. What makes this specific product unique, however, is its customizability. If you aren't finding the perfect option in the premade selection of ceiling tiles, NOWN will work with you to design the perfect solution for your company.
Vapor® Graphic Perf® tiles can easily be designed to feature a custom image or other graphic to fit your unique space, so coming up with a unique tile is easy.
The Advantages of NOWN Decorative Ceiling Tiles
While these products are mostly meant for aesthetic purposes, that doesn't mean they don't offer other benefits. All of NOWN's products offer some acoustical support when a Soft Sound® backer is added, which can help dampen noise.
And most of these tile systems also have the option of adding a lit back panel, which can further illuminate any ceiling design — and the space.
The days of plain, boring ceiling tiles are gone. These decorative ceiling tiles add personality and style to any space. Ceiling tiles help create an attractive aesthetic that will impress employees, patients, customers and visitors. Whether you install them in an office, retail space or hospital, a more decorative choice of ceiling tiles can make a world of difference to your space's aesthetics.
For help choosing the best ceiling tiles for your next design, contact NOWN today.