SoundStar® ceiling system's hexagonally shaped cellular coffers offer a scalable way to add geometric dimensionality and disrupt sound's ability to travel across a space. Each module is comprised of angled surfaces made from our Soft Sound® acoustical material (100% PET plastic with up to 60% recycled content) with a metal substructure. Choose from 12" or 24" deep modules, to mix and match as desired. Thanks to its flexible, modular configuration, SoundStar® can adapt to a range of spaces and design visions, to create a spectacular visual effect. The design and sound capturing capabilities of this system offer a fresh effective approach to high performance sound attenuation.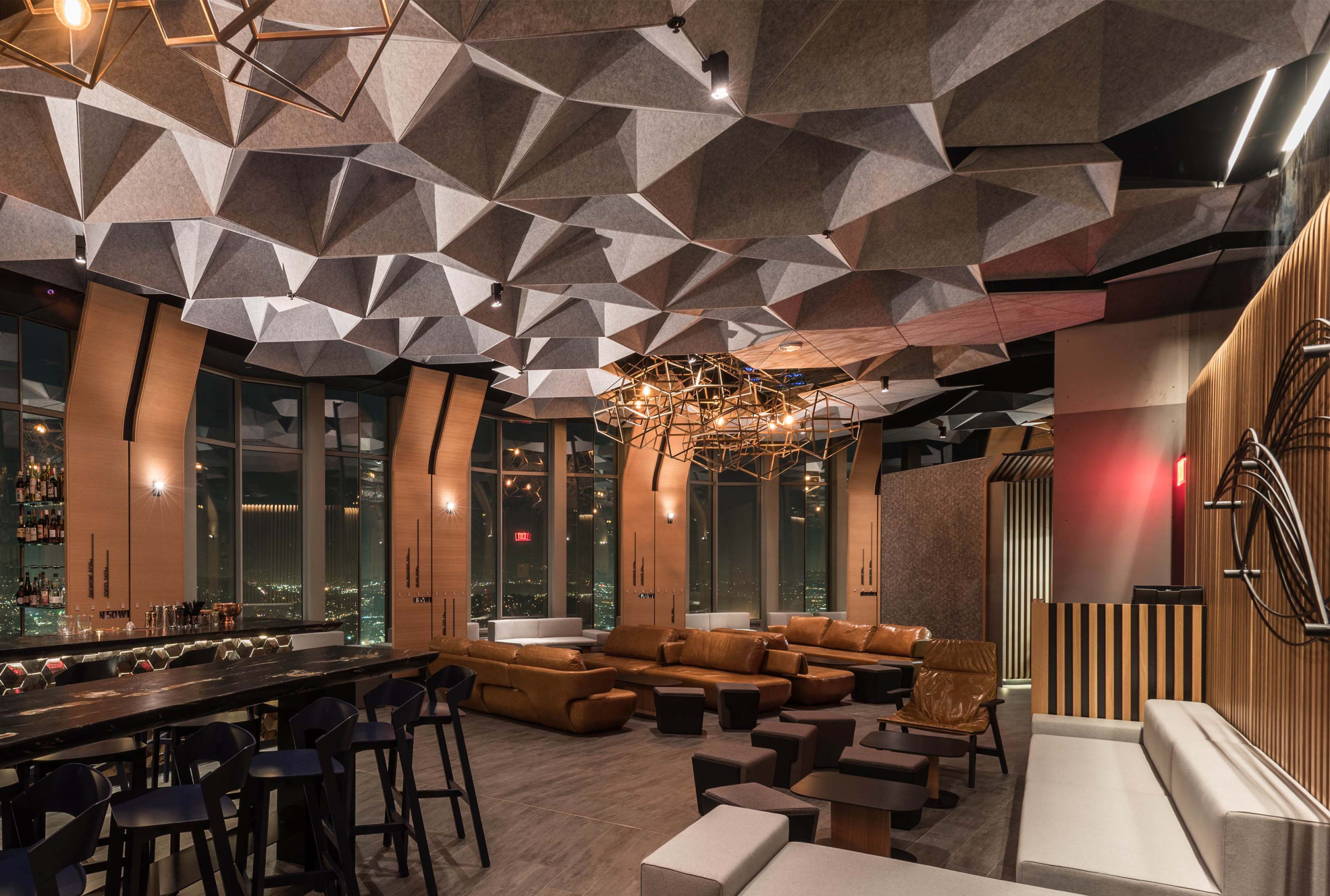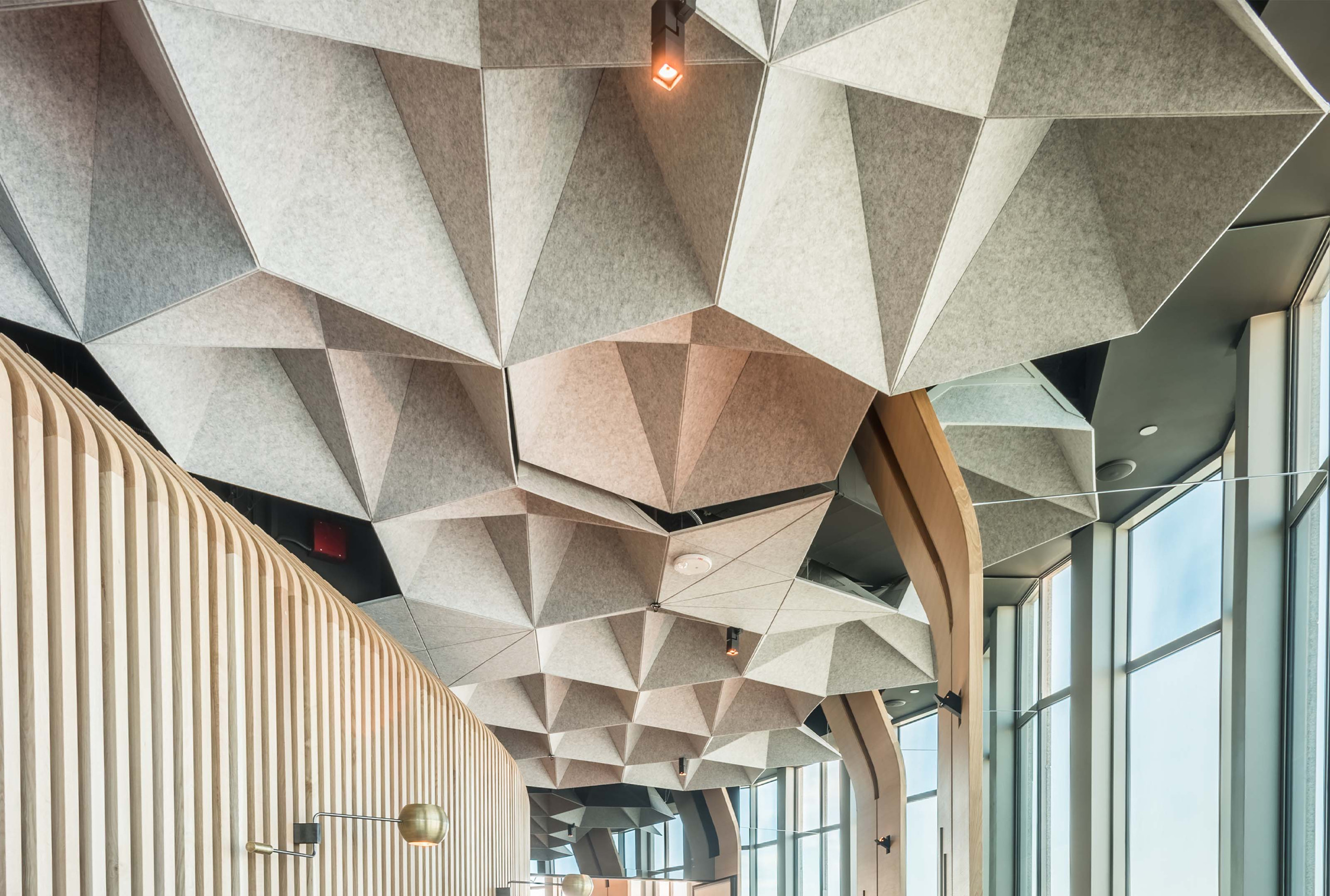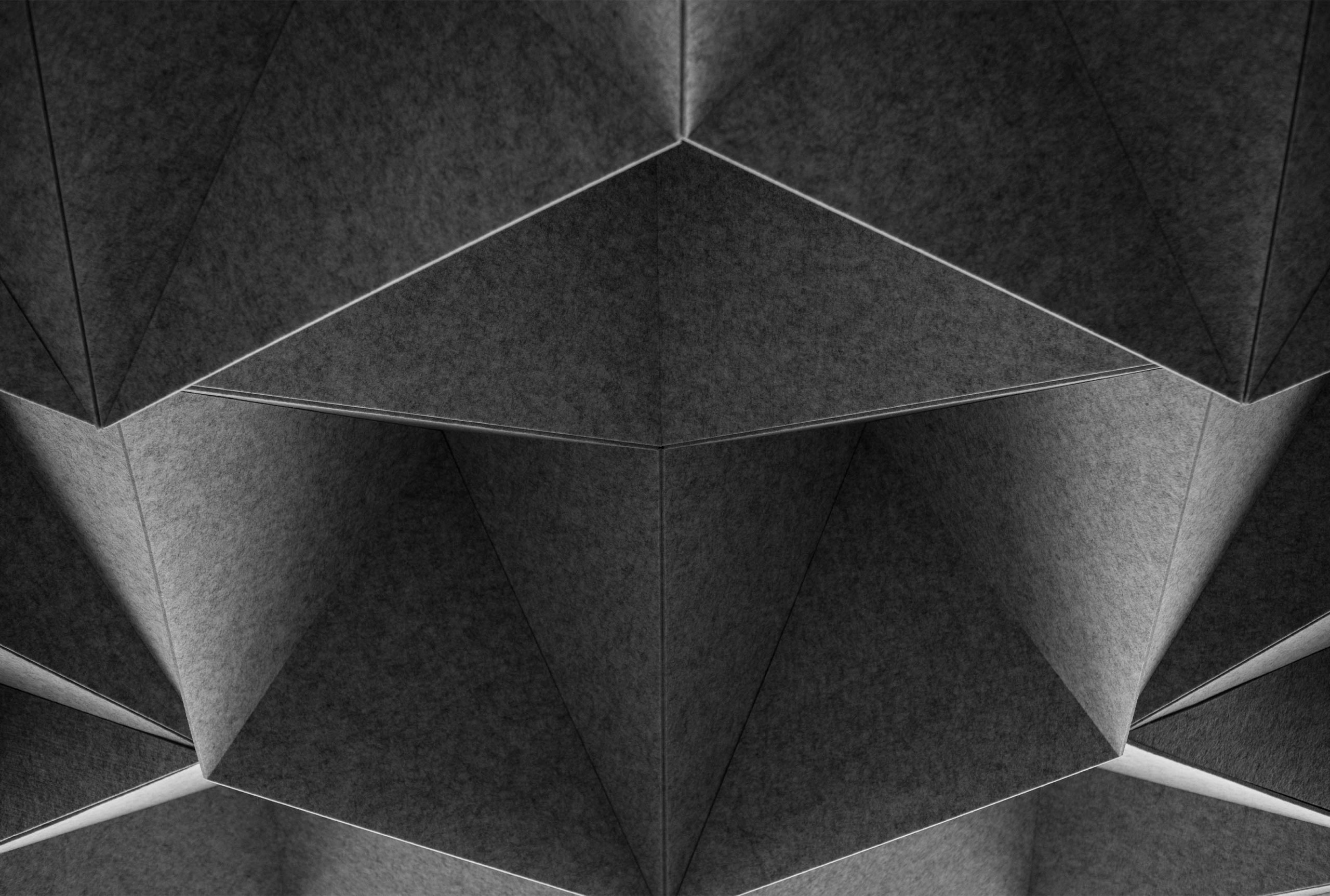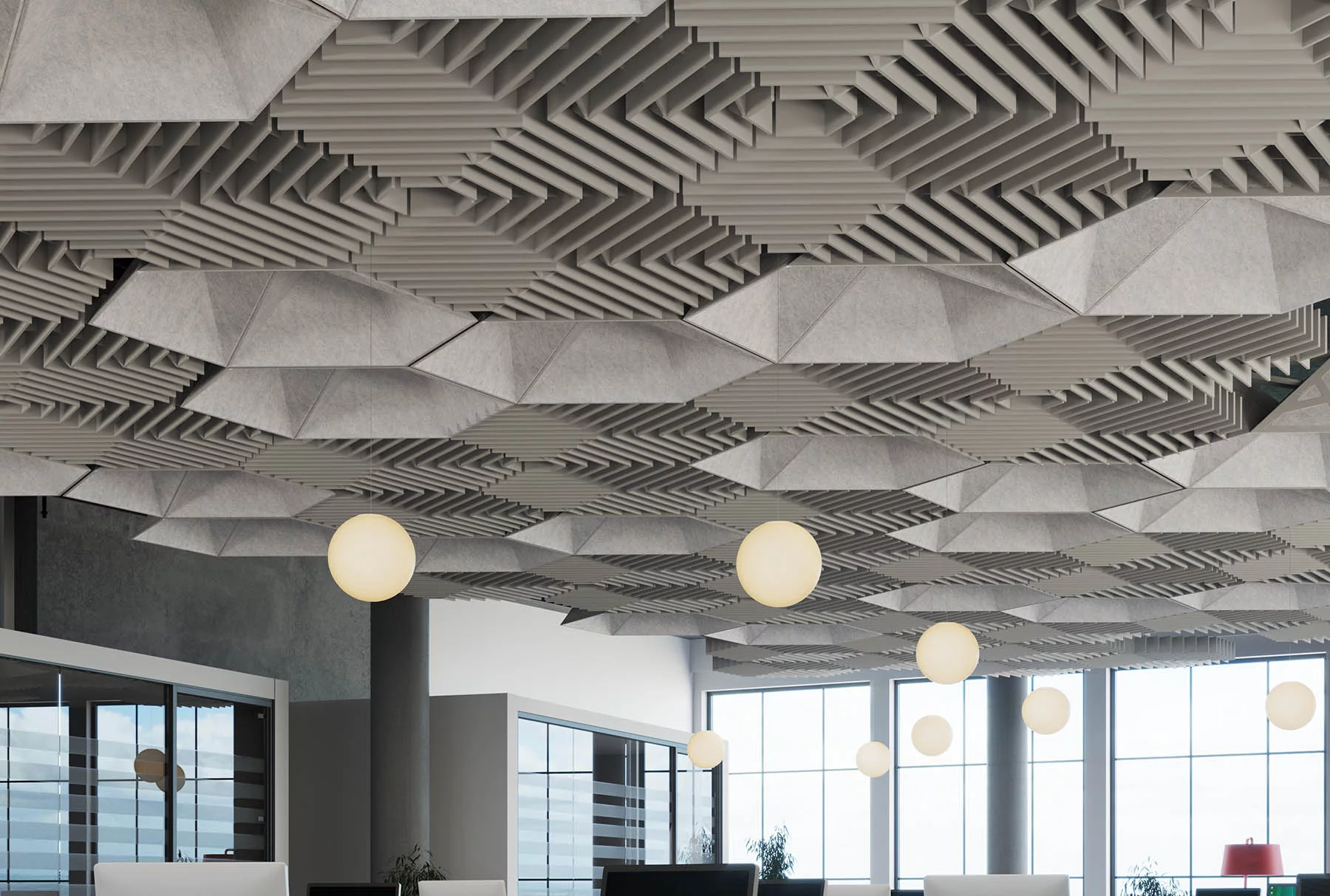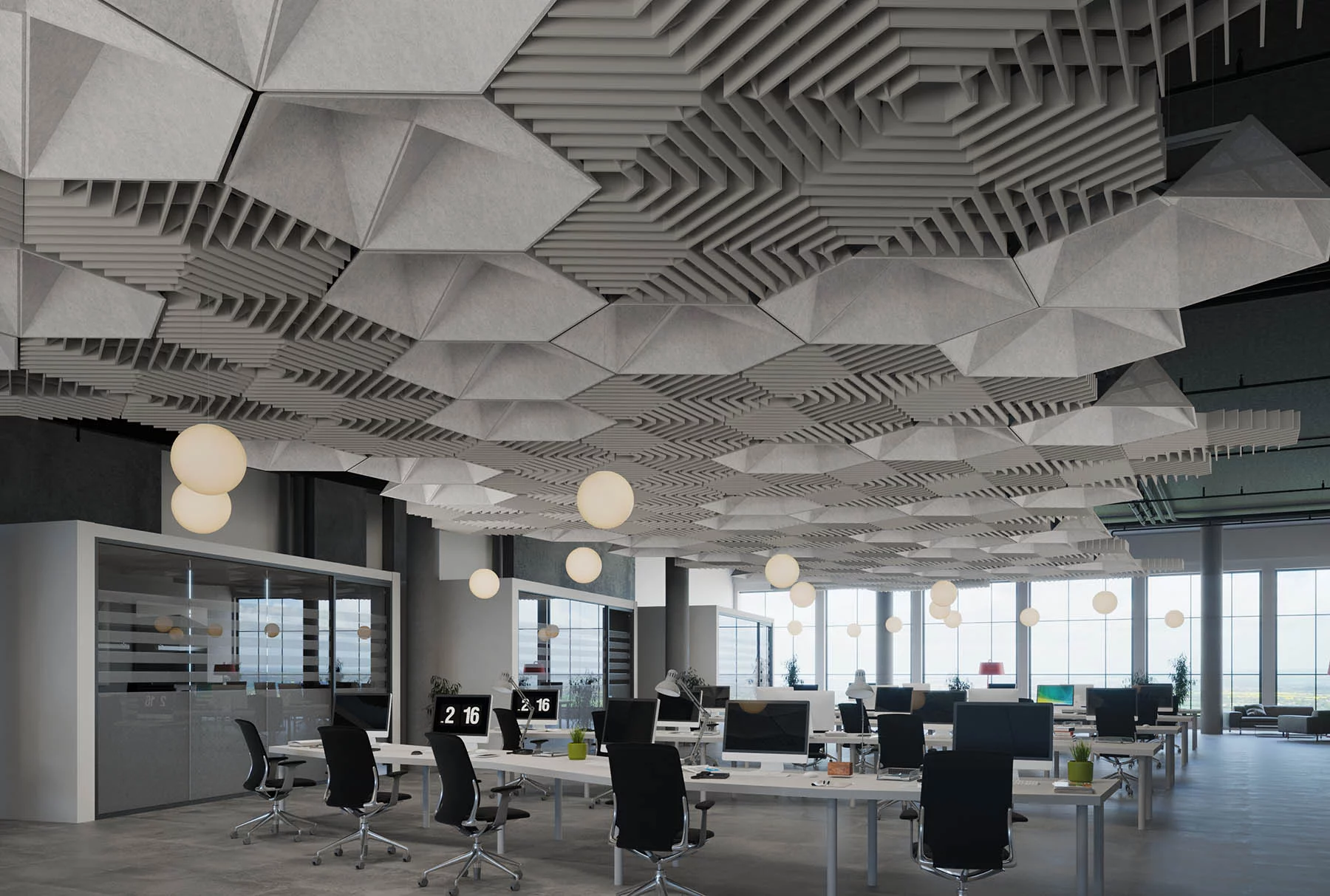 Key Features
Dynamic Modules

SoundStar®'s unique hexagonal shape allows it to work in dynamic clusters that don't confine its modules to rectilinear spaces. SoundStar® works with irregular and regular spaces, clusters well in open areas, and can be suspended individually as an acoustic cloud.

Thoughtful Integration

SoundStar® can accept integration of lights and fire suppression systems through its vertices and voids. Simply select an open void in the SoundStar® module and field cut to integrate a fixture and add even more flexibility for integration.

Compatible with Hexagonal SoftGrid®

SoundStar® is compatible with hexagonal SoftGrid® patterns Deca, Orbit, and Flux. Integrate SoftGrid® modules with SoundStar® to add balance and design variation to any space.

Reduce Noise & Enhance Acoustics

SoundStar®'s Soft Sound® material reduces the impact of noise from everyday annoyances like ringing, typing, and chatter resulting in a more pleasant and productive environment. SoundStar®'s material works in concert with the faceted design to help reduce and control reverberations and diffuse sound leaving a lasting impression at scales ranging from assembly halls to conference rooms.

Expansive Soft Sound® Library

Choose from a large library of Soft Sound® colors and wood textures. Mix and match colors to accent and complement the color scheme of your space.

Seamless Connections

Connect SoundStar® modules seamlessly into clusters, at all adjacent points, with our module joining brackets.
Product Details
Fire Rating

ASTM E84 - Class A, UNE-EN 13501-1, B-s1,d0

Acoustics

SoundStar 24": True NRC® 0.95: Ceiling E-600 Method

SoundStar 24": True NRC® 0.95: Ceiling E-700 Method

SoundStar 12": True NRC® 0.85: Ceiling E-300 Method

SoundStar 12": True NRC® 0.85: Ceiling E-400 Method

Accessibility

Yes, quick release cables

Trimmability

Yes, in specific areas that avoid the frame

Standard Modules

Multiple Modules

Understanding the Module - Plan

Understanding the Module - Sections & Elevations

Attachment Details

Combining With Other Products

Sustainability and Certifications

144-488

SoundStar30: 144 recycled water bottles SoundStar60: 488 recycled water bottles

Cradle to Cradle®

Bronze Status Pending

100%

Declare certified to be fully salvageable/reusable in its entirety, recyclable (100%)
Materials and Finishes
CircuLUM™ Powder Coat Premium Metallic Finish

Chilled Champagne

Burnished Bronze

CircuLUM™ Powder Coat Standard Finish

Brilliant White (Gloss) (RAL9010)

NOWN White (Matte) (RAL9016)

T-Grid White (Matte) (RAL9003)

Silver Metallic (Semi Gloss) (RAL9006)

Jet Black (Matte) (RAL9005)

Aviator Gray (Gloss) (RAL7035)

Aviator Gray (Matte) (RAL7035)

Steel Gray (RAL7046)

Shadow (RAL7024)

Midnight (RAL7021)

Coffee (RAL8014)

Raw Umber (RAL8007)

Caramel (RAL8001)

Sandstone (RAL1019)

Oat (RAL1001)

Sunflower (RAL1003)

Torch (RAL2009)

Spirit Red (Matte) (RAL3001)

Azure (RAL5003)

Blue Steel (RAL5010)

Forest Green (RAL6001)

Soft Sound® Color Group A

White

Snow

Marble

Heather Gray

Graphite

Carbon

Onyx

Apple

Tangerine

Lemon

Taupe

Sand

Kiwi

Whisper

Sky Blue

Denim

Absinthe

Abyss

Azore

Mars

Macchiato

Soft Sound® Wood Texture

Gray Ash

White Oak

Golden Oak

Oak

American Walnut

Charred Oak

Charred Ash

Ebony