SoftScreen® Slant's panels and partitions bring to life modern geometric design, calling to mind elegant galas and sophisticated balls. And thanks to the Soft Sound material, you can also achieve targeted sound control, without sacrificing elegant design. Choose from Hanging Bracket, Cable Hung, Sliding Track, and Direct mounting methods to fit the needs of your space.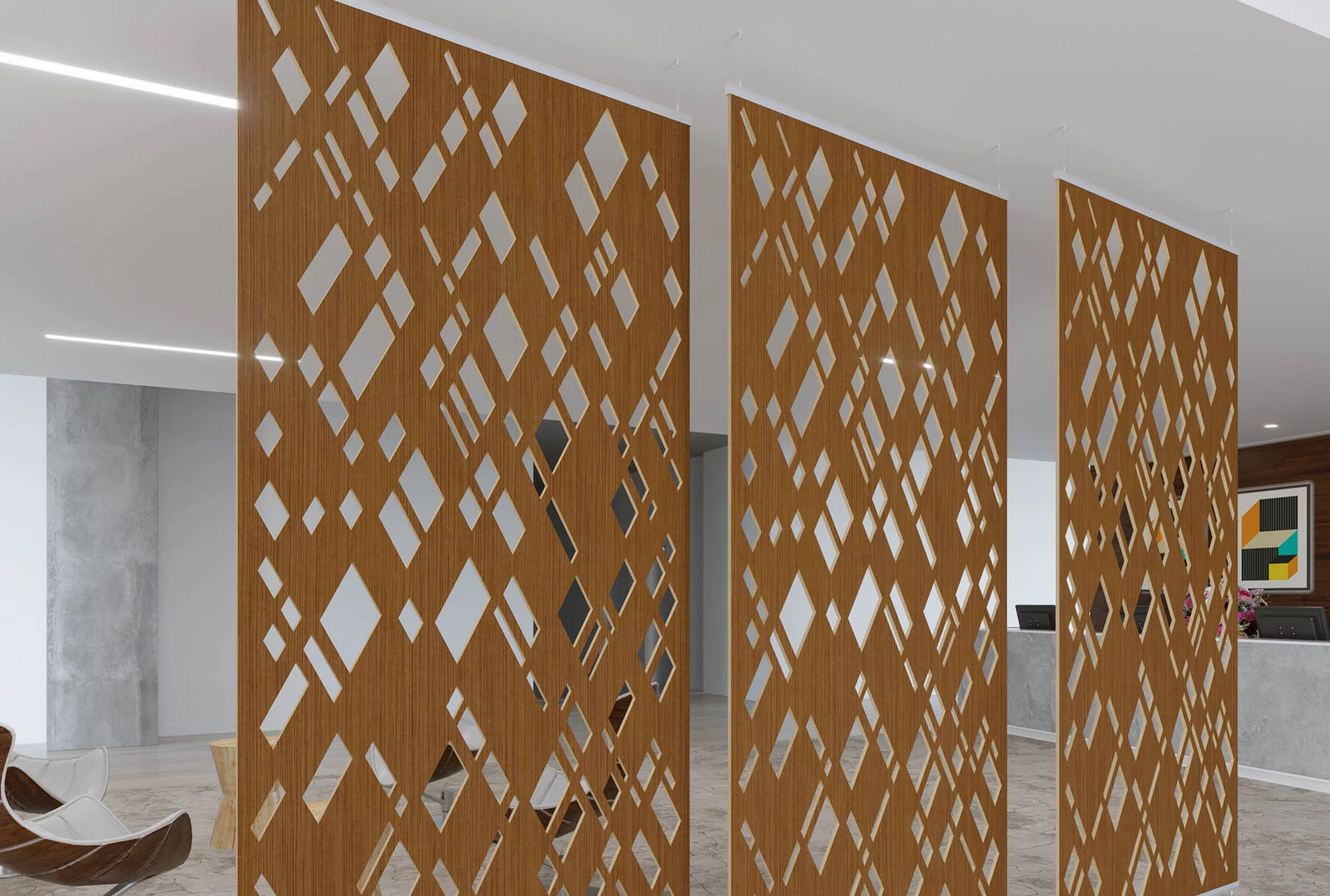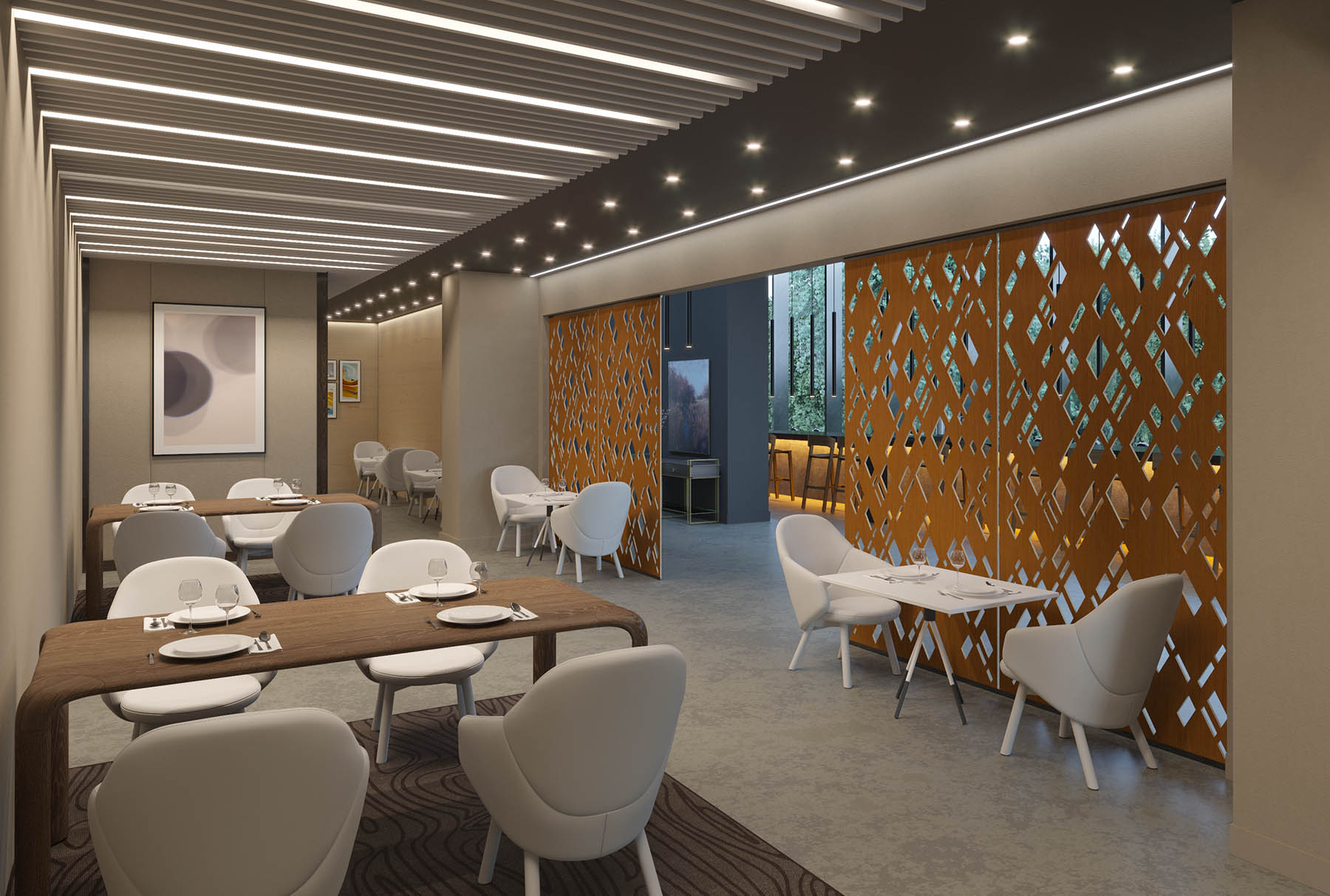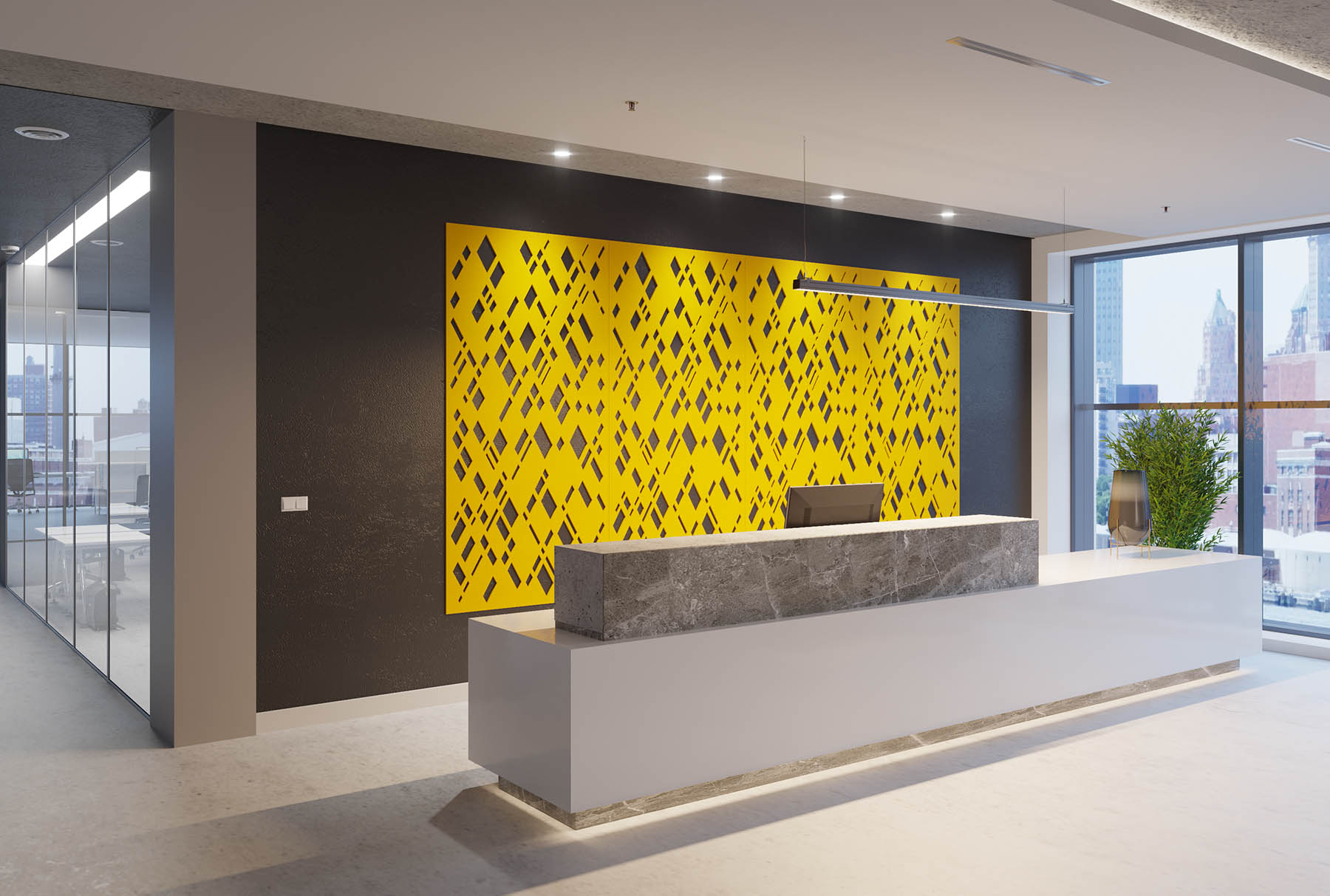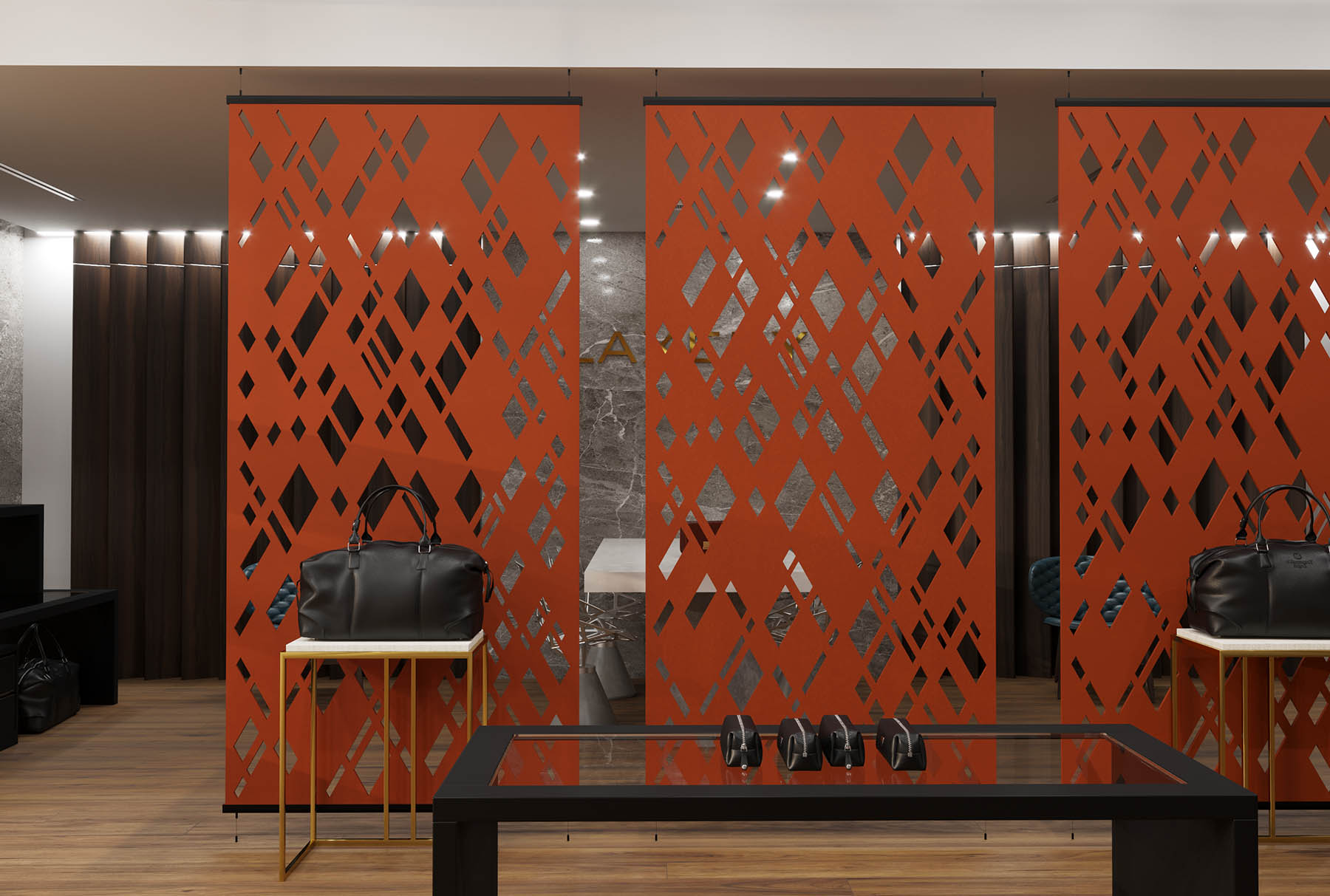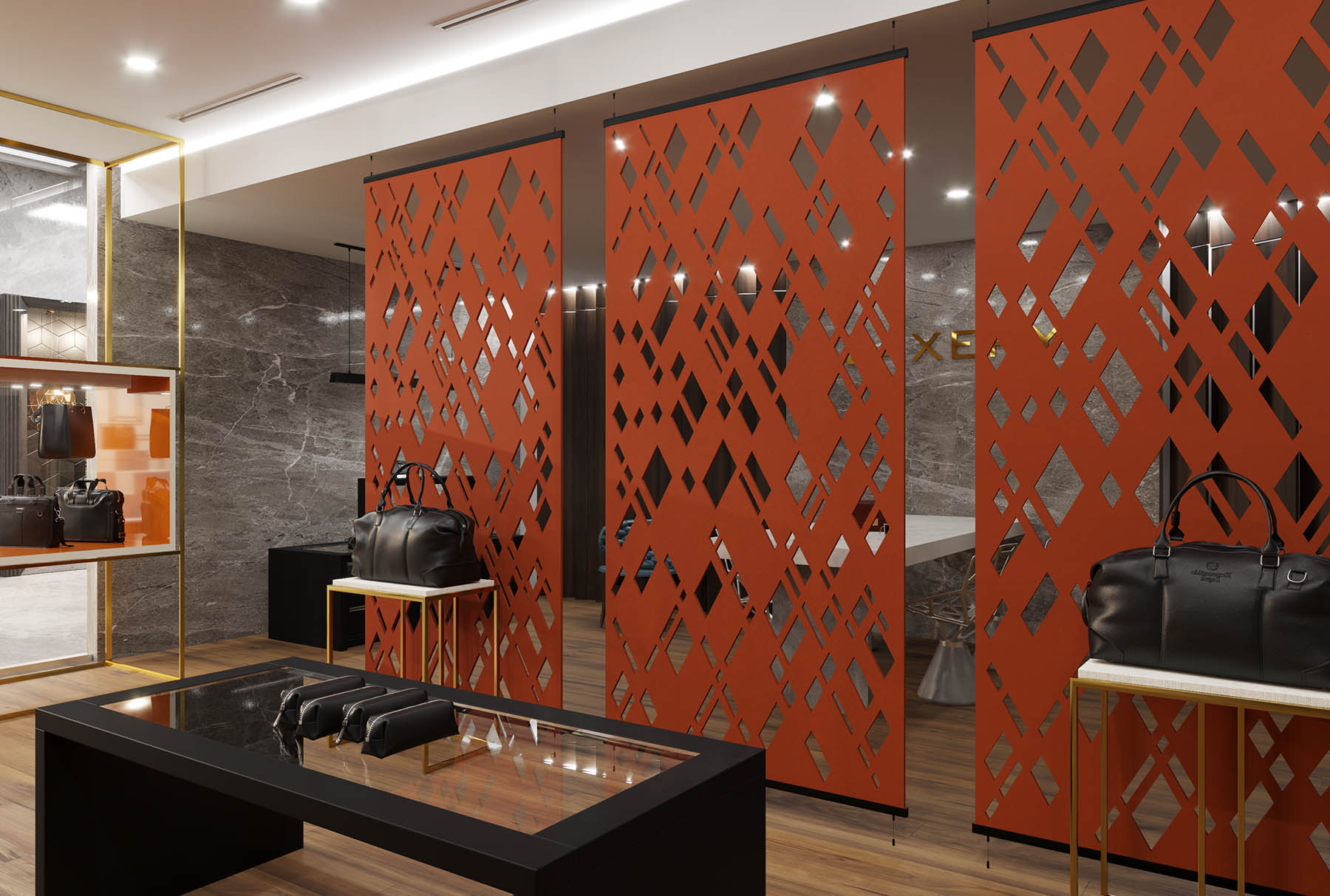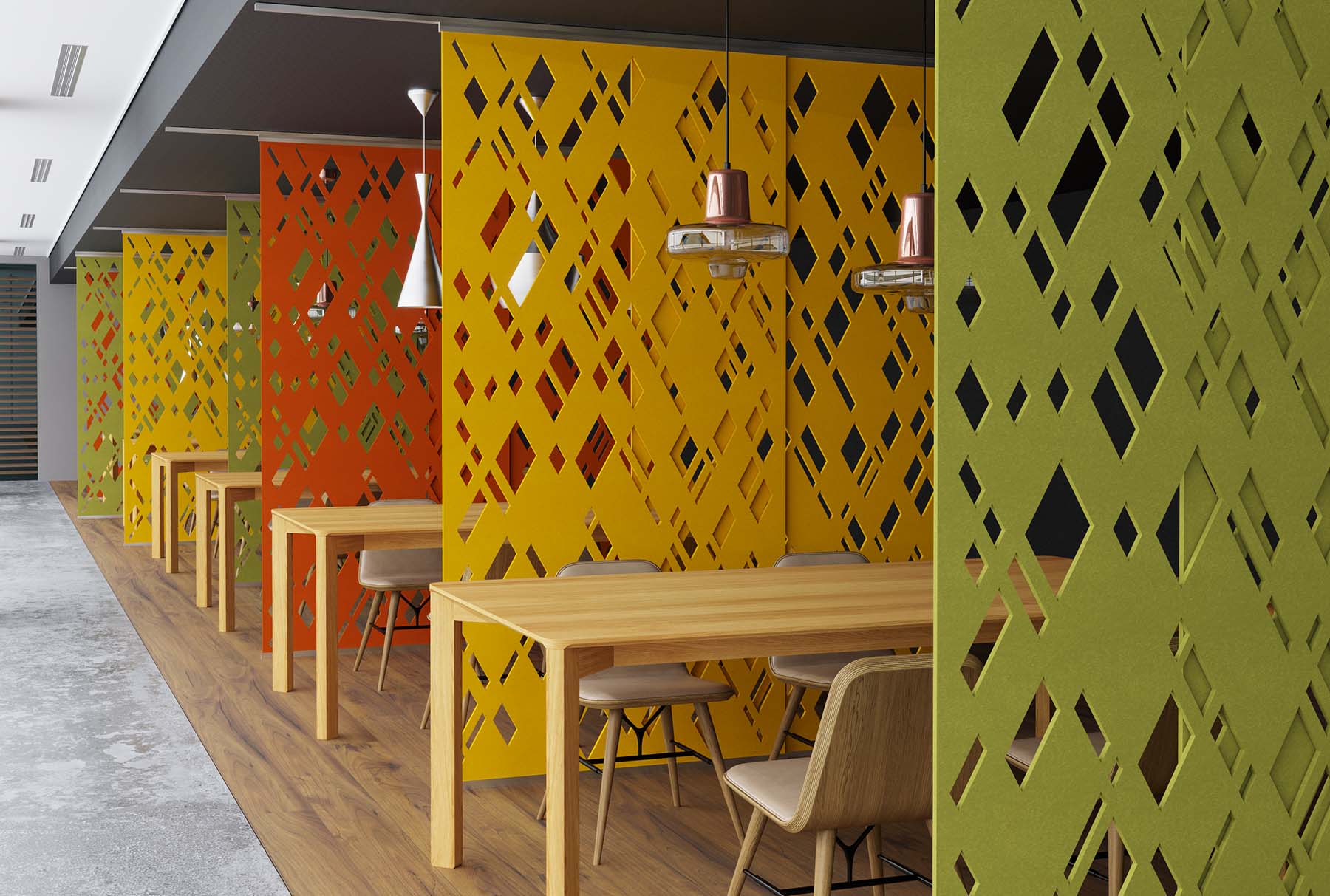 Key Features
Reduce Noise & Enhance Acoustics

SoftScreen®'s Soft Sound® material reduces noise from everyday annoyances like ringing, typing, and chatter resulting in a more pleasant and productive environment. SoftScreen®'s material works in concert with wall coverage or partition capabilities and diffuses sound while enhancing wellness in spaces from busy office environments to soothing waiting rooms.

Expansive Soft Sound® Library

Choose from a expanding library of Soft Sound® colors and wood textures. Mix and match colors to accent panels and complement the color scheme of your space.

Varying Degrees of Separation

SoftScreen®'s growing collection of solid, half, and full pattern designs create a diverse range of physical separation and visual obstruction to fit the privacy, collaboration, and partition needs of any space.

Continuous Aesthetic

SoftScreen's thoughtful design allows for a continuous pattern aesthetic across an array of panels.

Height Options

SoftScreen® offers two variable heights to accommodate use in a diverse range of spaces.

Diverse Mounting Methods

SoftScreen® attachments are available to create both static and operable panels. Choose from Hanging Bracket, Cable Hung, Sliding Track, or Direct mounting methods to make SoftScreen's various functions a suitable fit for any interior space.
Product Details
Dimensions (WxLxD)

1220mm x 2440mm x 1.30mm (20mm w/ Channel) Metric

1220mm x 2740mm x 1.30mm (20mm w/ Channel) Metric

Material

12mm Soft Sound® (PET) and Aluminum Track

Fire Rating

ASTM E84 - Class A, UNE-EN 13501-1, B-s1,d0

Trimmability

Yes, per installation manual

Acoustics

True NRC® 0.35: Wall A Method

Pattern Options

Install Option: Direct

Install Option: Cable Hung

Install Option: Hanging Bracket

Install Option: Sliding

Accessories: Bridge

Accessories: Edge

Attachment Details

Sustainability and Certification

144

Each module is made from 144 recycled water bottles

Cradle to Cradle®

Bronze Status Pending

100%

Declare certified to be fully salvageable/reusable in its entirety, recyclable (100%)
Materials and Finishes
Soft Sound® Color Group A

White

Snow

Marble

Heather Gray

Graphite

Carbon

Onyx

Apple

Tangerine

Lemon

Taupe

Sand

Kiwi

Whisper

Sky Blue

Denim

Absinthe

Abyss

Azore

Mars

Macchiato

Soft Sound® Wood Texture

Gray Ash

White Oak

Golden Oak

Oak

American Walnut

Charred Oak

Charred Ash

Ebony
Projects with SoftScreen® SLANT