The complex interaction of variables lends power to design. Using our Soft Sound® acoustical material (100% PET plastic with up to 60% recycled content) and dimensional patterning, SoftFold® achieves acoustical dampening while creating a subtle play between light and shadow. It offers an award winning combination of design and functionality.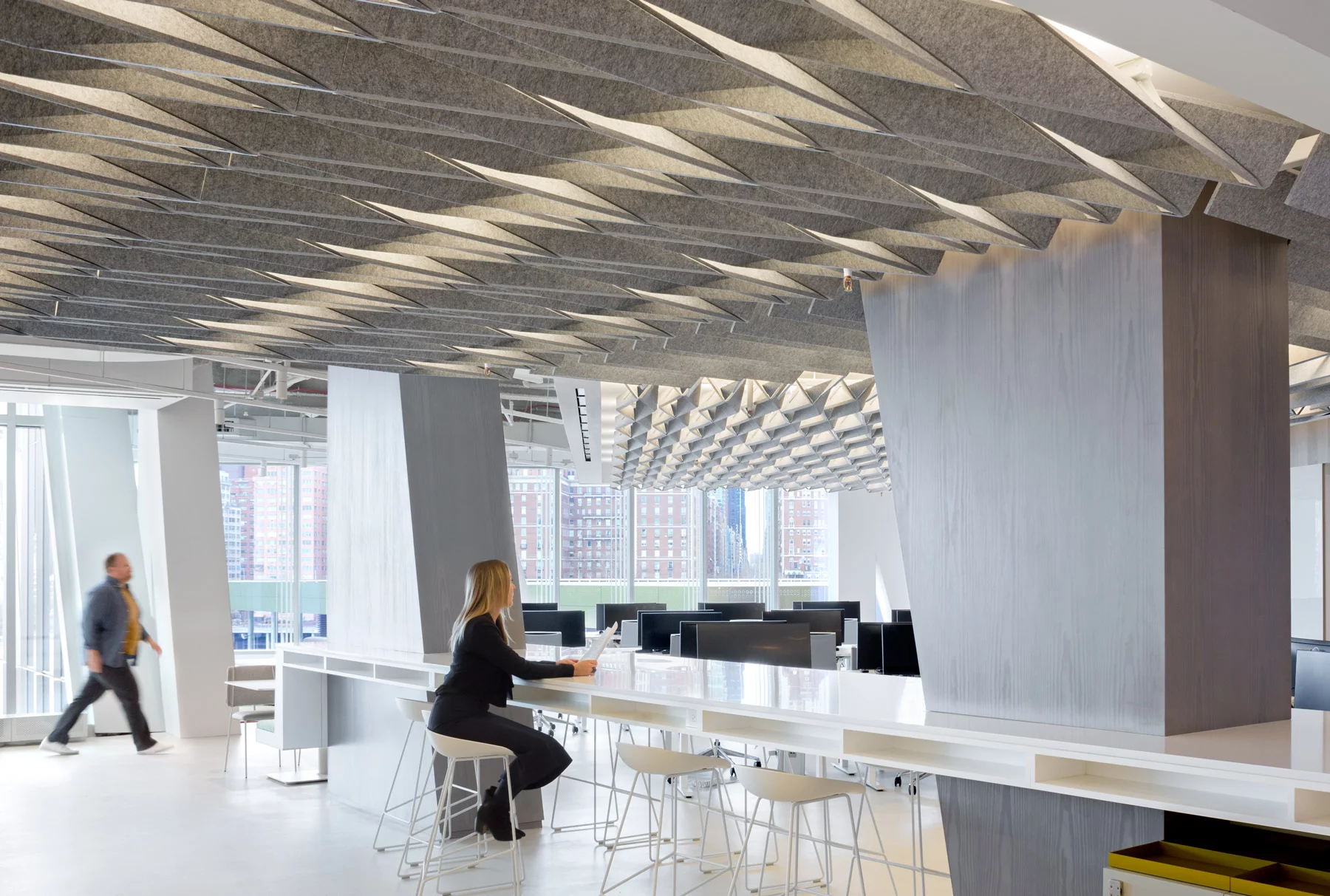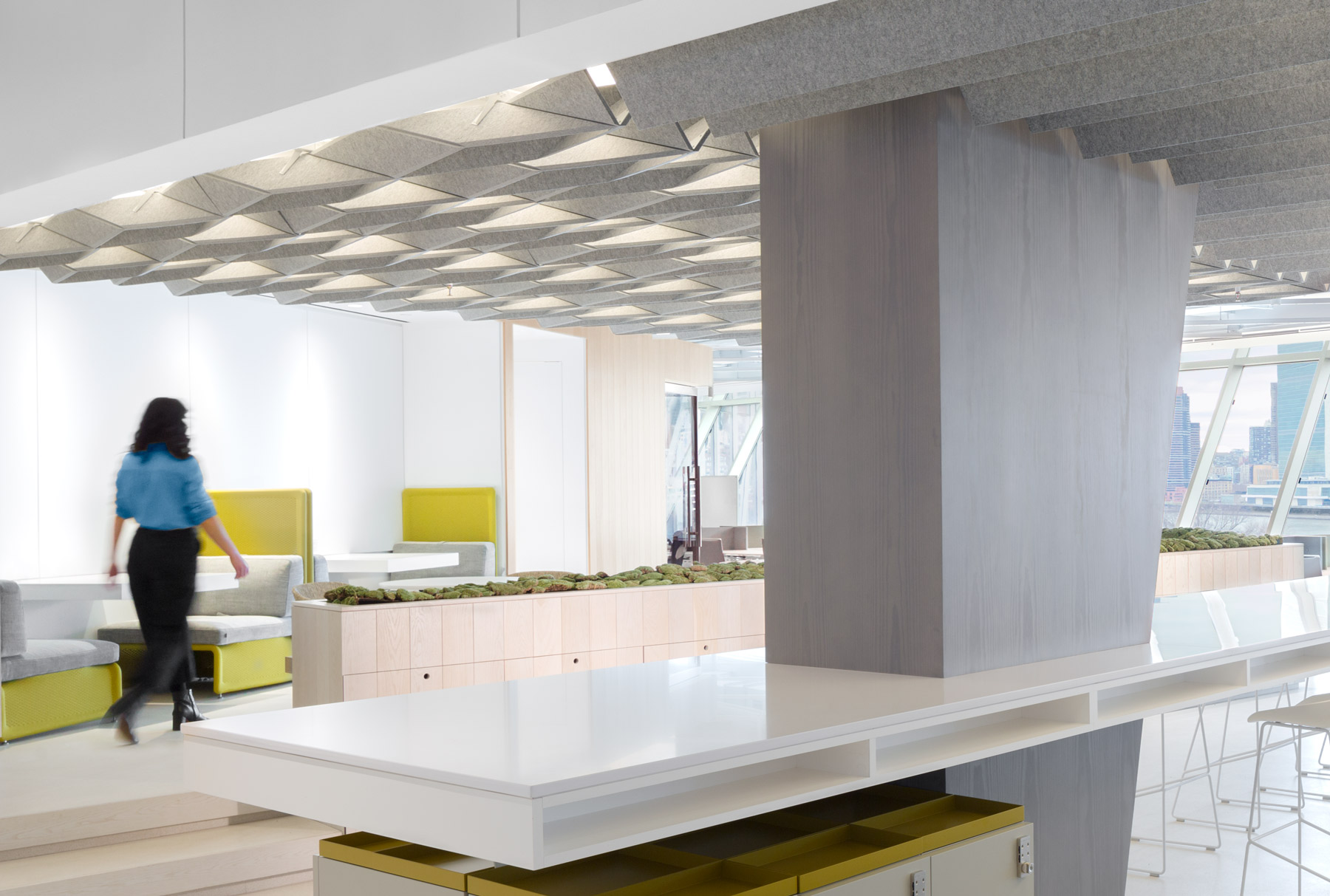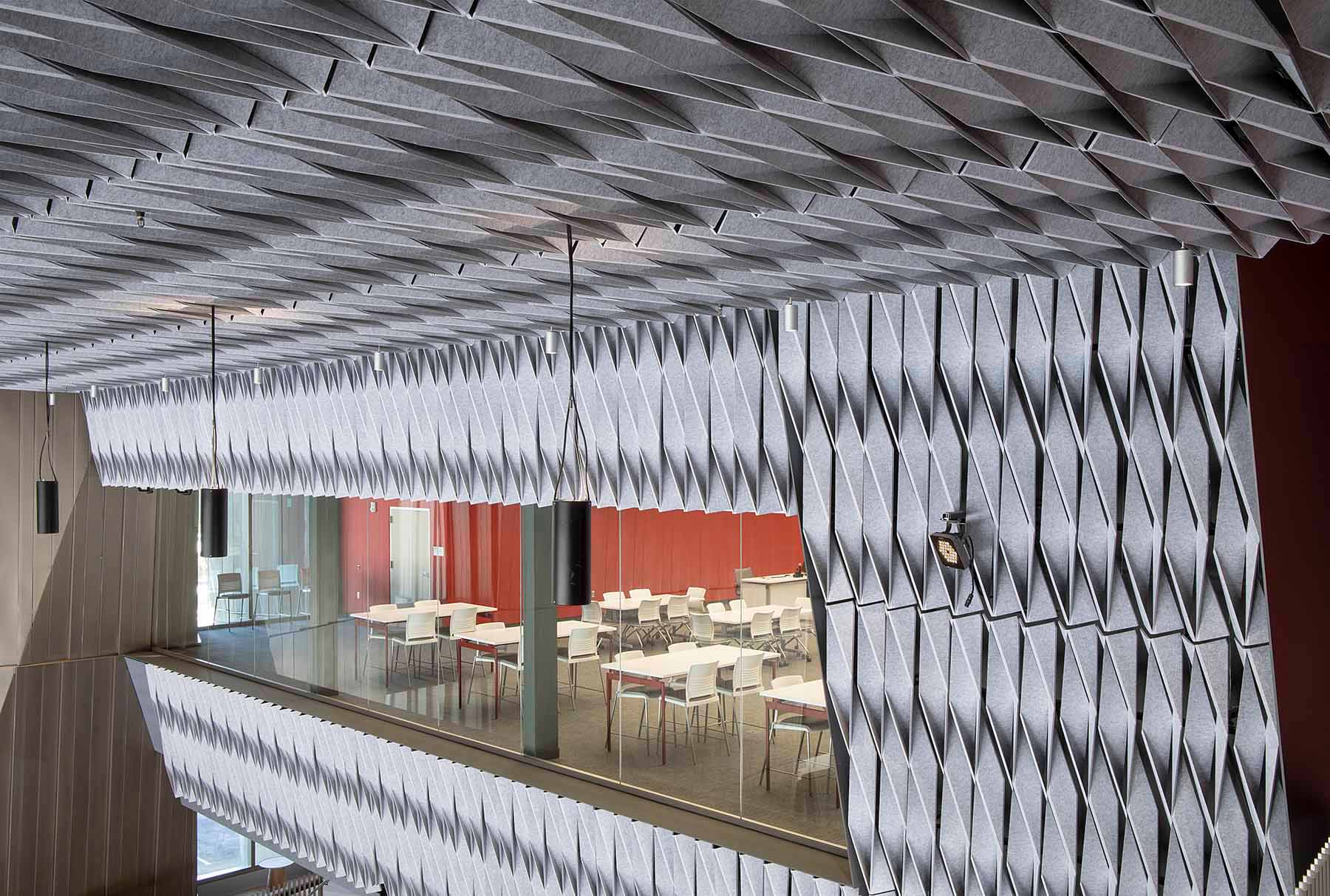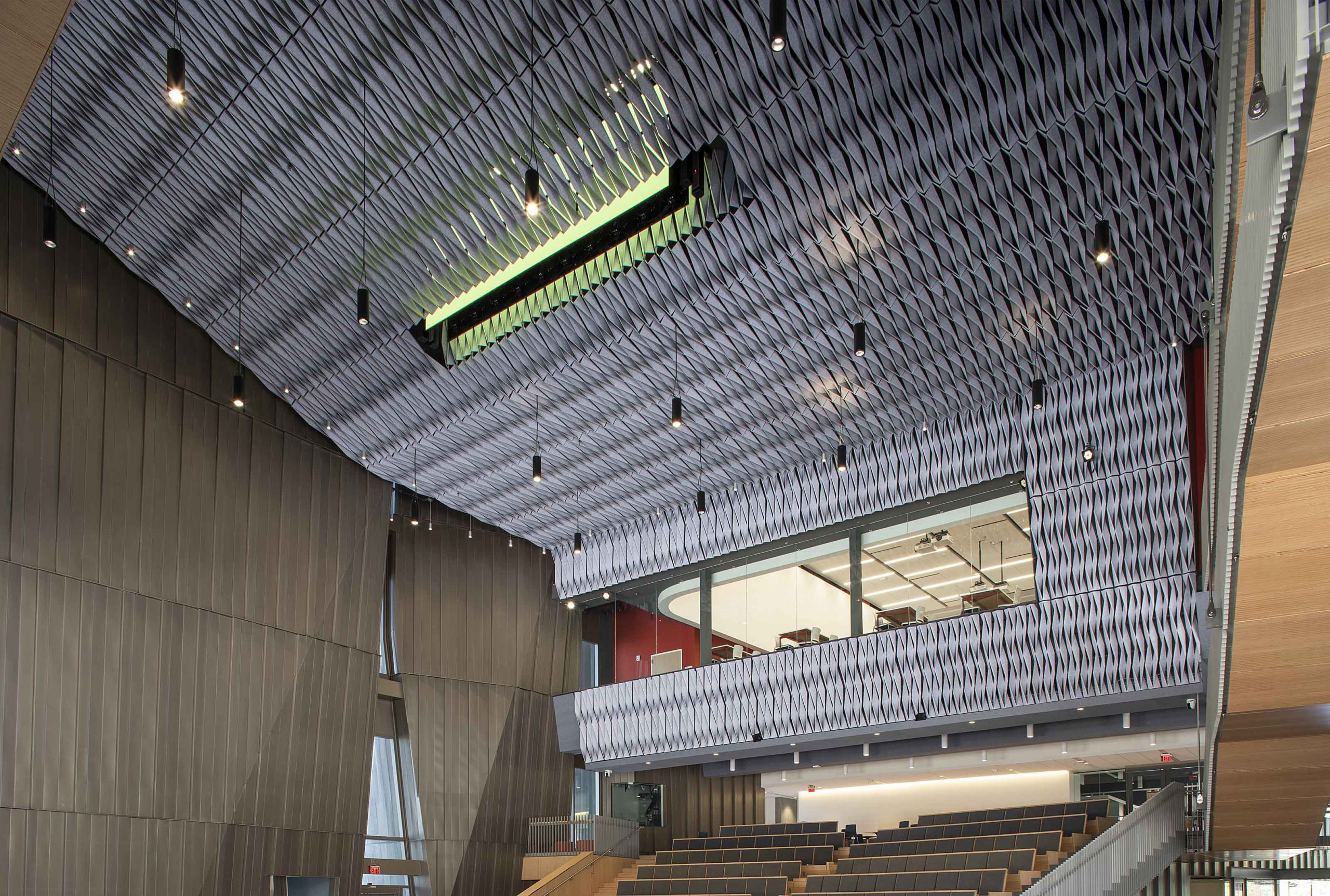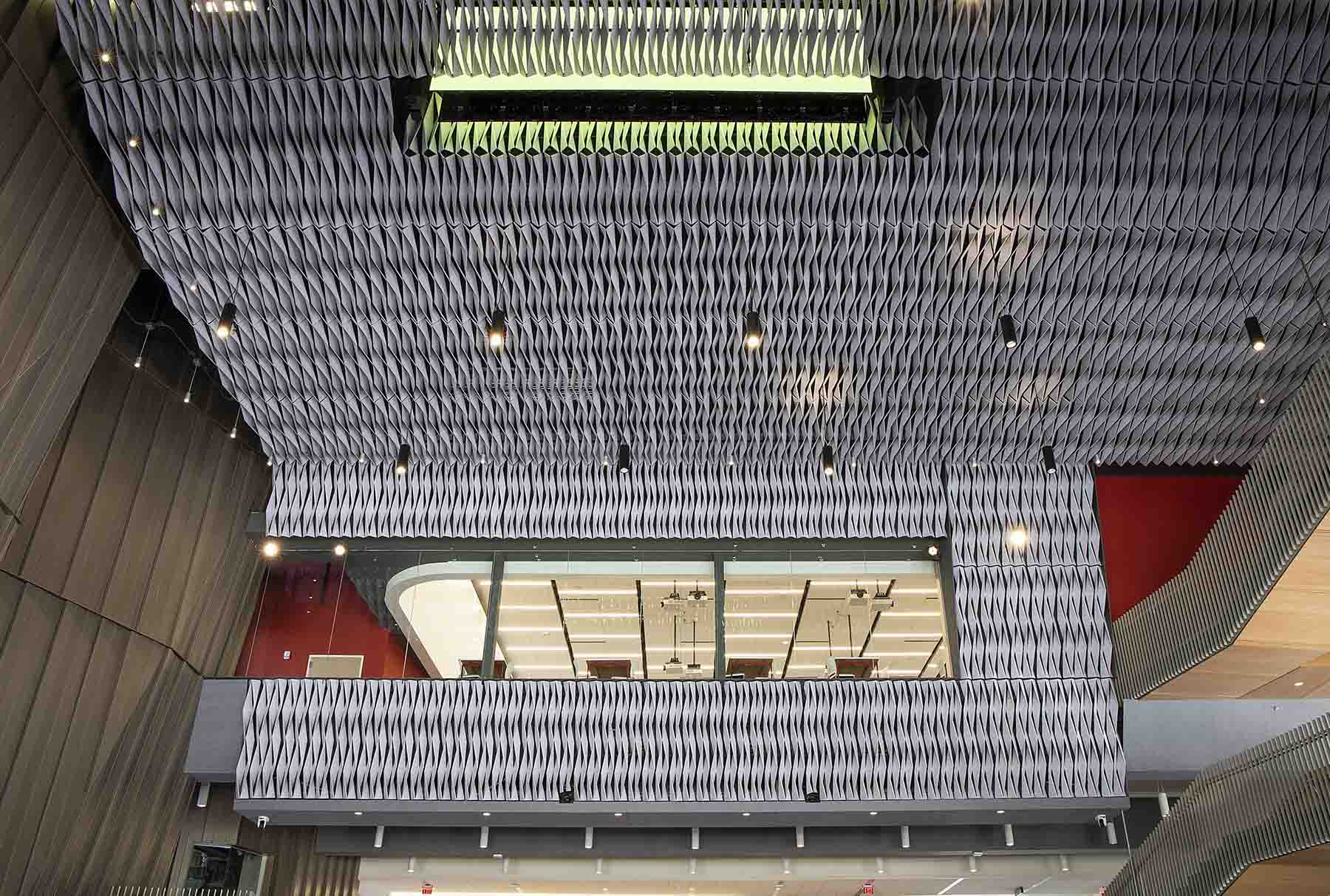 Key Features
Reduce & Diffuse Noise

SoftFold®'s Soft Sound® material reduces the impact of noise from everyday annoyances like ringing, typing, and chatter resulting in a more pleasant and productive environment. SoftFold®'s material works in concert with the faceted design to help reduce and control reverberations and diffuse sound leaving a lasting impression at scales ranging from assembly halls to conference rooms.

Expansive Soft Sound® Library

Choose from a large library of Soft Sound® colors and wood textures. Mix and match colors to accent fins and complement the color scheme of your space.

Dynamic Faceted Aesthetics

Bring striking texture to your space with SoftFold®'s geometric, faceted design, and add complexity to your ceilings with the origami of sound attenuation.

Easy Accessibility

SoftFold® modules offer easy accessibility across ceilings through a hinged attachment, allowing SoftFold® to swing down for access to building systems.

Preconfigured Solutions

SoftFold® is available in full and half-sized modules that seamlessly connect for further flexibility in your space.

Thoughtful Integration

SoftFold®'s design allows for a straightforward integration of systems such as lights, HVAC, rigging points, plumbing, AV equipment, and life safety systems, above or below the modules.
Product Details
System Specs

Dimensions

Full: 1500 x 2150 x 170

Half: 750 x 2150 x 170

Material

12mm Soft Sound® (PET) and Steel Frame

Fire Rating

ASTM E84 - Class A, UNE-EN 13501-1, B-s1,d0

Acoustics

True NRC® 0.75; E-300 Method

Accessibility

Optional, hinged hanging bracket (uses 3/8" threaded rod vs wires)

Standard Module

Multiple Modules

Full Module - Plan & Elevations

Half Module - Plan & Elevations

Attachment & Install

Attachment Details

Optional Swing-Down Hardware

Sustainability and Certification

488, 144

Full module: 488 recycled water bottles. Half module: 144 recycled water bottles.

Cradle to Cradle®

Bronze Status Pending

100%

Declare certified to be fully salvageable/reusable in its entirety, recyclable (100%)
Materials and Finishes
Soft Sound® Color Group A

White

Snow

Marble

Heather Gray

Graphite

Carbon

Onyx

Apple

Tangerine

Lemon

Taupe

Sand

Kiwi

Whisper

Sky Blue

Denim

Absinthe

Abyss

Azore

Mars

Macchiato

Soft Sound® Wood Texture

Gray Ash

White Oak

Golden Oak

Oak

American Walnut

Charred Oak

Charred Ash

Ebony