SoftSpan®
Acoustic

Ceiling Baffles

Ceiling Clouds

Lighting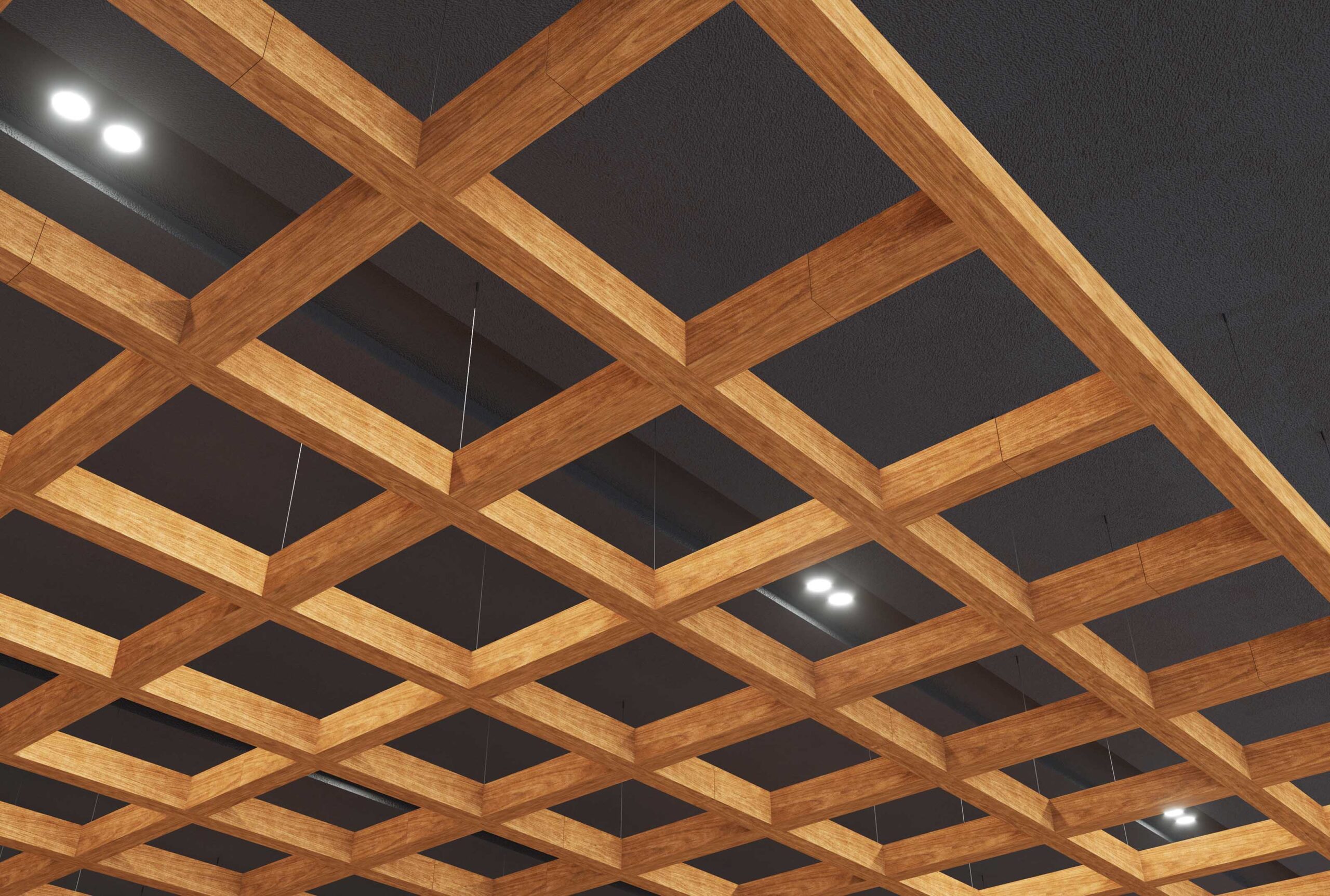 SoftSpan® 48 is a versatile ceiling baffle system that brings the look of closely gridded coffered ceilings or timber trellises to spaces without the weight while enhancing acoustics and reducing the impact of noise. Add Soft Sound® coffer panels to create an enclosed look and further enhance the acoustics of your space. Fully compatible with SoundBar® acoustic baffle and lighting system.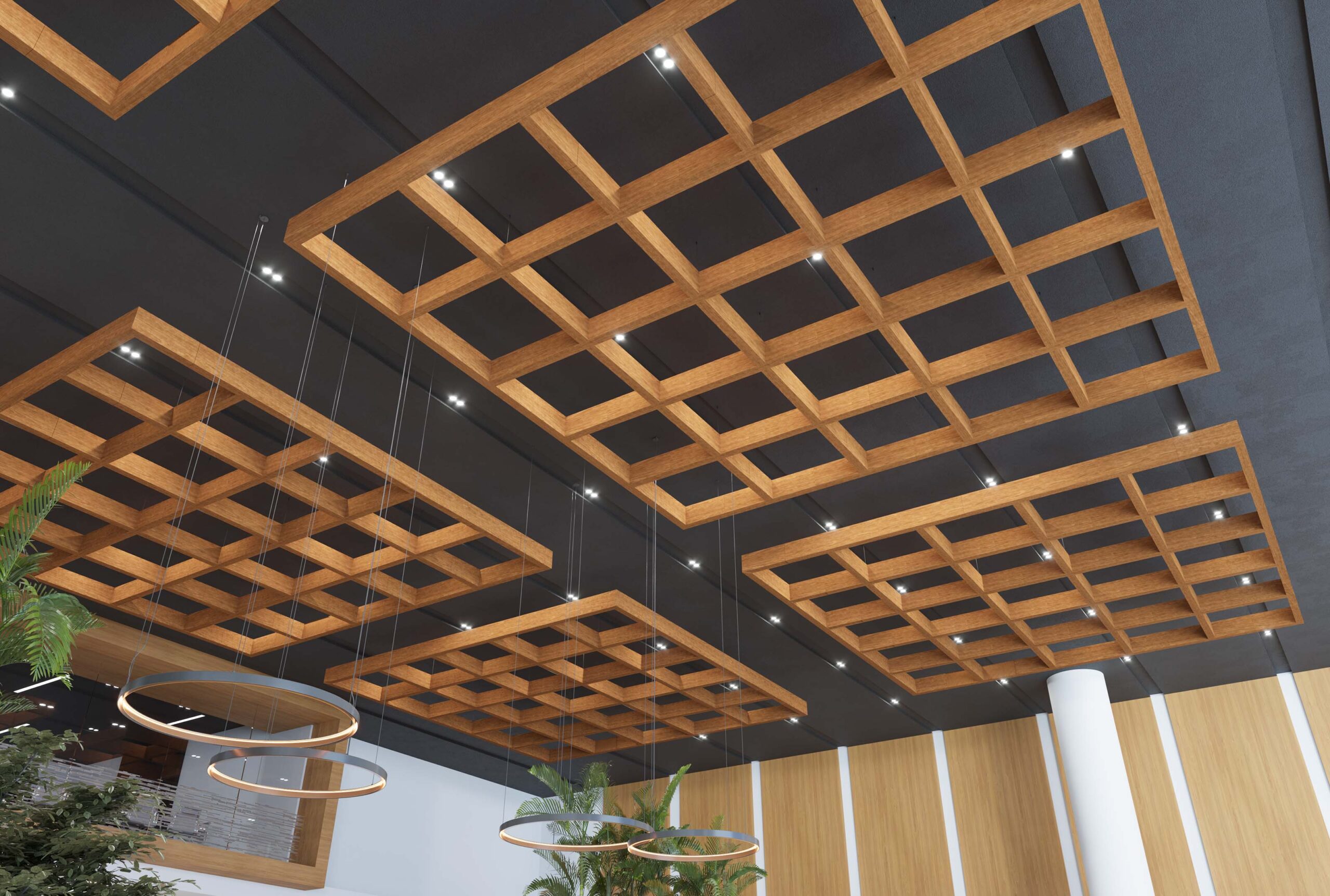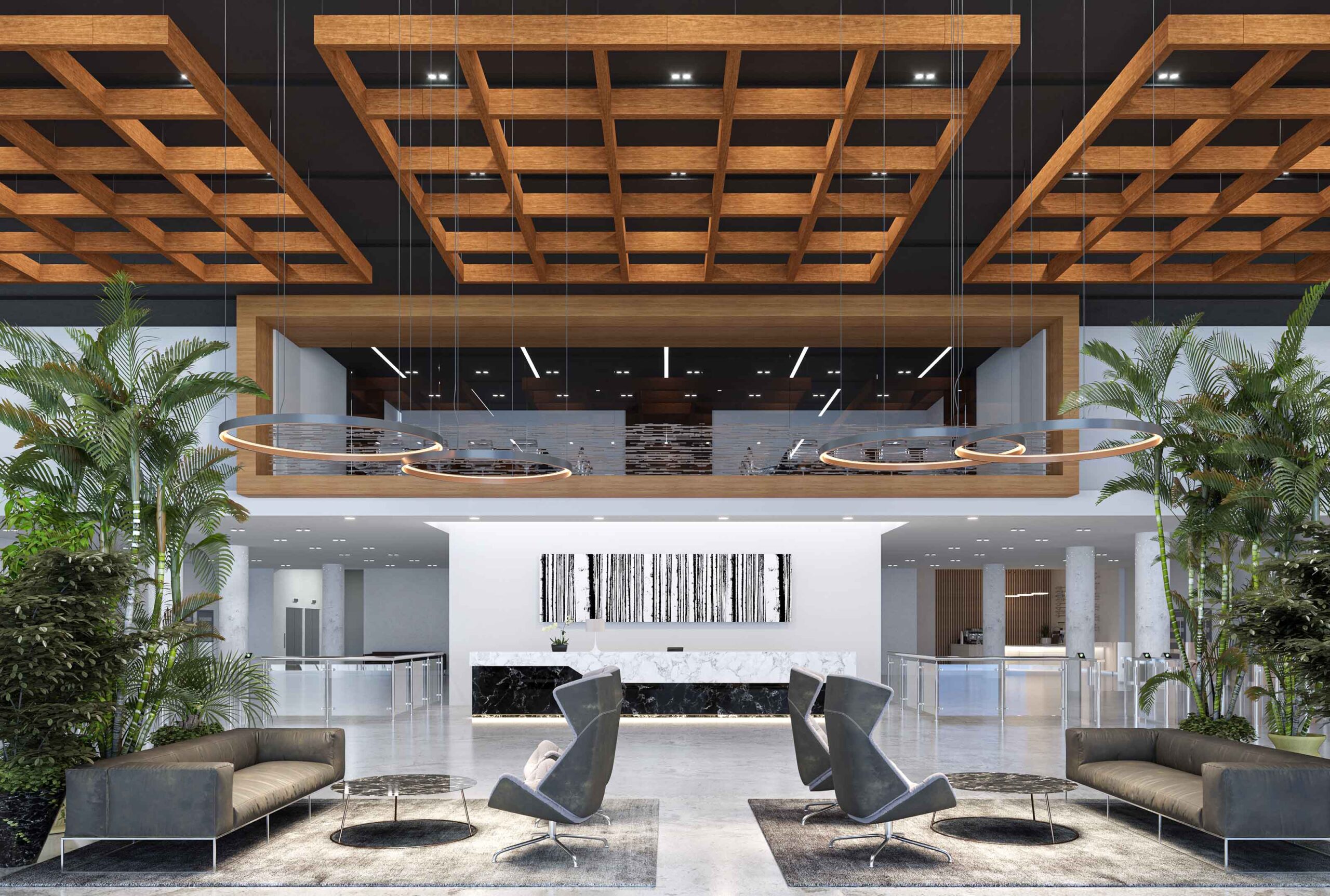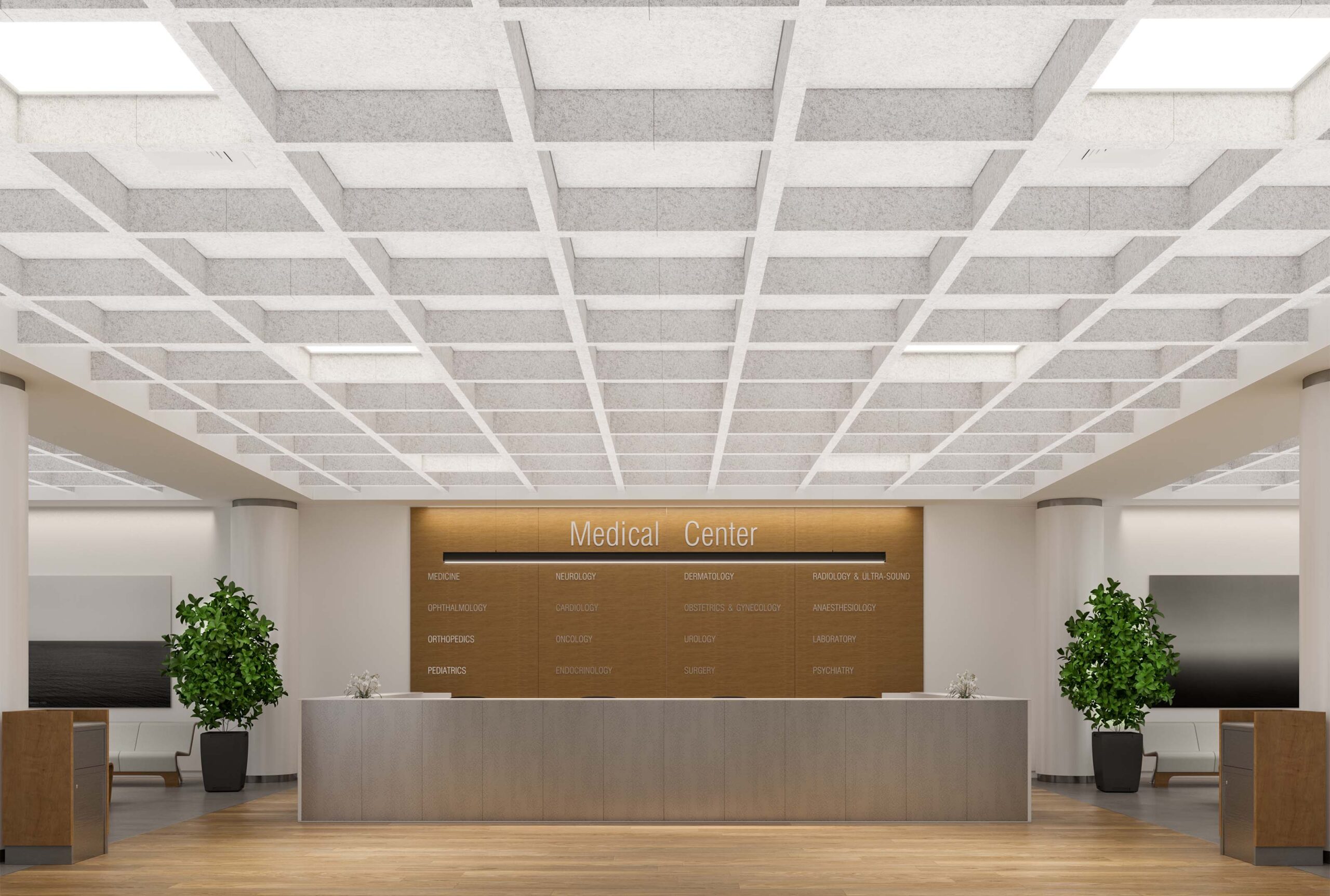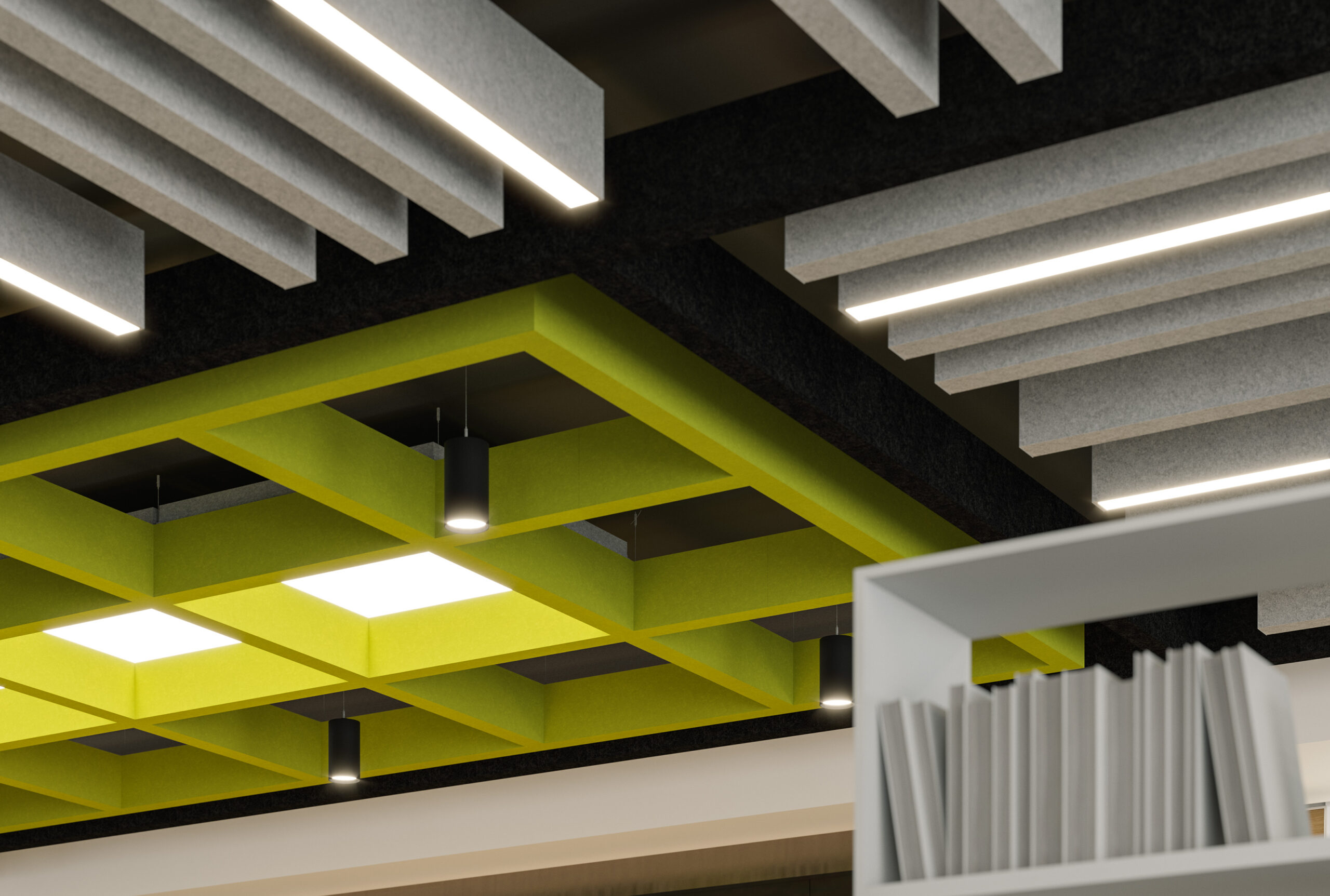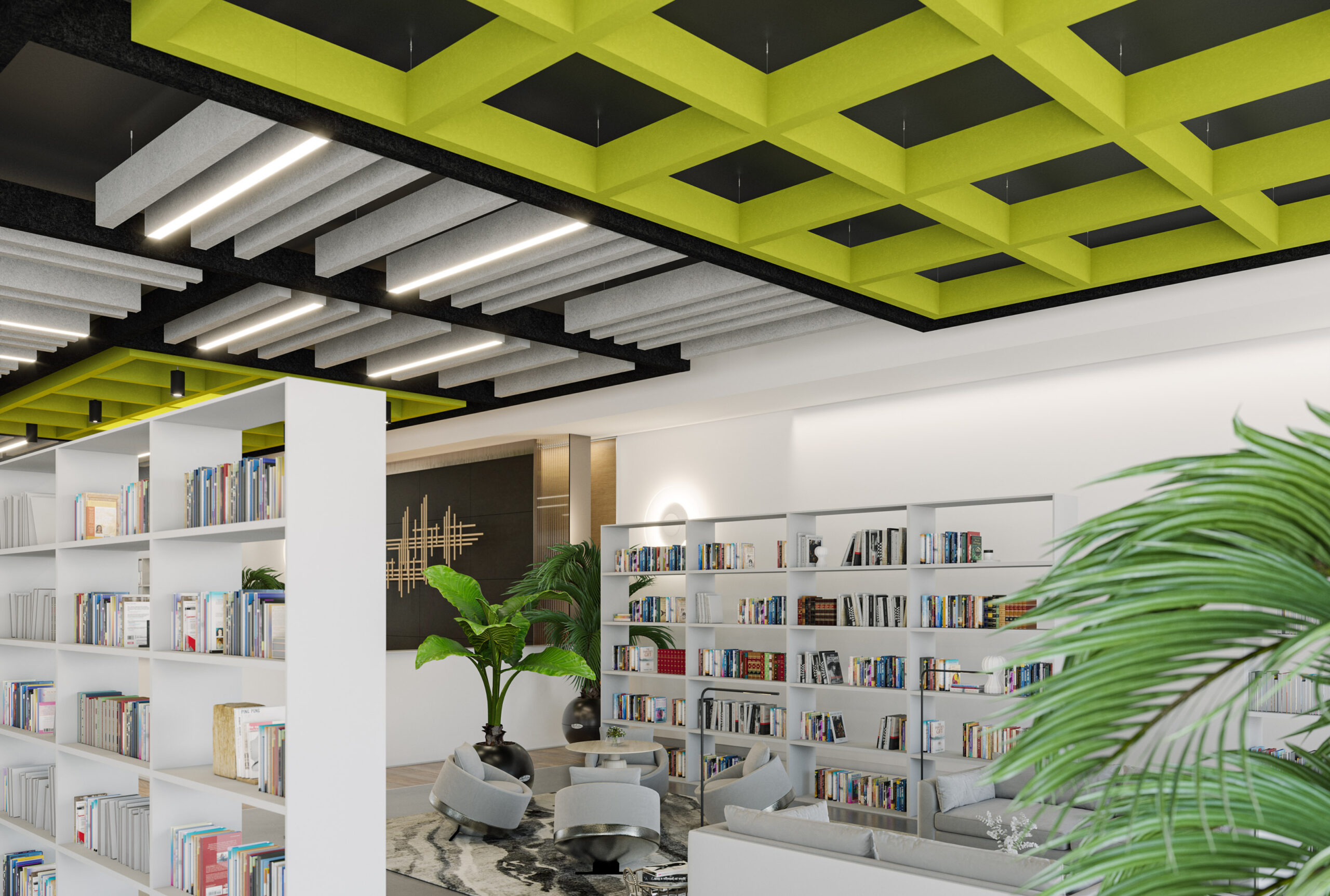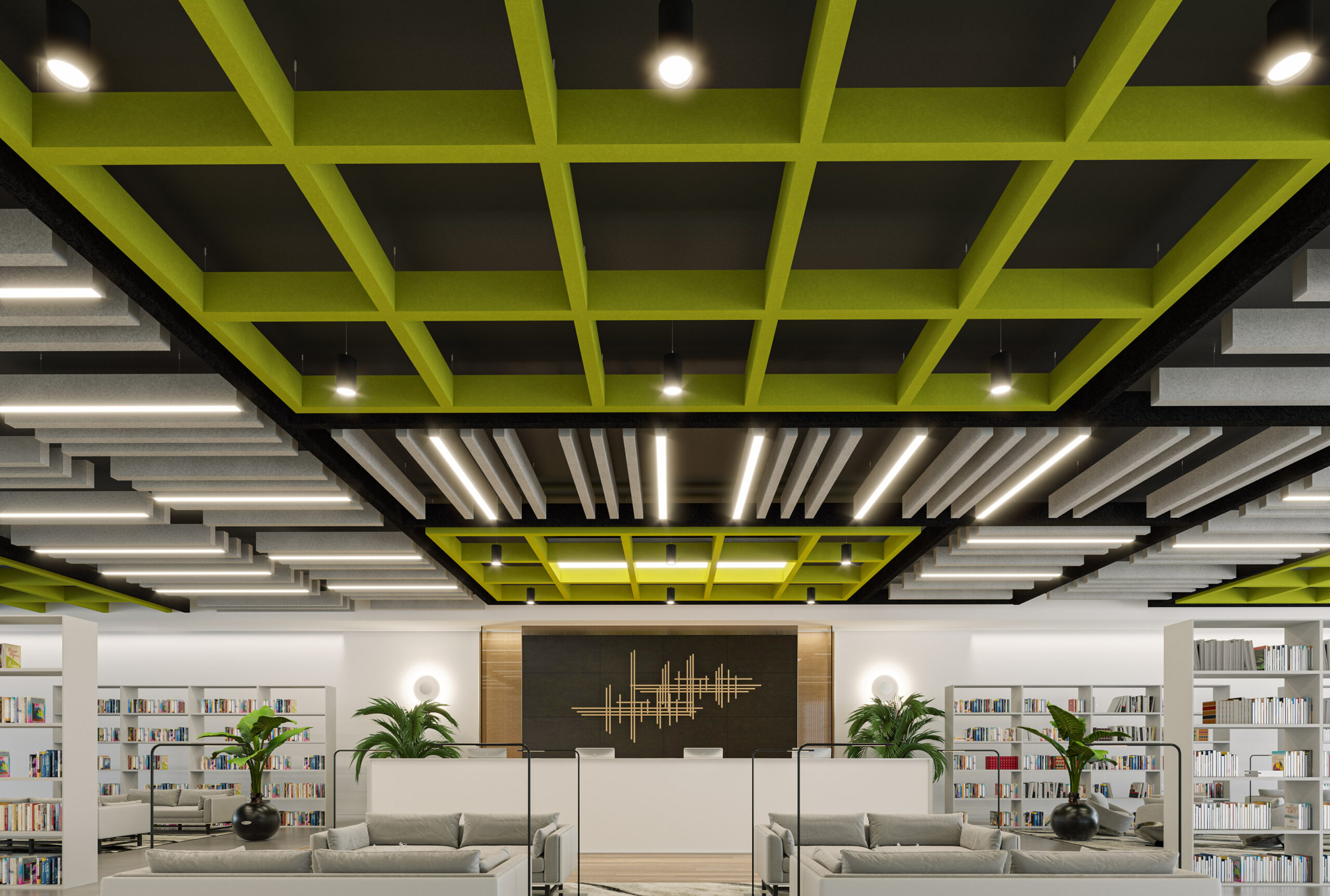 Key Features
Reduce Noise & Enhance Acoustics

SoftSpan®'s Soft Sound® material reduces the impact of noise from everyday annoyances like ringing, typing, and chatter resulting in a more pleasant and productive environment. SoftSpan®'s material works in concert with the design to help reduce and control reverberations leaving a lasting impression at scales ranging from assembly halls to conference rooms.

Timber Trellis without the Weight

SoftSpan® in Soft Sound® Wood Texture brings the aesthetics of a timber trellis into your space without the weight while also adding acoustic performance.

Open Accessibility in Plan

SoftSpan®'s open grid design makes integrating systems above or below the modules simple and feasible. Easily accessible open trellis beam structure makes accessing lighting, HVAC, rig points, plumbing, and life safety systems simple.

Accessories

Explore our range of accessory options. Enhance acoustic performance with Soft Sound® Coffer Panels, enclose modules with optional perimeter beam and corner modules to expand design possibilities, or use our new True NRC® rated SoftSpan® Panel Lighting to illuminate your space while further improving acoustic performance!

Preconfigured Field Trimmable Solution

SoftSpan® modules can be trimmed in the fi eld. By rearranging our adjustable hangers; we make it easy for you to specify standard modules that can be easily field-modified around anticipated and unforeseen site conditions during install.

Compatible with SoundBar®

SoftSpan® 48 offers connectivity with SoundBar® acoustic baffles, to create a multitude of unique layouts with visual continuity across as space, incorporating linear lighting as desired.
Product Details
Fire Rating

ASTM E84 - Class A, UNE-EN 13501-1, B-s1,d0

Acoustics

True NRC™ 0.45: Trellis ; F-100 Method

Attachment Method

1/16" Stainless Cable and Hardware

Accessibility

Yes, quick release cables

Trimmability

Yes, per installation manual

Accessories

Coffer Panels (Product Design Consultant Gensler), Perimeter Beams & Corners

Trellis Module

Coffer Module

Trellis Module - Plan & Elevations

Coffer Module - Plan & Elevations

Attachment & Install

Edge & Attachment Details

Accessory Options - Coffer Panels

Accessory Options - Closure Beams

Closure Beams - Plan & Elevations

Accessory Options - Panel Lighting

Connectivity wit SoundBar®

Multiple Attachment Options

Sustainability and Certification

488-1464

Each module is made from a minimum of 488 recycled water bottles, depends on size and configuration.

Cradle to Cradle®

Bronze Status Pending

100%

Declare certified to be fully salvageable/reusable in its entirety, recyclable (100%)
Materials and Finishes
CircuLUM™ Powder Coat Premium Metallic Finish

Chilled Champagne

Burnished Bronze

CircuLUM™ Powder Coat Standard Finish

Brilliant White (Gloss) (RAL9010)

NOWN White (Matte) (RAL9016)

T-Grid White (Matte) (RAL9003)

Silver Metallic (Semi Gloss) (RAL9006)

Jet Black (Matte) (RAL9005)

Aviator Gray (Gloss) (RAL7035)

Aviator Gray (Matte) (RAL7035)

Steel Gray (RAL7046)

Shadow (RAL7024)

Midnight (RAL7021)

Coffee (RAL8014)

Raw Umber (RAL8007)

Caramel (RAL8001)

Sandstone (RAL1019)

Oat (RAL1001)

Sunflower (RAL1003)

Torch (RAL2009)

Spirit Red (Matte) (RAL3001)

Azure (RAL5003)

Blue Steel (RAL5010)

Forest Green (RAL6001)

Soft Sound® Color Group A

White

Snow

Marble

Heather Gray

Graphite

Carbon

Onyx

Apple

Tangerine

Lemon

Taupe

Sand

Kiwi

Whisper

Sky Blue

Denim

Absinthe

Abyss

Azore

Mars

Macchiato

Soft Sound® Wood Texture

Gray Ash

White Oak

Golden Oak

Oak

American Walnut

Charred Oak

Charred Ash

Ebony
Projects with SoftSpan® 48